Mar
9
It is with a heavy heart that we inform the Squash Community that we have lost one of the great ones this week. After an eighteen month battle with cancer, Paul Marley passed away peacefully on Thursday afternoon.  The family will be hosting: "A Celebration of Life" at the Evergreen Squash Club on Saturday, March 15 at 4 pm.
Paul's passing leaves a big hole in squash both within British Columbia and the world. Paul was the ultimate positive force anytime he was near a squash court. From playing in various Masters Championships to bringing squash players to BC from all over the world, his incredible enthusiasm for the sport of squash will be remembered worldwide.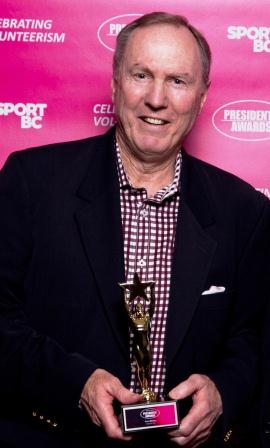 Mar
3
April  9- 13, 2014
Prize Money: $2,000 for Men's & Women's Open events Only
Prize Money for all other events with minimum of 8 entries and categories not combined
Entry Deadline: Friday, April 4, 2014 @ 8 pm.
Scoring: PAR 11 (Triple Knock-out, where possible)
Entry Fee:
$50 until March 28th  (Juniors $45.00)
$55 afterwards (Juniors $50.00)
(Fees include tax)
No Entry fee will be accepted without payment.
Draws: Online Draws available Tuesday April 8th
Entry Fee includes: 
Souvenir, Beer Tickets,
Thursday – Women's Wine & Shine Night
Friday  – Weinee Night Appies
Saturday -  am Coffee & Tea – pm Appies at Plane Toss
Sunday – am Coffee & Tea ,  pm, Prize Presentation after Finals
Play:
Thursday – Local play may begin at 5:30 pm
Friday – Out of town players begin as early as 5:30 pm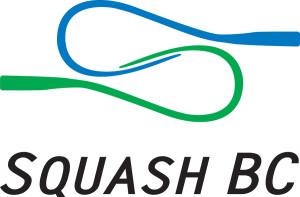 This is a Squash BC "AAA"  Sanctioned Event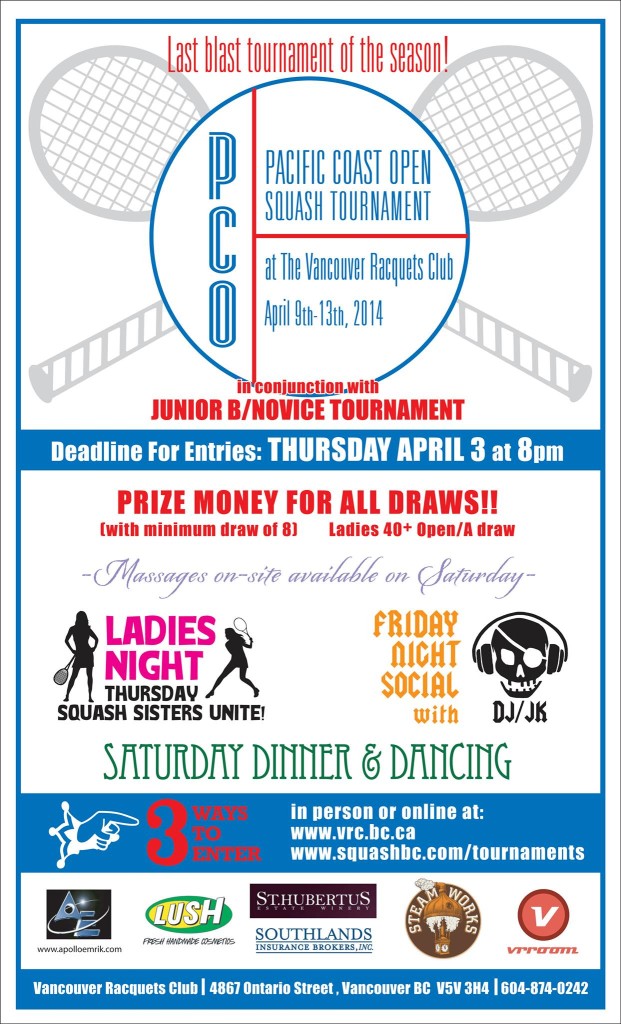 Feb
25
There is still space available for the Feb 26th clinic at the River Club but the Feb 27th Arbutus clinic is sold out.
If you are interested in taking advantage of the deal being offered to VSL members for Squash Canada's online referee certification please make sure that you bring $10 to the clinic and a VSL board member will take your name, contact info and payment.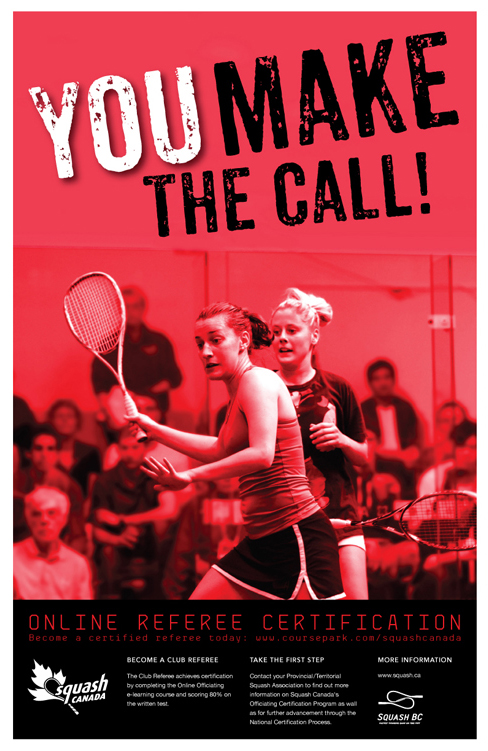 Feb
14
Today is the last day to register for BC's premiere event, the BC Closed.
The registration deadline is tomorrow, Friday, February 14th @ 9:00 PM. There will be no late entries accepted, so I encourage you to sign up immediately! This AAAA Provincial Championship will crown our provincial champion! Players of all abilities welcome as there are many divisions available to compete in.
Each participant will receive:
3 match guarantee (up from 2)
Sunday Finals wine and cheese
Saturday evening Extravaganza, features pub style catering and beer (replaces the Saturday banquet and takes place during event semi-finals.)
After match beer – courtesy of OK Spring
F&B voucher for use in Bistro or Bar & Grill
$3000.00 of prize money for the Open level players.
Winners of the Men's & Women's Open, age group categories are eligible to
receive funding support to attend the National Championships.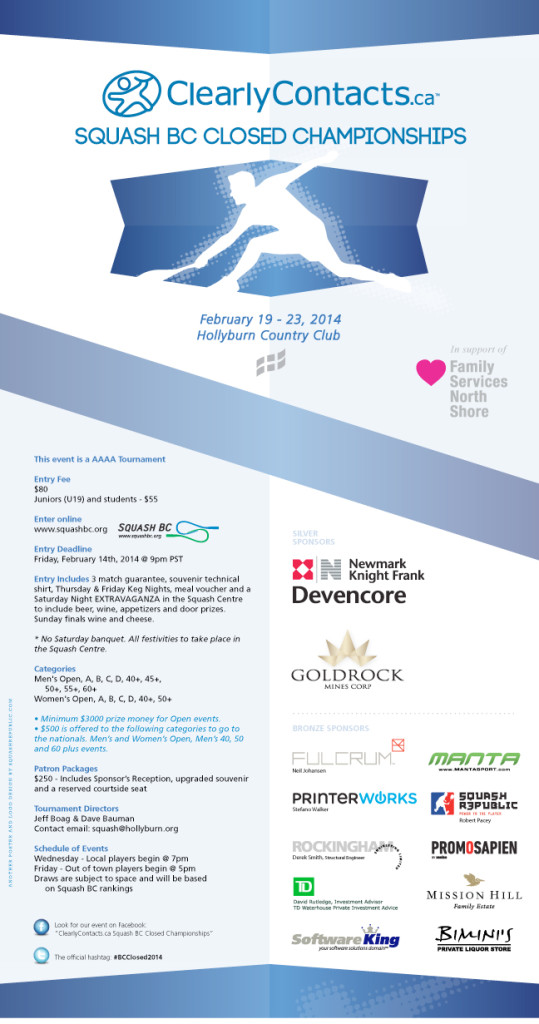 Feb
14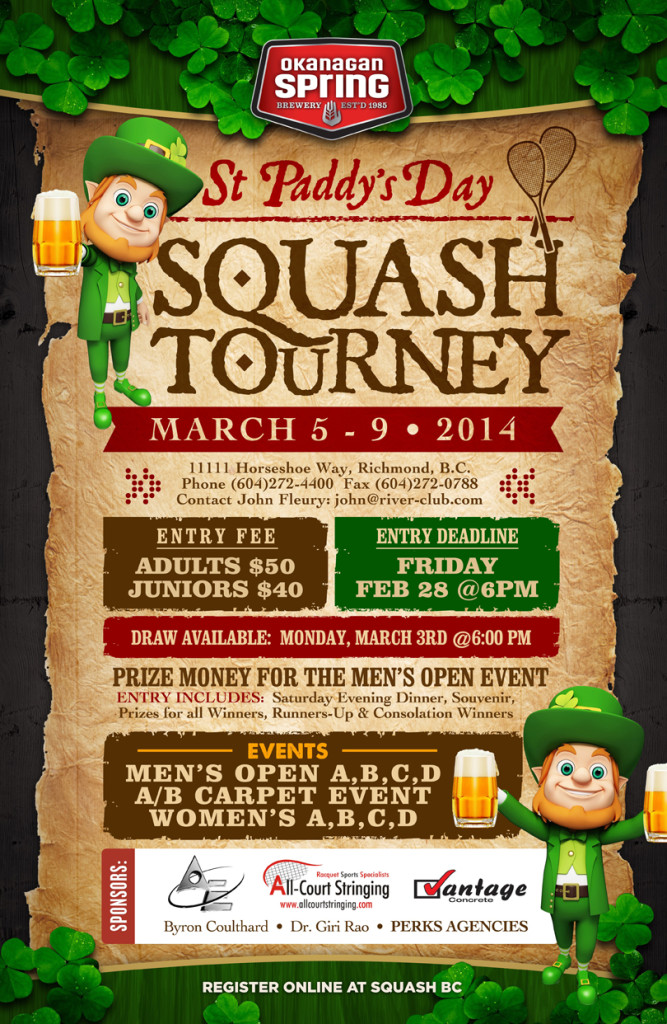 Feb
5
The BC Honda Vancouver Squash League is pleased to present TWO FREE REFEREE clinics to players in the VSL and Squash BC members. Both of these clinics will be run by ASIF HUDANI who is the chair of Squash Canada's Officiating Committee. As a Certified A1 Official, he is also one of BC's highest ranking officials.
The first clinic will be held in RICHMOND at the River Club on WEDNESDAY, FEBRUARY 26th starting at 6:30pm.
The second clinic will be held in VANCOUVER at the Arbutus Club on THURSDAY, FEBRUARY 27th starting at 6:30pm.
Please RSVP by Sunday, February 24th if you plan on attending – info[at]vancouversquashleague[dot]com
SPECIAL OFFER!
Players who attend a free clinic will be able to take advantage of a discount coupon for Squash Canada's Online Club Referee Certification Course. This course has a value of $30 but will be available to participants for only $10! For more information on the course please visit Squash Canada's website.
Please pass this information on to all players on your teams and any who might be interested.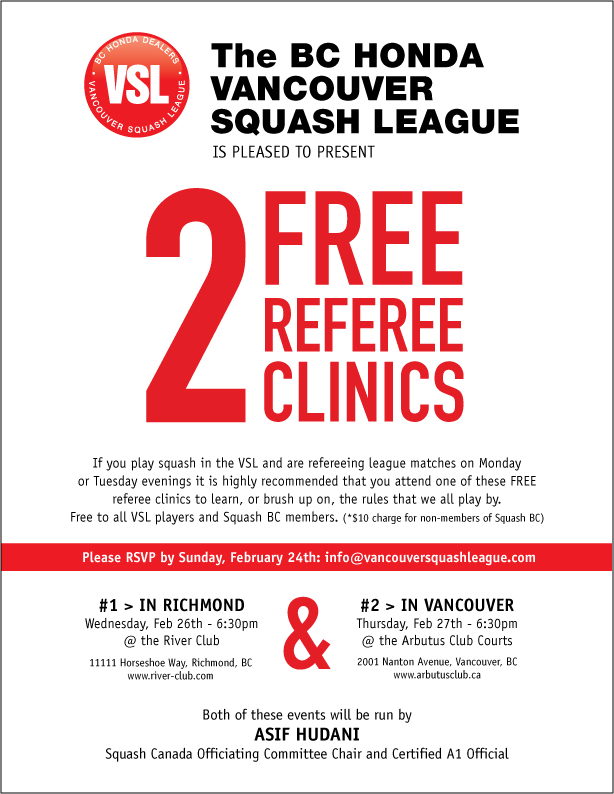 Jan
30
Sign up link >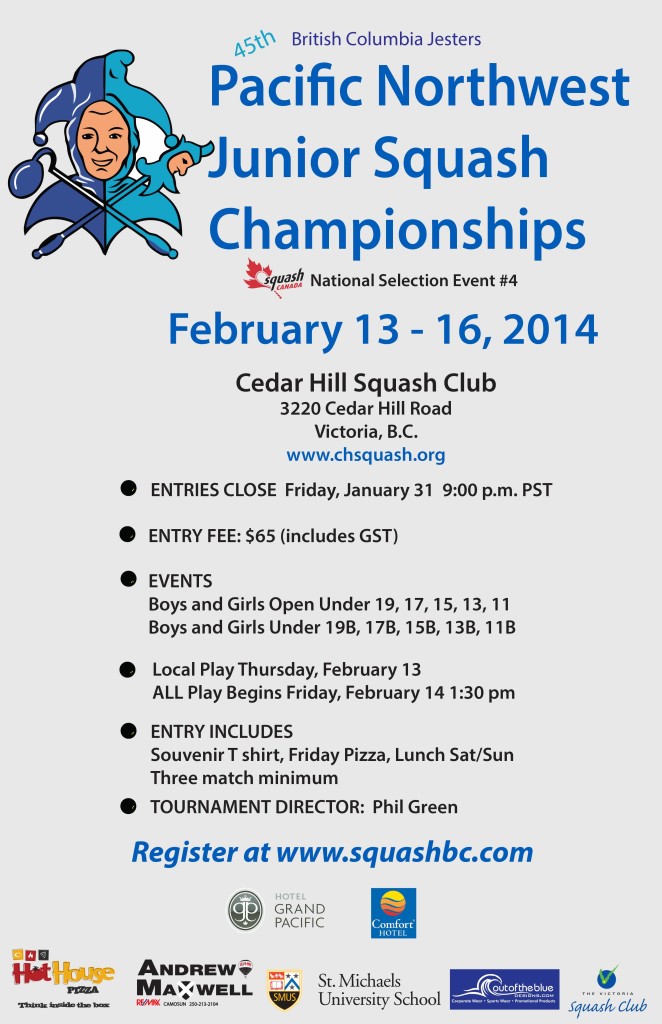 Jan
28
47 players signed up for the 5th annual PRFC tournament. With a max of 48, the event was once again virtually sold out. This year the tournament was lucky to have BC #4 Saf Ahmed, BC #19 Adam Terhegge & Kelowna's #50 Andrew Braff playing in a very strong A draw.
We were lucky to have 12 entrants from the Vancouver area which gave diversification to the draw as players were able to play against new opponents. Credit must go to Thomas Monteith and Steve Hood on bringing down such a large number of players from the Abbotsford area.
Men's A
Saf Ahmed won the Men's A final 3-0 vs Adam Terhegge. Saf's all round speed was too much for Terhegge, though he did show the crowd some fantastic racquet skills and all around knicks. Saf stayed calm and composed throughout the match and thoroughly deserved to win the A draw.
Men's B
Club owner Jordan Iannone used his home courts to great advantage by winning the Men's B final vs Mark Taylor 3-0. Jordan did not drop a game in the B draw and his fast paced shots proved too much for both Mark and the rest of the draw.
Men's C and Ladies
Danny Gordon (former PRFC employee) from Vancouver deservedly beat Adam Benn 3-1 in the final. Danny's speed and shot selection were too much for Adam who chased well but came up short.
Lightning strike one point tournament
Saf completed the double by winning the one point tournament and was involved in the rally of the tournament when he dived full stretch vs Ian Williamson in round 1 to keep himself in the hunt. The final point saw Ron Fretwell put his squash clothes back on to try and beat Saf to no avail.
This was a great tournament once again and the support continues to grow each year. Thank you to everyone for playing and see you all next year.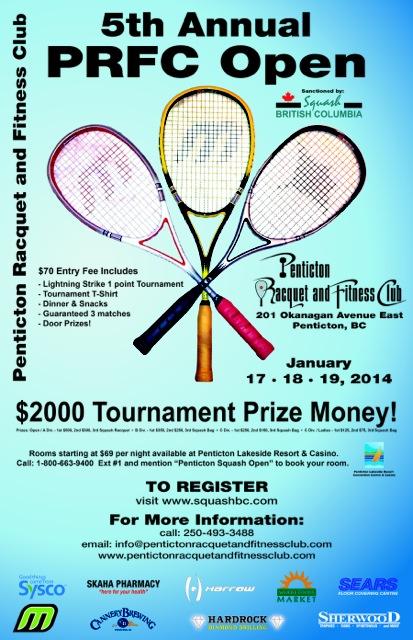 Jan
12
Phil Arthur, the club professional at the Evergreen Squash Club in North Vancouver, is interviewed about the recent amateur squash tournament and WSA exhibition match in the North Shore News. Read the article here.
Dec
17
The second annual Evergreen Squashes Cancer tournament will be held in conjunction with a WSA Pro Challenge including Natalie and Rachael Grinham, Kasey Brown and Donna Urquhart.