Feb
16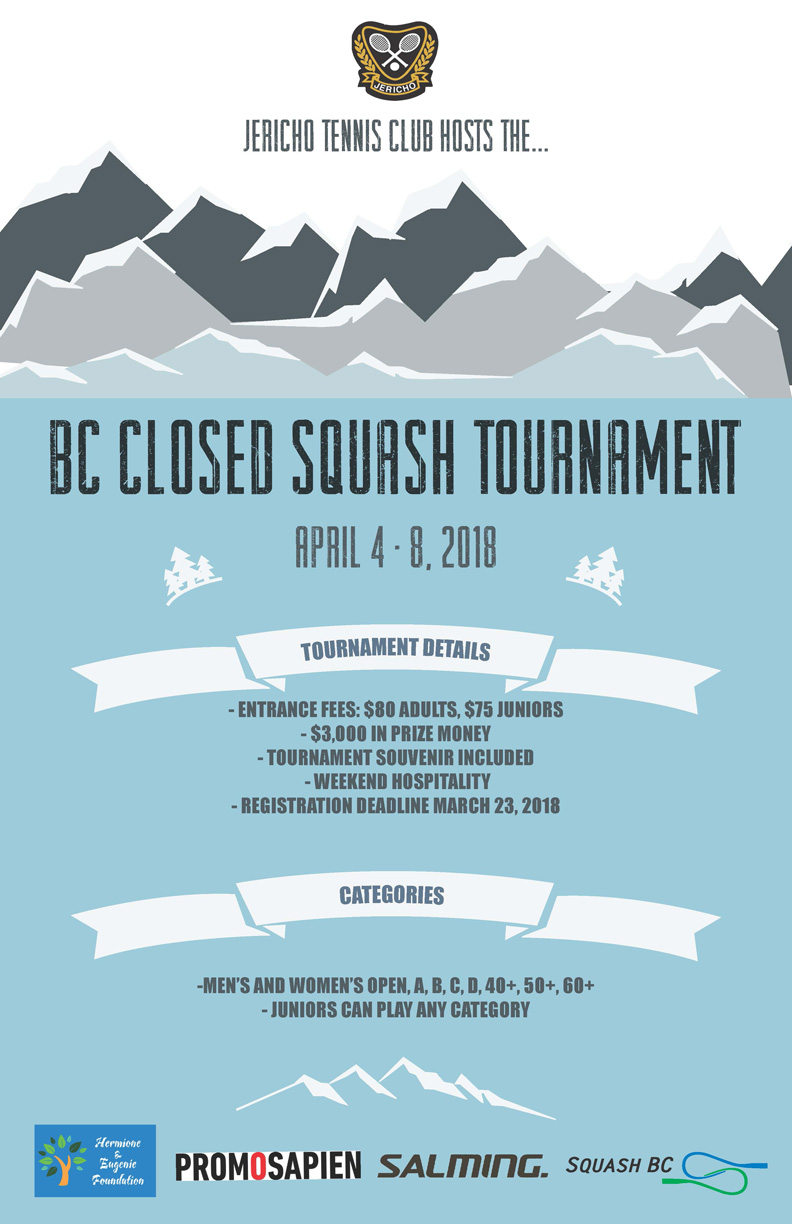 Feb
4
Filed Under Tournaments | Comments Off on 2018 Pacific Coast Open at VRC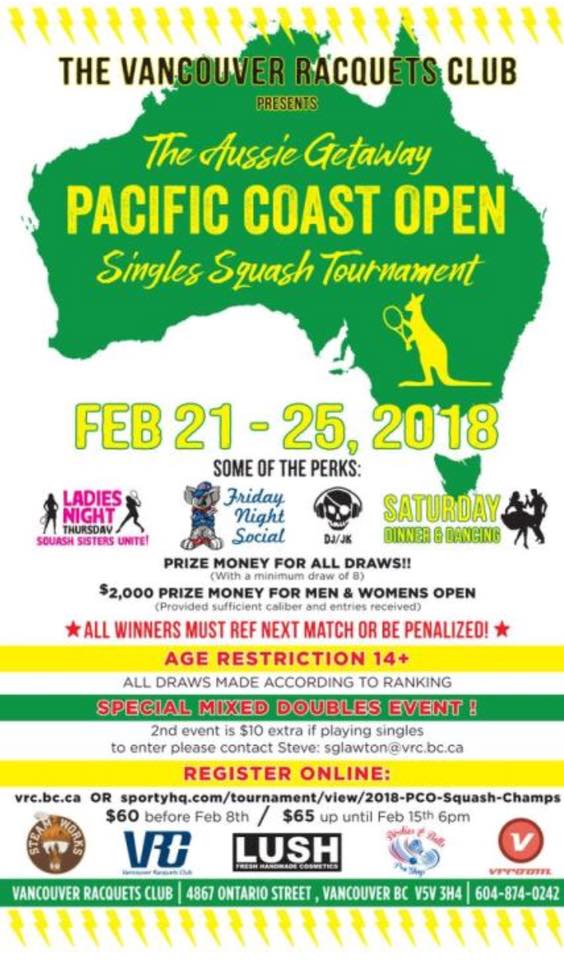 Jan
22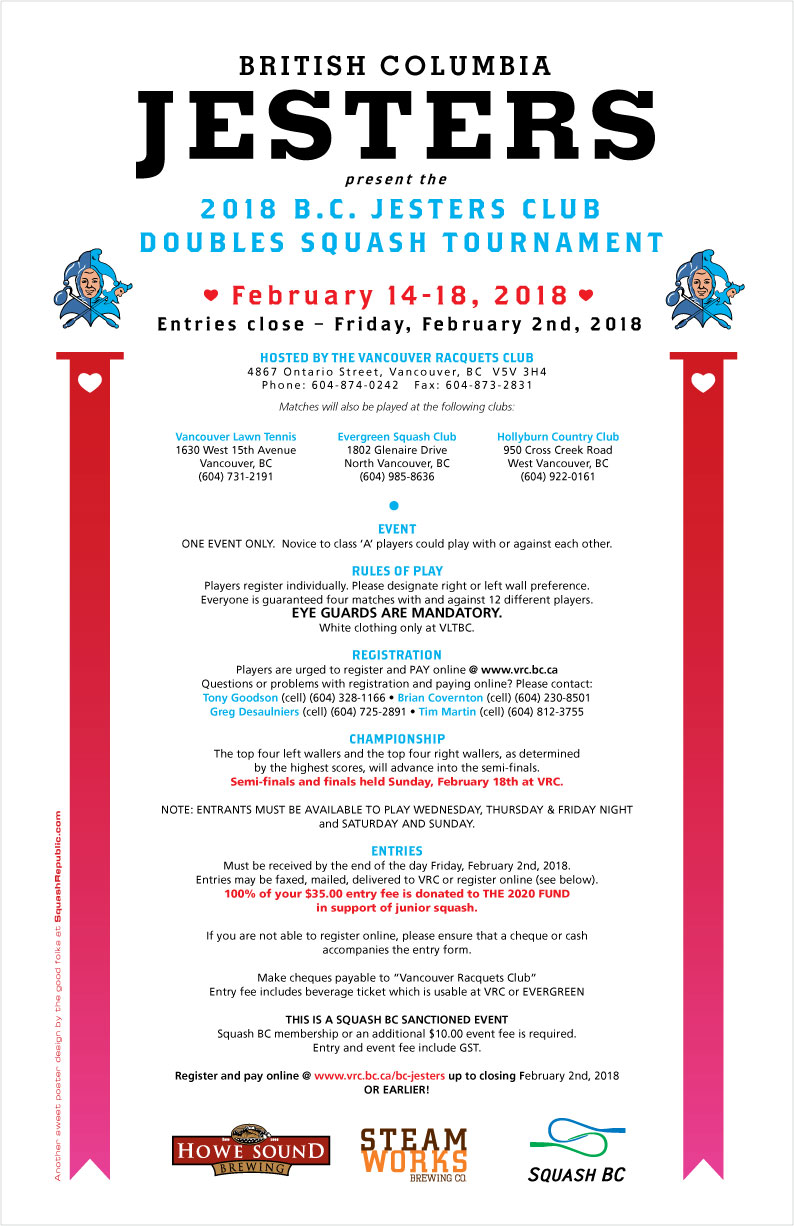 Jan
5
Filed Under Tournaments | Comments Off on 2017 Sea to Sky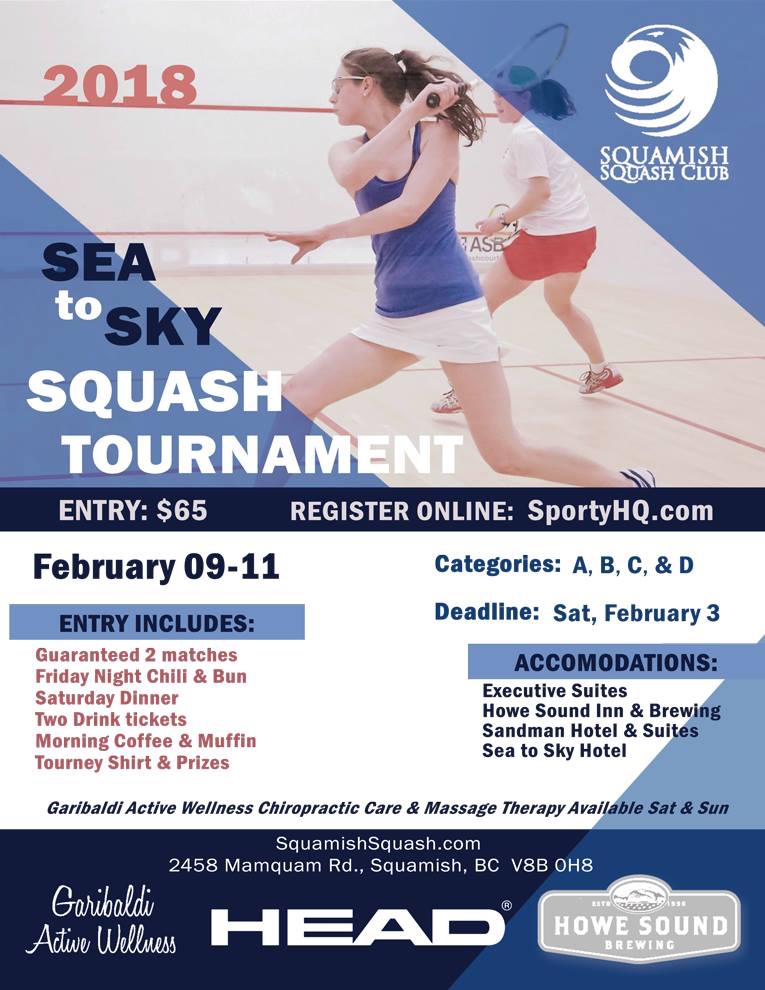 Nov
12
The 2017 Western Canadian Doubles Squash Championships are coming to Evergreen Squash Club on November 24 -26. The deadline to register is November 16 at 6pm PST. SIGN UP HERE.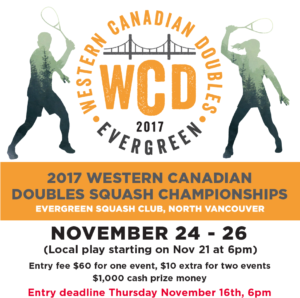 Save
Save
Oct
21
Attention junior squash players and parents of said players: The Jericho Tennis Club is currently looking to improve and expand their junior squash program by adding some aspiring high-performance players to the club. Athlete support is available. JER – Invited Junior Member
For more information please contact Richard Yendell, Head Squash Professional and Junior Girls Canadian National Coach.
EMAIL squash@jerichotennisclub.com
DIRECT 604.221.2830
MAIN 604.224.2348
Oct
18
Filed Under Tournaments | Comments Off on The 2017 Jericho Open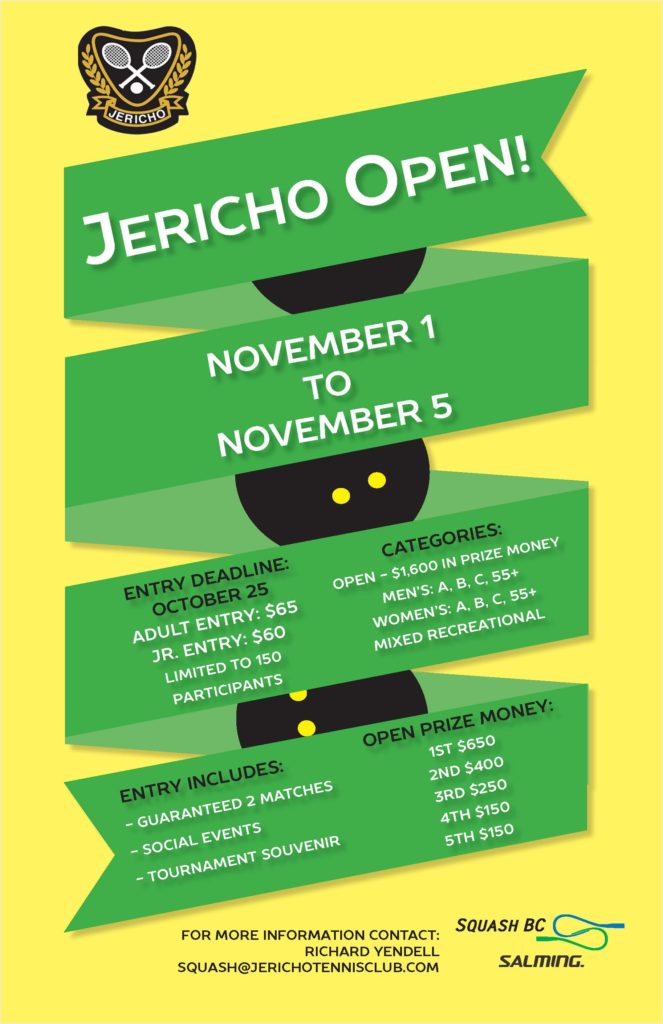 Save
Sep
24
These are the divisional alignments for the Open divisions for the upcoming 2017/2018 season.

These are the divisional alignments for the Women's divisions for the upcoming 2017/2018 season.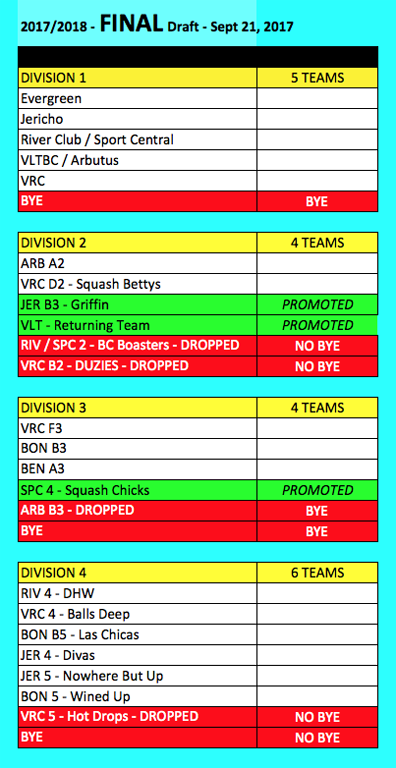 Save
Save
Save
Save
Save
Save
Sep
12
On MONDAY, SEPTEMBER 25th, from 6-8pm, the Vancouver Squash League (VSL) is hosting a "Captain's Social" for all VSL captains and co-captains at the JERICHO TENNIS CLUB. This brief information session will include an overview of a captain's job requirements, league rules overview and a SportyHQ demo. There will also be a question and answer period and FREE BEER AND APPETIZERS.
This is a great event for captains to get up to speed on the league before it starts and it's our way of saying "THANKS". First-time captains are strongly recommended to attend.

If you are a league team captain and can't attend please feel free to send your co-captain.
RSVP
Please RSVP by September 20th to be entered in a prize draw: info@vancouversquashleague.com
Thank you!
Sep
9
Quick note to all VSL participants.
The VSL Committee is still attempting to confirm divisional alignments for the upcoming season. We have a couple of issues of concern that we're trying to sorted but our hope is to have all the club reps and pros on board and in agreement by Friday, September 15th. This will allow us to get the teams sorted on SportyHQ with two weeks to spare before league starts.
League Start Date
As usual league is scheduled to start the first week of October.
Open Divisions 1-6 will start on Monday, October 2nd
Women's Divisions and Open Div 7 will start on Tuesday, October 3rd
Captain's Social
The Captain's Social will be happening early in the week of September 23 – 27th. We'll announce that as soon as we can via a league-wide email. All first time captains are STRONGLY encouraged to attend. It's a great opportunity to ask questions.
Hope you're all back on court getting ready for another amazing season! Please check back here for more updates as we get closer to the season.