Jan
4
Did you know that Squash BC has an initiative to raise funding for grassroots squash? It's called the 2020 FUND.
As funding from government and other sources becomes less and less predictable, it is important that we find alternative ways to ensure a sound financial future for Squash. The intention is to use monies accumulated through the 2020 Fund to promote the growth of the game through the development of junior squash. The fund reached it's goal eight years ahead of schedule and is distributing funds to groups growing the game.

A quick update on the current status of the 2020 Fund as of December 21:
2020 Fund balance – $302,322
Donations received in 2014 – $21,079!
Grants paid in 2013 – $9289
We would like to acknowledge four significant events that support the 2020 Fund. In addition to generating significant $ for the 2020 Fund, they also do a fantastic job of keeping the Fund on everyone's radar screen.
Arbutus' High Game Tournament
BC Jesters Calcutta (held at Vancouver Lawn and Tennis Club)
Bentall Centre Athletic Club's Halloween Open Team Championships

Global Fitness and Racquet Centre's

Joe Hattori Memorial Squash Tournament
Many thanks for your continued support of the 2020 Fund.
If you have any questions or comments, please do not hesitate to contact me at Andrew.lynn@ivanhoecambridge.com or check out the 2020 Fund's website
Sincerely,
Andrew Lynn
Chairperson – 2020 Fund Board of Directors
Dec
9
Evergreen Squash Club is hosting its third annual fundraising event to help eradicate cancer and enhance the lives of people living with cancer. This event began in support of Evergreen's friend and colleague Paul Marley who was diagnosed with Cancer in 2011. In October 2012 the club also suffered the terrible loss of a 10 year old junior to Cancer. This event honours the brave members of our community touched by cancer who are an inspiration to us all. Evergreen Squashes Cancer helps to invest in life-saving research, compassionate support programs like the volunteer driver program that helps people get to treatment-related appointments, and innovative cancer prevention initiatives. Through this tournament, Evergreen hopes to show people touched by cancer that they are not alone.
As well as running a tournament for men, women and juniors, for the second year running Evergreen is also proud to be hosting a professional women's tournament featuring 4 of the world's top women's squash pros. This year we are looking forward to 2 returning players and 2 new faces:
Samantha Cornett #31 — Canadian #1
Rachel Grinham #13 — former world #2
Tesni Evans – WSA #27
Donna Urquhart – WSA #35
The pros will play in a round robin format. Two games will take place on Thursday, Friday night and Saturday afternoon, and the Final between the top two players will take place on Sunday afternoon.
The men's, women's and juniors tournament takes place 7th January to 11th January, 2014, and provides a great start to the new year. Entry includes 3 matches guaranteed, food and beverage tickets and entry to Saturday pub night at Capilano Rugby Club.
Donations are made through and to the Canadian Cancer Society. Direct donations can be made both on the Evergreen website and the Canadian Cancer Society page: http://convio.cancer.ca/goto/evergreen
If you can help the club in this great cause, please let Phil Arthur, Dave Fenn or Tony Hemy know as your help would be greatly appreciated.
Deadline to register:

Jan 1 2015; 6pm

Dates of event: 7th – 11th January

Cost of event: $45 before 15 Dec, $55 after

What does entry include? Food and Drink Tickets, Entry to Saturday Pub night at Capilano Rugby Club and prizes.

Where do you register? https://www.sportyhq.com/tournament/view/Third-Annual-Evergreen-Squashes-Cancer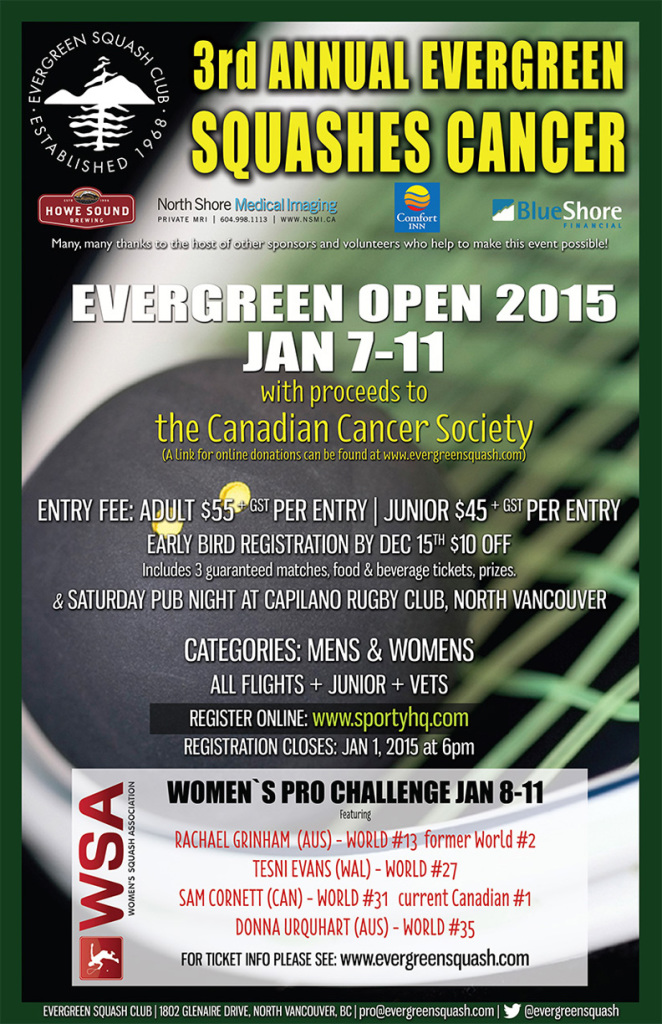 Nov
18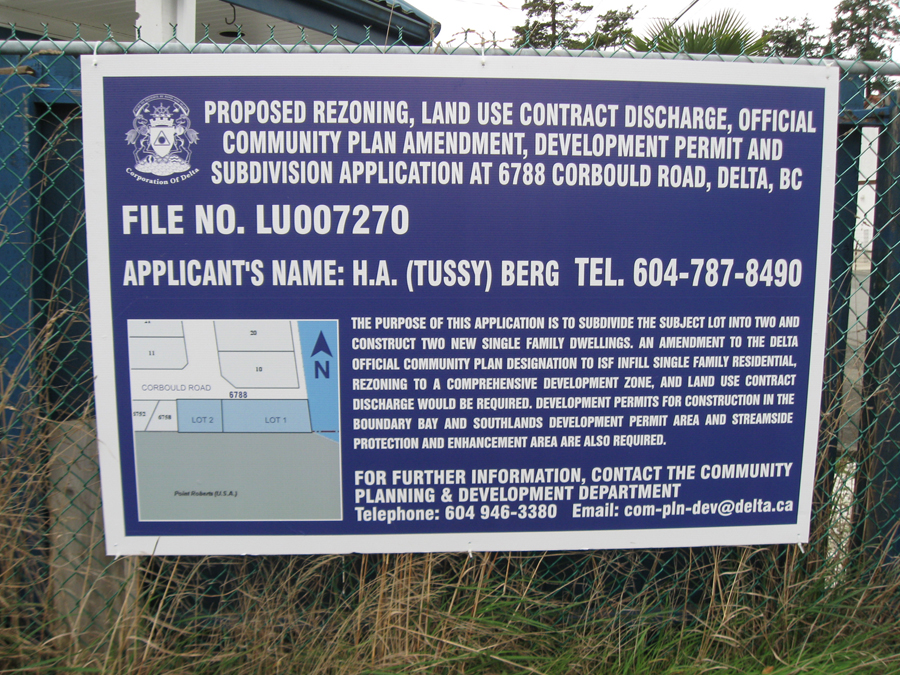 The Bayside Squash Club in Delta needs your help. Bayside has been an integral part of squash in BC for over 30 years and now our clubhouse is at risk of being rezoned and demolished. Yan Ling Wu bought the club a couple of years ago from Tim Saunders as a real estate investment. Tussy Berg is her realtor and holds the listing for the property.
We need your help in two ways: Firstly, we would like to help Tussy find a new owner for our clubhouse. An owner who can see the incredible potential the Bayside Club has and will help it grow. So if you know of anyone, or think you might be interested yourself, please contact Tussy through the listing above.
Right now though, until a new owner is found, we need your help to keep our clubhouse zoned for recreational use. Please help the Bayside Club. You can do this simply by sending an email to Delta Community Planning, Susan Elbe selbe@delta.ca to the attention of Mayor and Council. Keep your letter simple, a sentence or two will do:
Dear Mayor and Council,
Regarding the re-zoning application file No. LU007270; I am not in favour. I am writing to support that the Bayside Squash Club, located at 6788 Corbould Road, Delta, BC, continue to operate as a squash and fitness club. The Bayside Squash Club, Delta's only squash facility, has been an integral part of Squash in BC for over 30 years and I would like to see it continue as such.
Thank you for supporting the sport of squash in BC.
Sincerely,
(Your name and address)
Nov
9
The Hollyburn Country Club will be hosting the  NKF Devencore BC Open from Nov 26-30, 2014. The cost of event is $40 ($35 juniors) and entry includes "Some frills event, 3 match guarantee, prize money, event prizes, beer."
Deadline to register: Friday Nov 21



Register online at sportyHQ.com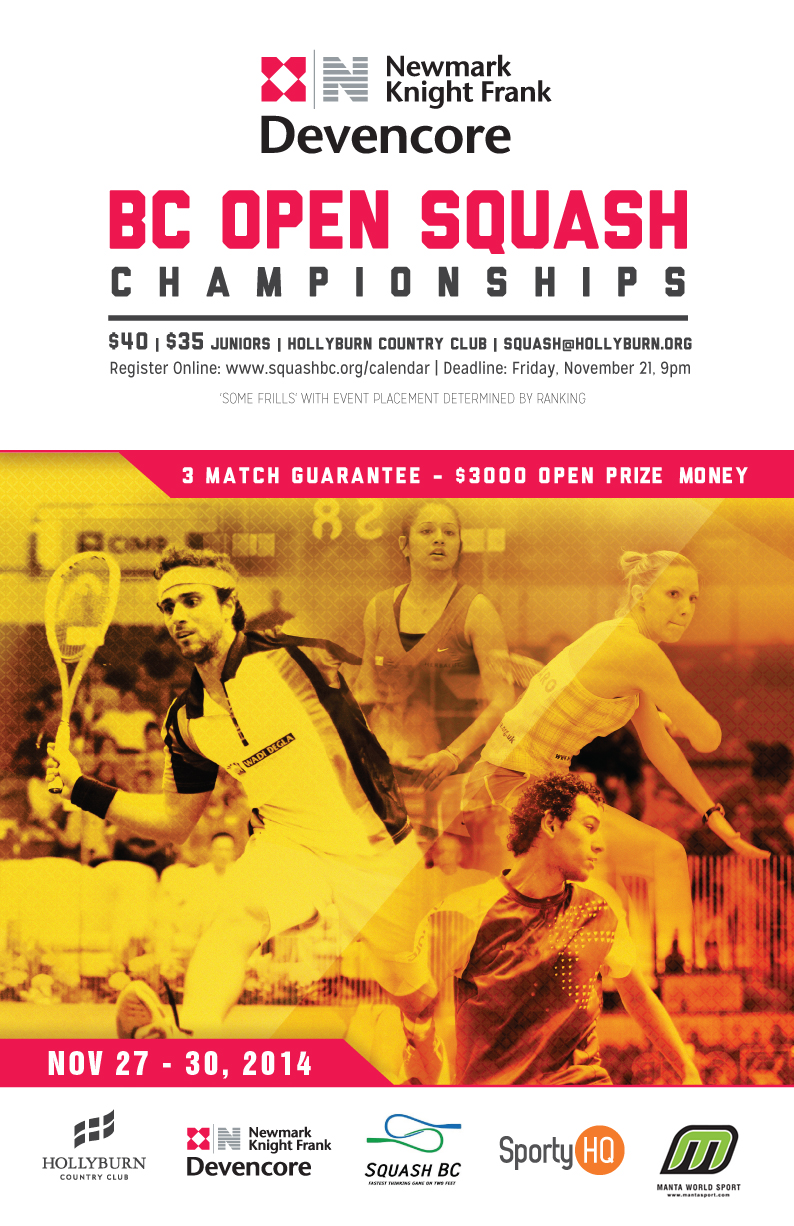 Nov
7
The Apollo Athletic Club is hosting their annual Fraser Valley Open on November 20-22, 2014.
Entry fee is $40 for adults and $25 for students and juniors.
CASH PRIZES for every category and a minimum of 3 matches.
Register at SportyHQ or email Cliff Raps for more information.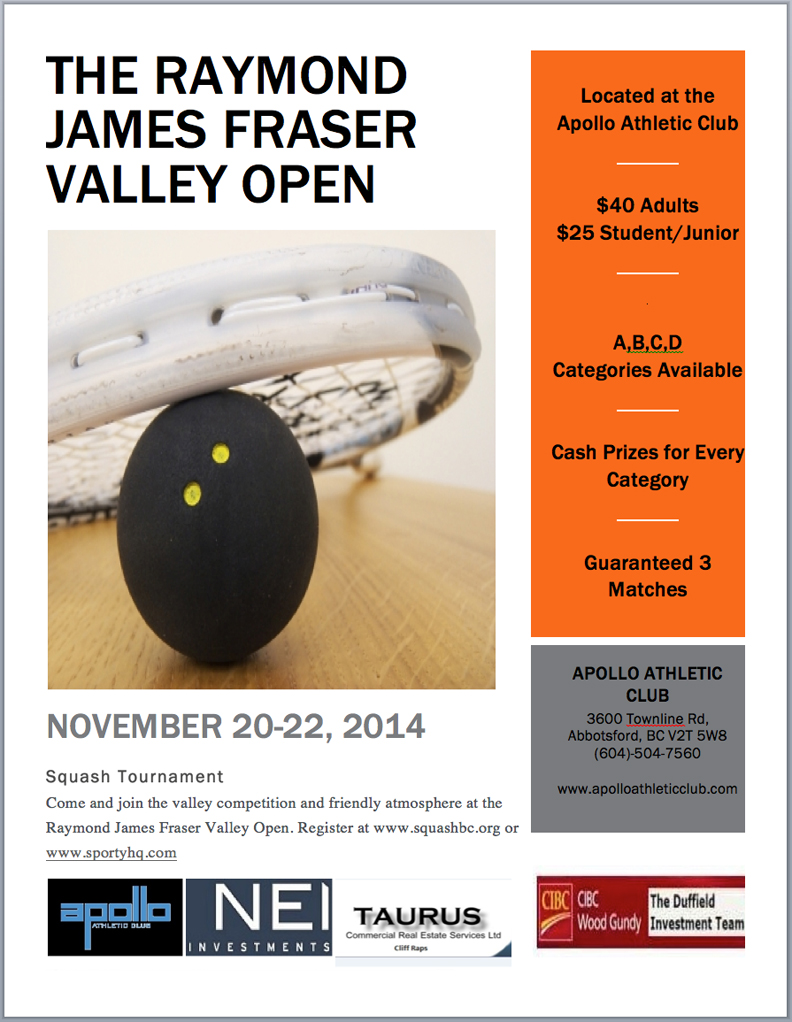 Nov
7
Vancouver Squash League players should note that SportyHQ is no longer collecting or gathering data from QuickDraws. This means that any club-level challenge matches that are ONLY entered into QuickDraws will not appear in the player's Squash BC match history and will not affect their official rankings.
If your club is running something other than SportyHQ (Game Time or QuickDraws) for court bookings, or for club ladders, please ensure that you enter your challenge matches in SportyHQ AS WELL AS your local club-based software program
Nov
6
WOMEN ONLY TOURNAMENT – Victoria Squash Club
It's the perfect season to unsheathe that racquet and don your squash gear for the All Women's Squash Weekend!
Have you been itching for a good squash game lately?

Because the Victoria Squash Club is hosting a Women's only weekend November 22nd and 23rd. We are looking for women of ALL AGES and ALL LEVELS (even beginners!).
Don't miss out on this opportunity to learn the fun of squash and have the chance to meet others to play with. Sign up today by contacting the Victoria Squash Club.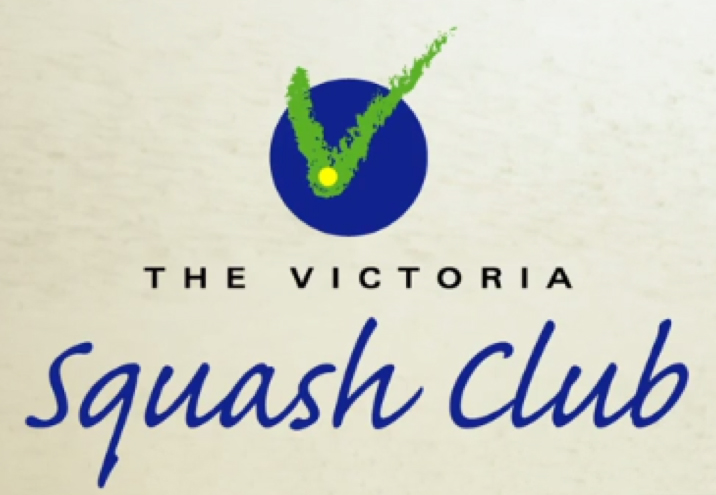 Nov
5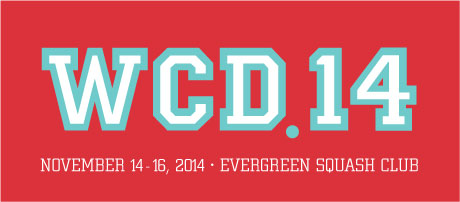 The 2014 Western Canadian Doubles Squash Championships will once again be hosted by the Evergreen Squash Club: Tuesday, November 11, 2014 – Sunday, November 16, 2014.
Deadline to Register is November 7th.
$1000 Total Prize Money for Mixed Open!
The tournament chairs, Cathy Covernton & Tim Martin, wish to encourage all local squash players' participation.
Oct
2
REGISTER online at SportyHQ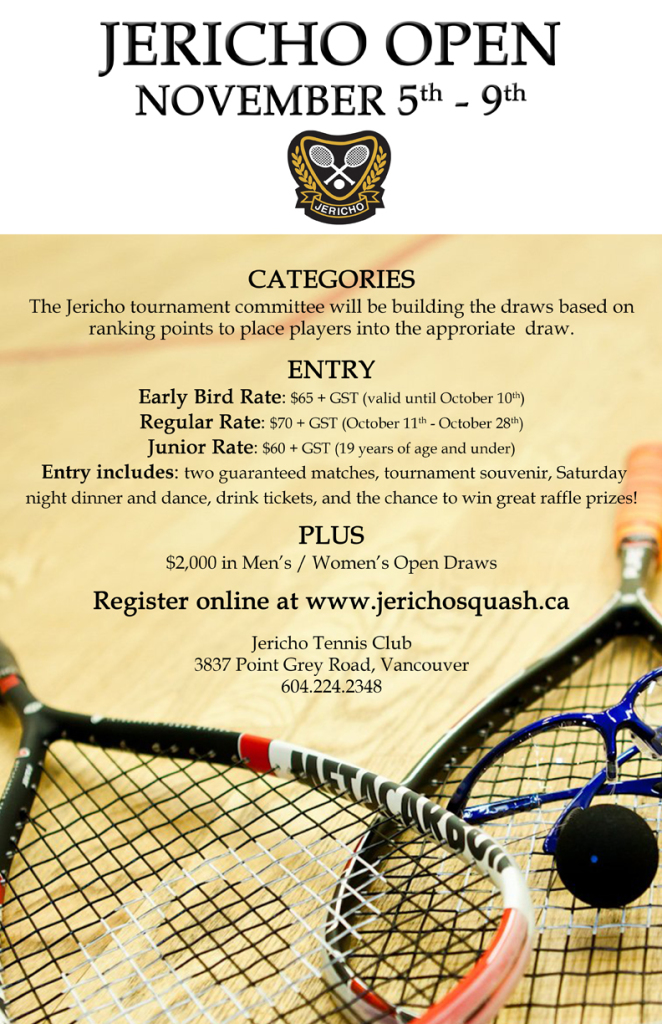 Sep
17
As you may have heard, Squash BC has signed a five year contract with SportyHQ and the VSL, which is a sanctioned event of Squash BC, is following suit and switching to SportyHQ.
The VSL league schedule is already online: Check it out here. At that link you'll be able to see the schedule, results and team lists.
NOTE: All players in the VSL will need to set up an account in order to access their rankings and team info. Here's a quick guide to help you get up and running.
DO I ALREADY HAVE AN ACCOUNT?
If you've played in a recent tournament there's a good chance you do. If you're not sure, go to this page and follow the simple steps: https://www.sportyhq.com/help/im-not-sure-if-i-have-an-account/
HOW DO I LOGIN?
If you have an active account, you can login by going to https://www.sportyhq.com and clicking on login in the top right hand corner. The direct link to the login page is https://www.sportyhq.com/authentication/login.
I'M A CAPTAIN. HOW DO I ADD PLAYERS?
Please note: You'll need to be the captain of your team in order to add players to it. If you are the captain, but you can't access the page referenced in this article, then please contact the league administrator.
Bring up your TEAM's page by going to the league's main page and clicking on your team's name in the summary box (you may have to select your division first). In this example Women's Div 1 is selected and we're clicking on VRC A1 to bring up the team menu.

This will be the page that pops up after clicking on your team name: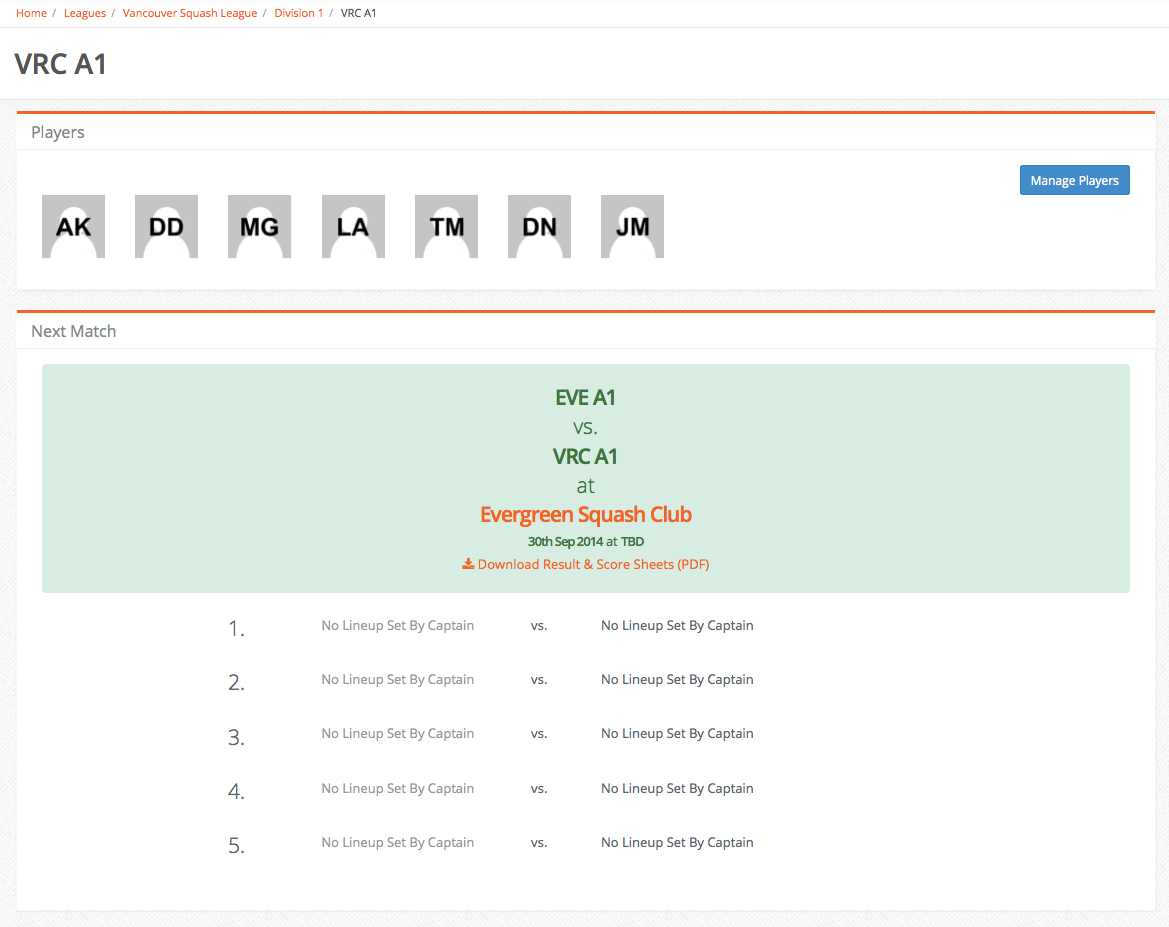 In this example seven players have already been added by clicking the blue "Manage Players" button on the far right. In this example none of the players have updated their accounts to include a photo of themselves. They can do that at any time.
After clicking on the blue "Manage Players" button a new screen will appear and you'll see a bar that says "Add a New Team Player". Click it and simple type in the players name. The system will search for them and you can add them. You can also designate whether they are a spare or not. You can also order your players from 1-5 but remember RANKINGS will decide the correct order of play on match day.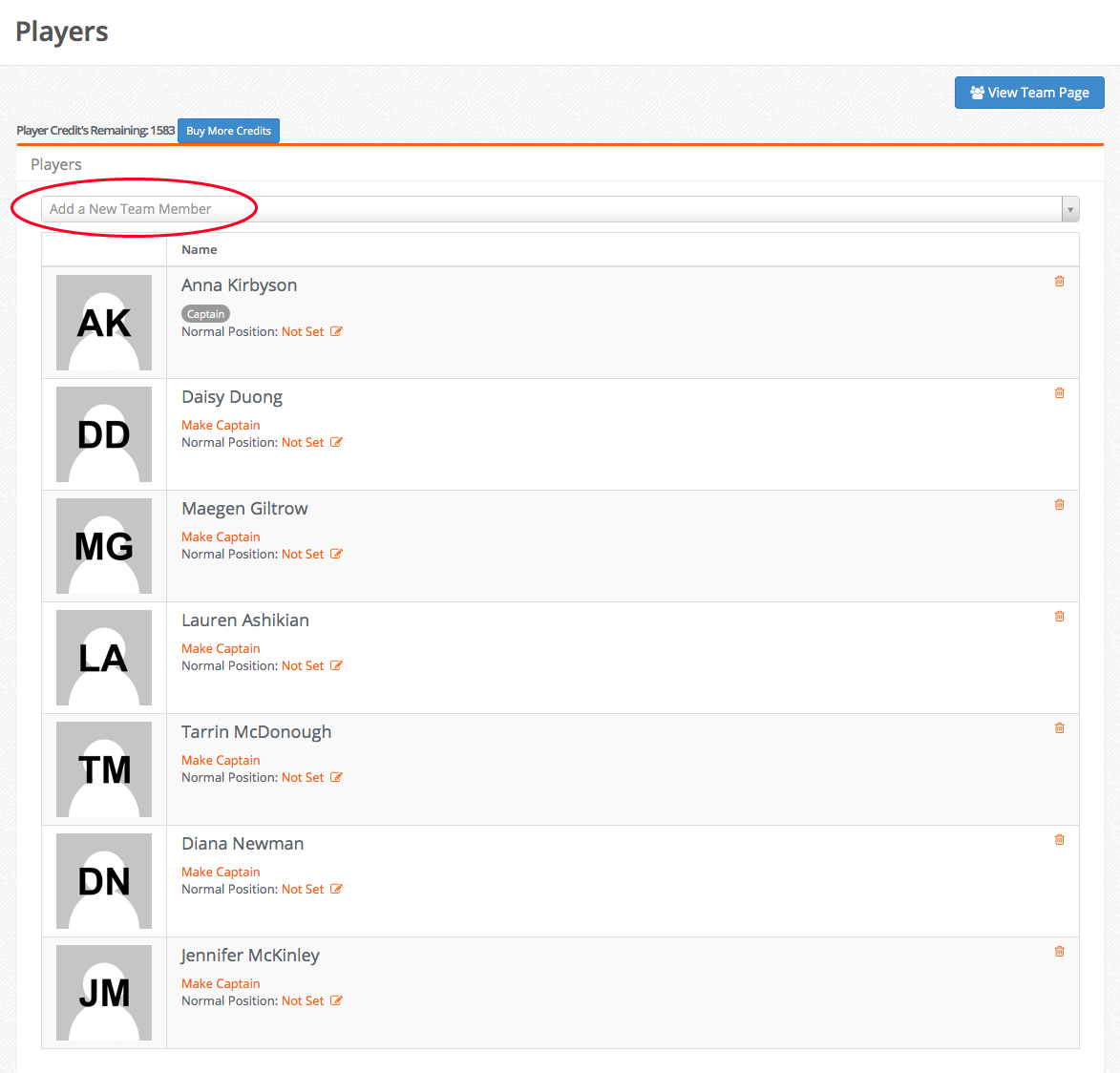 Close up view:

Ok, so now you have all your players signed. Make sure they activate their accounts and add their photos!
HOW DO I RENAME MY TEAM?

If you'd like to rename your team in your league, please send an email at support@sportyhq.com. Be sure to include:
Your name (you should be the captain of your team!)
The league your team is in
The DIVISION you play in
The CLUB you play for
Your existing team name
Your new team name
HOW DO I VIEW THE SCHEDULE?
Go to the league page and select your division from the summary box on the main page. Then, click the green Schedule button.

If you want to view only your team's schedule, then you can visit your team's page. To do that, go back to the main league page and click on your division, followed by your team's name.
You can alternatively use the search box in the navigation bar (click on the magnifying glass icon and type in your team's name). Both of these methods will take you to page where you can see the full schedule.
SETTING UP YOUR TEAM LINEUP FOR MATCHES
Setting your team's lineup is a really useful feature in SportyHQ. It takes the headache out of having to email and coordinate your team's availability each round.
In SportyHQ, you can ask your team at the beginning of the season (and throughout) to update their availability for each round. Team members can indicate if they're available, unavailable, or only available if absolutely necessary. That availability then shows up on your team's page, where you can then set the line up for the coming round.
As soon as you set your line up, your entire team (including those who aren't playing) are notified via email. You can also include useful instructions (such as carpooling information) in a free form comments field.
HOW DOES A TEAM MEMBER INDICATE THEIR AVAILABILITY?
It's very easy. All they have to do is visit the league's main page. Because SportyHQ knows that they're a member of your team, they'll see a box on that page with upcoming rounds where they can indicate their availability. It looks like this:

SET AVAILABILITY
Clicking the thumbs up means Available! The yellow "minus" sign means that you might be available if you're absolutely needed, while the thumbs down indicates that you're Unavailable. As soon as you click one of these, the availability immediately updates.


Go back to to your team page, then scroll down to the schedule. Next to an upcoming round, you'll see a button titled "Choose Lineup". Click it.
SCHEDULE AND CHOOSE YOUR LINEUP
On the next page, you'll see a list of your team members, along with with their availability and plenty of statistics about them that might help you set your lineup. All you have to do is pick your positions for each player (please make sure your reference any league rules that may apply to rankings and positions!), like this:

Then, enter a custom message if you would like to and then press "Save Lineup!".

Your team's lineup is emailed out to your entire team, and is then also available for your opposition to view, which will hopefully encourage them to set their line up, if they haven't done so already.
STILL HAVE QUESTIONS?
CLICK ON THESE HANDY LINKS: