Apr
16
REGULAR SEASON

- WOMEN



Women's DIV 1
JER A1
1. Carolyn Russell
2. Emma Parke
3. Imogen Thompson
4. Nicola Martin
5. Zoe Colclough
6. Michelle R Lindsay
7. Alexandra Giuffre(Sp)
8. Dara Sklar(Sp)
9. Carol Richards
Women's DIV 2
JER A2 – Racquets Up
1. Max Hakh
2. Dara Sklar
3. Liana Schou
4. Sue Wastie
5. Linda Wolfenden
6. Megan Picken(Sp)
7. Jane Cartmel(Sp)
8. Tracy Barber
9. Stacy Hall
10. Jennifer Louie
11. Carol Eberhard(Sp)
12. Shahira Tejpar(Sp)
13. Emilie de Crombrugghe(Sp)
14. Kelly Niessen(Sp)
15. Debbie Gin(Sp)
Women's DIV 3
RIV C3 – RC Boasters
1. Josephine Guevara
2. Julienne Joe
3. Berny Schulz(Sp)
4. Lesia Verones
5. Jill Gamblen
6. Sylvette Rahn
7. Darlene Shandola
8. Antoinette Woodman
9. Danielle Lacroix(Sp)
10. Yu Quan Ng(Sp)

Women's DIV 4
ARB B4
1. Nicole Paris
2. Liz Tuck(Sp)
3. Sue Hall
4. Asa Zanatta
5. Sandi Munro
6. Catharine Turner
7. Michelle Harrison(Sp)
8. Nancy Bullus
9. Terri Bence

Women's DIV 5
BEN A5
1. Rosemary Kitching
2. Joanne Ditommaso(Sp)
3. Myrla Savet
4. Amy Pryse-Phillips
5. Alexia Jones
6. Azmina Karim-Bondy
7. Cher LaCoste
Women's DIV 6
VRC – G6 – Tonya Harding Style
1. Allison Eddy(Sp)
2. Caitlin Mischki
3. Jane Nemaia
4. Lady Jessica Hartley
5. Patti Malone
6. Signy Wilson
7. Christina Yap
8. Carllie Hennigan(Sp)
9. Jennifer Levey

PLAYOFFS

- WOMEN
Women's DIV 1
TBD – April 26th, 2014 at 5pm at VRC
JER A1 vs EVE A1

Women's DIV 2
BAY – 2 Sqwalkers
1. Dian Soparlo(Sp)
2. Vicki Fenn
3. Lisa Gifford
4. Barb Wormald
5. Margaret Colbourne
6. Alyson Brennan
7. Liesa MacCulloch
8. Joan Hunter
9. Linda McCabe
10. Julie Gillis(Sp)
11. Corina Lynn
Women's DIV 3
RIV C3 – RC Boasters
1. Josephine Guevara
2. Julienne Joe
3. Berny Schulz(Sp)
4. Lesia Verones
5. Jill Gamblen
6. Sylvette Rahn
7. Darlene Shandola
8. Antoinette Woodman
9. Danielle Lacroix(Sp)
10. Yu Quan Ng(Sp)

Women's DIV 4
ARB B4
1. Nicole Paris
2. Liz Tuck(Sp)
3. Sue Hall
4. Asa Zanatta
5. Sandi Munro
6. Catharine Turner
7. Michelle Harrison(Sp)
8. Nancy Bullus
9. Terri Bence

Women's DIV 5
BEN A5
1. Rosemary Kitching
2. Joanne Ditommaso(Sp)
3. Myrla Savet
4. Amy Pryse-Phillips
5. Alexia Jones
6. Azmina Karim-Bondy
7. Cher LaCoste
Women's DIV 6
VRC – G6 – Tonya Harding Style
1. Allison Eddy(Sp)
2. Caitlin Mischki
3. Jane Nemaia
4. Lady Jessica Hartley
5. Patti Malone
6. Signy Wilson
7. Christina Yap
8. Carllie Hennigan(Sp)
9. Jennifer Levey

REGULAR SEASON – OPEN
Open DIV 1
BEN A1
1. Andrew Lynn
2. Luke Vaggers
3. Ken Smith
4. Adam Radziminski
5. Gavin Treacy(Sp)
6. Aneal Galbaransingh
7. Geraint Khan
8. Colin O'Connor(Sp)
9. Tim Saunders
10. Andrew Clements
11. Mike Derry
12. Jeff Smithson(Sp)
13. Nicholas Smith
14. Doug Garritsen(Sp)

Open DIV 2
ARB A2
1. Marc Kazimirski
2. Evan Green
3. Matt Fahey(Sp)
4. pierce masuhara(Sp)
5. Greg Cruickshank
6. Stanley Dee
7. David Cluff
8. Blair Bullus
9. Trevor Cox
10. Heather Yong(Sp)
11. Johnny Arthur(Sp)
12. Tabs Singh(Sp)
13. Jim Green

Open DIV 3
JER – 3 – Balls o Destiny
1. Ryan Picken
2. Dan Hodgins
3. Tommy Paley
4. David Phillips
5. Brian Beck
6. Scott Trinder
7. Marc Poier
8. Marc Wild

Open DIV 4
TCC A4
1. Marcus Foster
2. Martin Goodger
3. Sergio Hsia
4. Sean Copeland
5. Millan Patel
6. Robert Torrance
7. Randy Bernard
8. Jerry Gerrior(Sp)
9. Amit Budhwar(Sp)
10. Jim Ritchie
Open DIV 5
JER 5 – The Redmen
1. Andrew Dempsey
2. Imogen Thompson(Sp)
3. Sam Scivier
4. Dennis Lee
5. Soren Schou(Sp)
6. Nick Feetham
7. John Dempsey(Sp)
8. Hussein Lalani
9. Bill Magee
10. Mike Longhi
11. Craig Lennox(Sp)
12. Andrew Csinger
13. Doug Hodgins
14. Charles Lingren(Sp)
15. Brogan Csinger
16. Chris Glazier(Sp)
17.Geoff Carr(Sp)

Open DIV 6
TCC  6 Lions
1. Daisy Duong(Sp)
2. Jack Cartmel
3. Jerry Gerrior(Sp)
4. Amit Budhwar(Sp)
5. Marc Wen
6. Pablo Yuste(Sp)
7. Joseph Corea
8. Brent Wheeler
9. Patrick Watson
10. Art Bensler(Sp)
11. Christopher Juras
12. Robert Evans
13. Ron Matthews(Sp)
14. Peter Jackman(Sp)

Open DIV 7
EVE B7
1. Matt Bicknell(Sp)
2. Tony Hemy
3. Amir Saad elsayed
4. Derek Andrew
5. Matt Brikis
6. David Fenn
7. Matt Warner
8. Howard Ageson
9. Mike Zuccaro
10. Ben Boon
11. Keith Schaefer(Sp)

PLAYOFFS – OPEN
Open DIV 1
TBD – April 26th, 2014 at 6pm at VRC
BEN A1 vs. RIV R2
Open DIV 2
VRC – B2 – Dirty Knickers
1. Inderbir Hundal
2. Brendan George
3. Shawn Patton
4. Robert Pacey
5. David Tucker
6. Andrew Muir
7. Erik Nilsson(Sp)
8. Mike Carrier(Sp)
9. Simon David Whyte
10. Mark Russell(Sp)
11. Ian Humphries(Sp)
12. John Grant(Sp)
Open DIV 3
JER – 3 – Balls o Destiny
1. Ryan Picken
2. Dan Hodgins
3. Tommy Paley
4. David Phillips
5. Brian Beck
6. Scott Trinder
7. Marc Poier
8. Marc Wild

Open DIV 4
EVE I4 – Kazers
1. Randy Johal
2. Cathy Covernton(Sp)
3. Brian Maclean
4. Jason Hingley
5. Lee Meller
6. Bryan Hack
7. Ashley Walker
8. Eike Schroter
9. Mike Lavigne
10. Rodger Hutchinson
Open DIV 5
JER 5 – The Redmen
1. Andrew Dempsey
2. Imogen Thompson(Sp)
3. Sam Scivier
4. Dennis Lee
5. Soren Schou(Sp)
6. Nick Feetham
7. John Dempsey(Sp)
8. Hussein Lalani
9. Bill Magee
10. Mike Longhi
11. Craig Lennox(Sp)
12. Andrew Csinger
13. Doug Hodgins
14. Charles Lingren(Sp)
15. Brogan Csinger
16. Chris Glazier(Sp)
17.Geoff Carr(Sp)

Open DIV 6
TCC  6 Lions
1. Daisy Duong(Sp)
2. Jack Cartmel
3. Jerry Gerrior(Sp)
4. Amit Budhwar(Sp)
5. Marc Wen
6. Pablo Yuste(Sp)
7. Joseph Corea
8. Brent Wheeler
9. Patrick Watson
10. Art Bensler(Sp)
11. Christopher Juras
12. Robert Evans
13. Ron Matthews(Sp)
14. Peter Jackman(Sp)

Open DIV 7
EVE B7
1. Matt Bicknell(Sp)
2. Tony Hemy
3. Amir Saad elsayed
4. Derek Andrew
5. Matt Brikis
6. David Fenn
7. Matt Warner
8. Howard Ageson
9. Mike Zuccaro
10. Ben Boon
11. Keith Schaefer(Sp)

Apr
4
On Saturday, April 26th the finals of Division 1, Open and Women's, will be played at The Vancouver Racquets Club. Everyone is invited! RSVP by joining the Facebook Wrap Party Event page.
THIS YEAR'S FINALISTS:
Women's Div 1 – JER A1 vs EVE A1
Open – BEN A1 vs RIV R2
Last years finalists in the Open were Evergreen (EVE A1) and Sportcentral (SPC 1A) with Evergreen coming out on top. The Women's final had Jericho (JER A1) winning over Vancouver Racquets Club (VRC A1).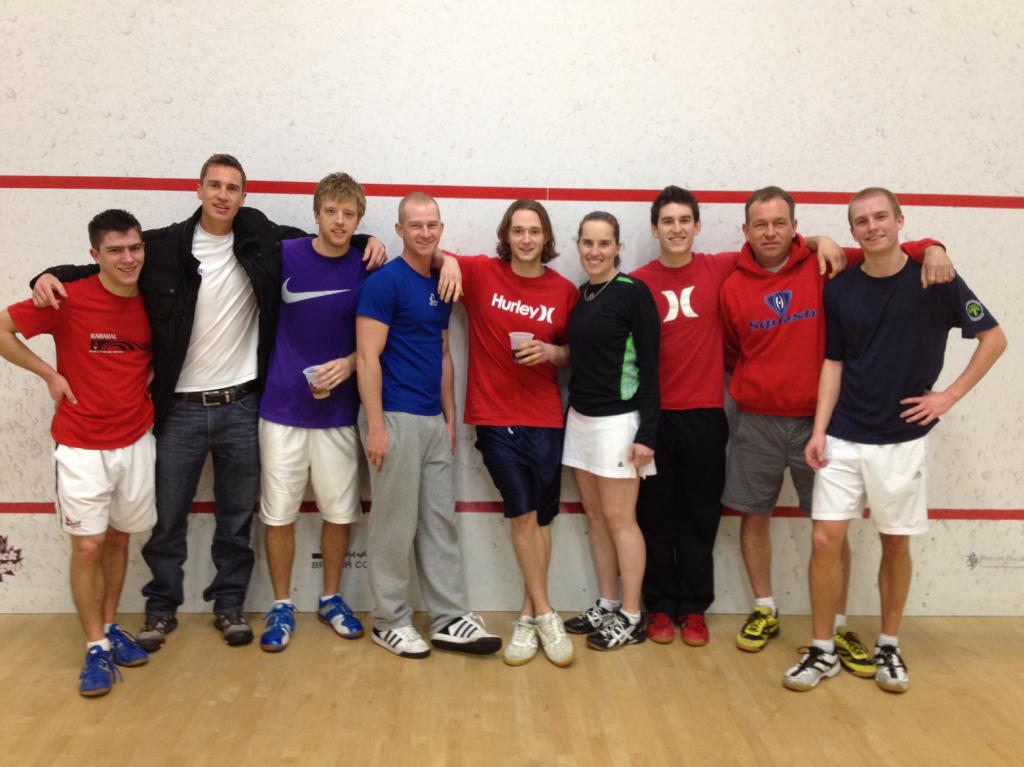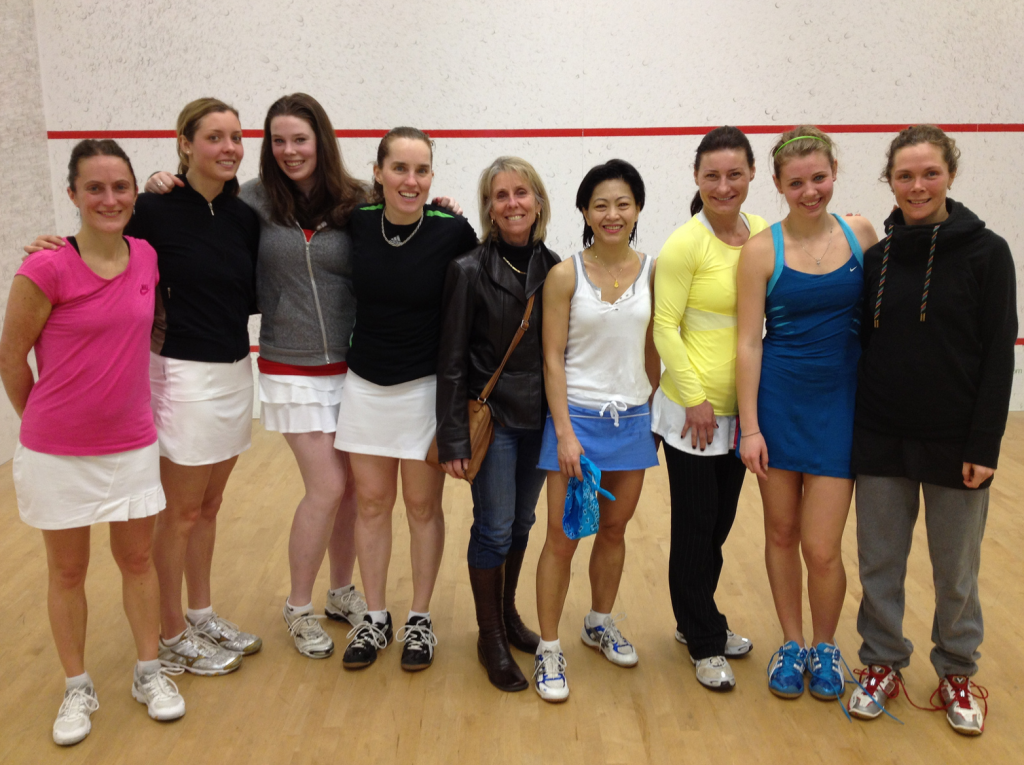 Who will sip from the trophies this year? We'll let you know who's playing this year as soon as we know! Semi finals are next week.

Apr
1
The goal of the VSL  is to ensure that the wishes of the membership are reflected in the rules. In order to effectively gather this information we rely on surveys and the membership's participation in them.
There is a motion on the 2014 AGM agenda, regarding rule 3.1.1, which suggests a reduction in the numbers of players on WOMEN'S Division teams from 5 to 4. (NOTE: There is no motion for a similar switch in the OPEN divisions but we are polling to see if there is support for it.)
Rule changes such as these are prompted by suggestions from players or board members and then followed up with a league-wide survey. If there is substantial support for the suggested change, a motion will be presented for voting at the AGM. It is therefore very important that you participate in this brief, three question, survey as the outcome may have significant impact on league play. Captains should ensure that their entire team takes a moment to answer the survey in order to let the board know whether you are in support of such a change.
The deadline to complete the survey is April 21st and the results will be presented at the 2014 AGM on Saturday, April 26th, at 3pm at the Vancouver Racquets Club.
LINK TO SURVEY: https://www.surveymonkey.com/s/5WN5Q9J
Thank you for participating and helping to improve your league!
The VSL Board
Mar
18
Attention VSL members: The 2014 VSL AGM will be held at the Vancouver Racquets Club on April 26th, 2014 at 3pm.
UPDATE – March 21, 2104 – The AGM will be held at 3pm at  The Vancouver Racquets Club – 4867 Ontario Street, Vancouver BC.
The AGM will be followed by the finals for DIV 1 Open and Women at 5pm. The Wrap Party begins at 7pm at the newly renovated "Last Serve" bar at VRC.
The AGM is open to all members of the Vancouver Squash League including players, club organizers and professionals. Each CLUB is allowed ONE vote per team to a maximum of ten (10) votes.
Members who are unable to attend in person are asked to download a proxy and return it via email to the league coordinator no later than April 25th. (Download your 2014 proxy here.)
10.1.2 A proxy may be used at the AGM.  A proxy form must be signed only by the captain of a team and may be given to anyone of his/her choosing who is attending in person at the AGM.  The proxy form will be used for voting on matters that are listed on the AGM agenda only, where the captain has given his/her vote(s) to their proxy on those matters, and not on matters raised for the first time and voted on at the AGM.
The final agenda will be published here and sent to all players no later than March 26th. Suggestions for agenda items must be submitted no later than March 25th.
The minutes from the 2013 VSL AGM, held on Saturday March 23, 2013, at The River Club, are available for download (Word document).
The VSL's 2013 Financial Statement is also available for download (PDF).
If you have any difficulty accessing any of these documents please contact the League Coordinator: info[at]vancouversquashleague[dot]com
The 2013 AGM agenda was emailed to all captains and club reps on Tuesday, April 1:
1. Introductions
2. Adoption of Agenda
3. Adoption of minutes of 2013 AGM – Saturday, March 23, 2013
4. Voting procedure and quorum
5. Chairperson's Report
6. League Coordinator's Report
7. Financial Report & Budget
8. Rule 3.1.1
MOTION
Amend Rule 3.1.1 from " Each team shall consist of five (5) players" to "Each Open team shall consist of five (5) players"
MOTION
Add new rule: "Rule 3.1.2 – Women's teams shall consist of four (4) players."
9. 2014/15 Board of Directors Nominations and Elections
10. New Business
11. Adjournment
+
Mar
9
It is with a heavy heart that we inform the Squash Community that we have lost one of the great ones this week. After an eighteen month battle with cancer, Paul Marley passed away peacefully on Thursday afternoon.  The family will be hosting: "A Celebration of Life" at the Evergreen Squash Club on Saturday, March 15 at 4 pm.
Paul's passing leaves a big hole in squash both within British Columbia and the world. Paul was the ultimate positive force anytime he was near a squash court. From playing in various Masters Championships to bringing squash players to BC from all over the world, his incredible enthusiasm for the sport of squash will be remembered worldwide.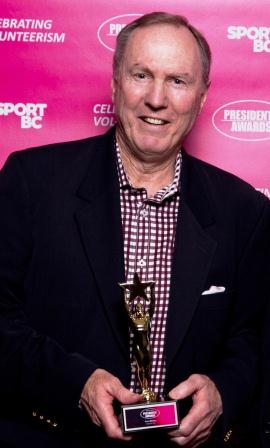 Mar
3
April  9- 13, 2014
Prize Money: $2,000 for Men's & Women's Open events Only
Prize Money for all other events with minimum of 8 entries and categories not combined
Entry Deadline: Friday, April 4, 2014 @ 8 pm.
Scoring: PAR 11 (Triple Knock-out, where possible)
Entry Fee:
$50 until March 28th  (Juniors $45.00)
$55 afterwards (Juniors $50.00)
(Fees include tax)
No Entry fee will be accepted without payment.
Draws: Online Draws available Tuesday April 8th
Entry Fee includes: 
Souvenir, Beer Tickets,
Thursday – Women's Wine & Shine Night
Friday  – Weinee Night Appies
Saturday -  am Coffee & Tea – pm Appies at Plane Toss
Sunday – am Coffee & Tea ,  pm, Prize Presentation after Finals
Play:
Thursday – Local play may begin at 5:30 pm
Friday – Out of town players begin as early as 5:30 pm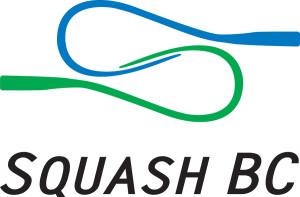 This is a Squash BC "AAA"  Sanctioned Event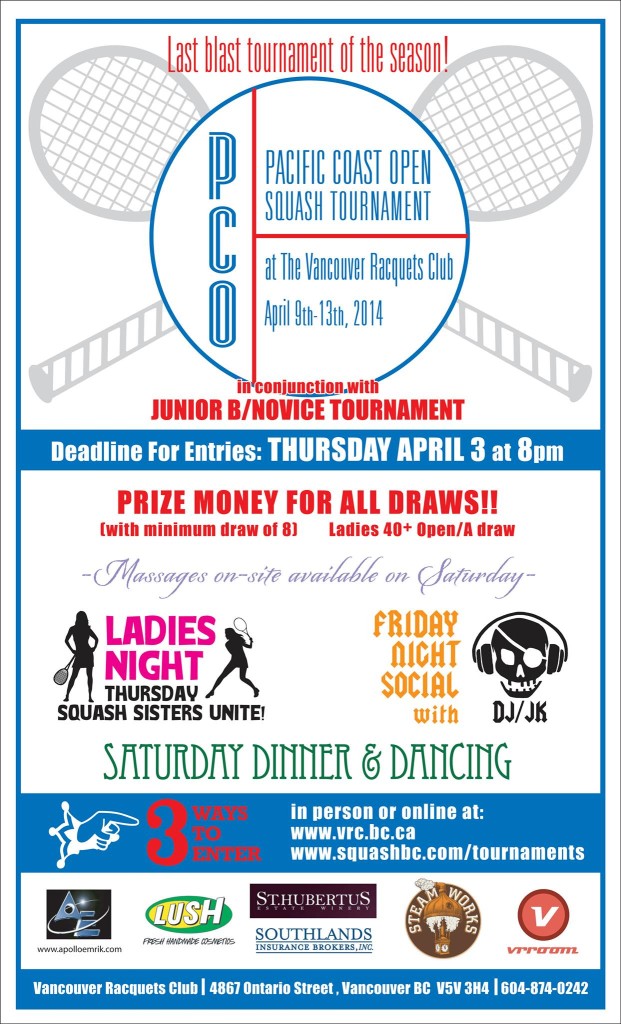 Feb
25
There is still space available for the Feb 26th clinic at the River Club but the Feb 27th Arbutus clinic is sold out.
If you are interested in taking advantage of the deal being offered to VSL members for Squash Canada's online referee certification please make sure that you bring $10 to the clinic and a VSL board member will take your name, contact info and payment.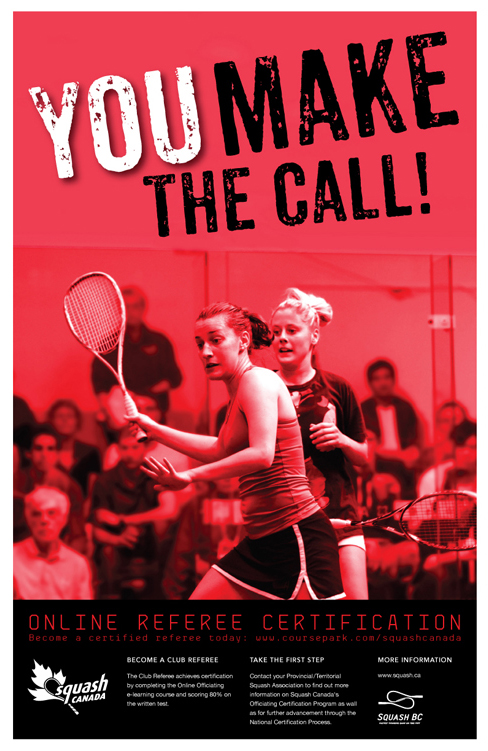 Feb
14
Today is the last day to register for BC's premiere event, the BC Closed.
The registration deadline is tomorrow, Friday, February 14th @ 9:00 PM. There will be no late entries accepted, so I encourage you to sign up immediately! This AAAA Provincial Championship will crown our provincial champion! Players of all abilities welcome as there are many divisions available to compete in.
Each participant will receive:
3 match guarantee (up from 2)
Sunday Finals wine and cheese
Saturday evening Extravaganza, features pub style catering and beer (replaces the Saturday banquet and takes place during event semi-finals.)
After match beer – courtesy of OK Spring
F&B voucher for use in Bistro or Bar & Grill
$3000.00 of prize money for the Open level players.
Winners of the Men's & Women's Open, age group categories are eligible to
receive funding support to attend the National Championships.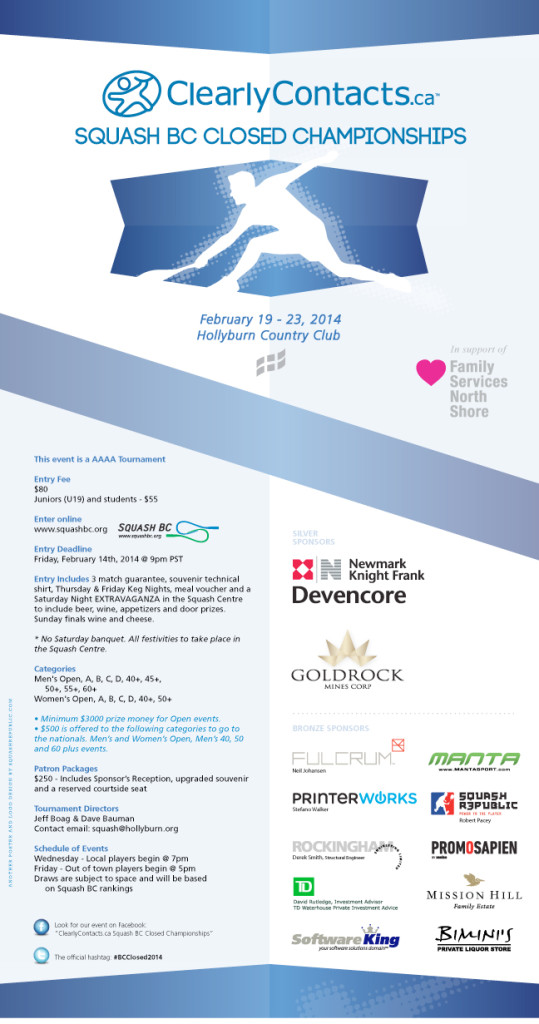 Feb
14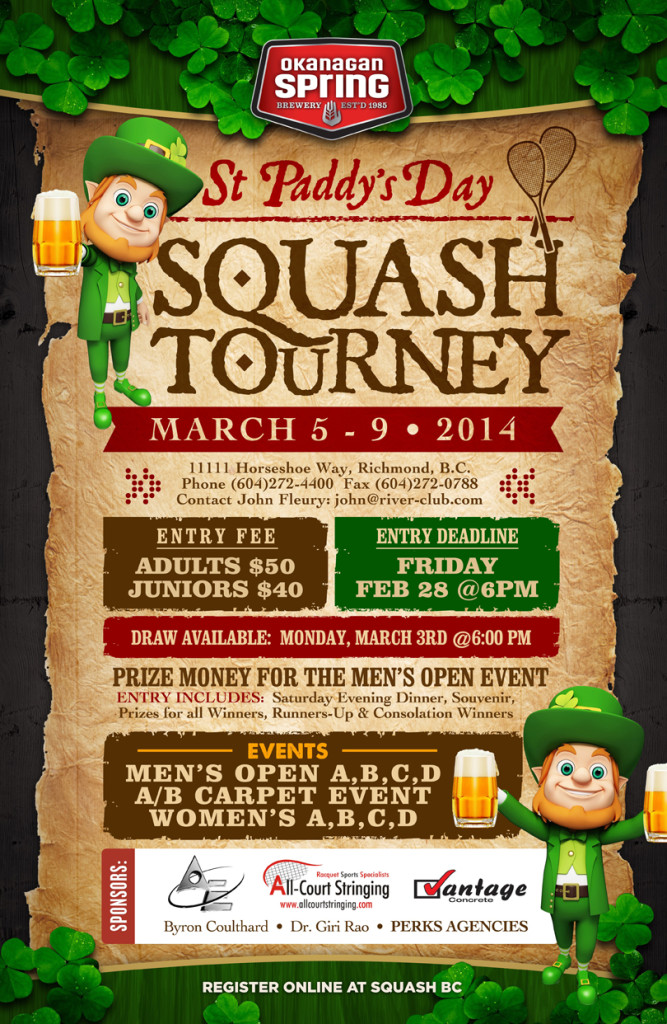 Feb
5
The BC Honda Vancouver Squash League is pleased to present TWO FREE REFEREE clinics to players in the VSL and Squash BC members. Both of these clinics will be run by ASIF HUDANI who is the chair of Squash Canada's Officiating Committee. As a Certified A1 Official, he is also one of BC's highest ranking officials.
The first clinic will be held in RICHMOND at the River Club on WEDNESDAY, FEBRUARY 26th starting at 6:30pm.
The second clinic will be held in VANCOUVER at the Arbutus Club on THURSDAY, FEBRUARY 27th starting at 6:30pm.
Please RSVP by Sunday, February 24th if you plan on attending – info[at]vancouversquashleague[dot]com
SPECIAL OFFER!
Players who attend a free clinic will be able to take advantage of a discount coupon for Squash Canada's Online Club Referee Certification Course. This course has a value of $30 but will be available to participants for only $10! For more information on the course please visit Squash Canada's website.
Please pass this information on to all players on your teams and any who might be interested.