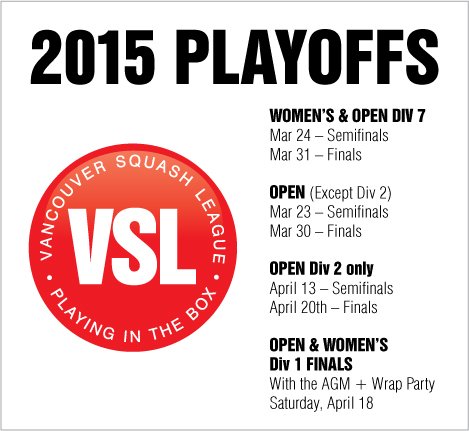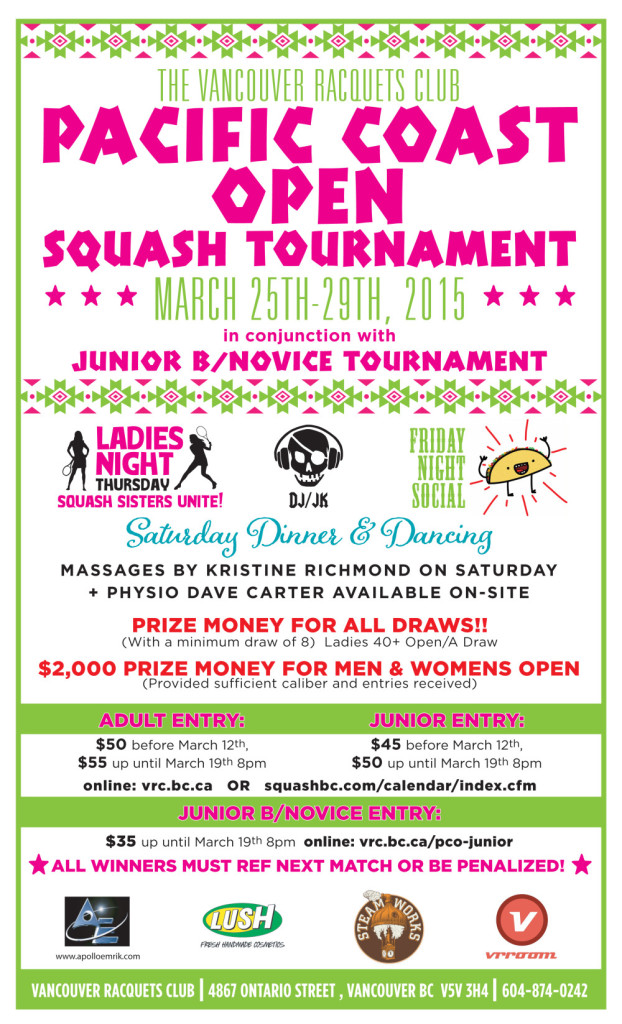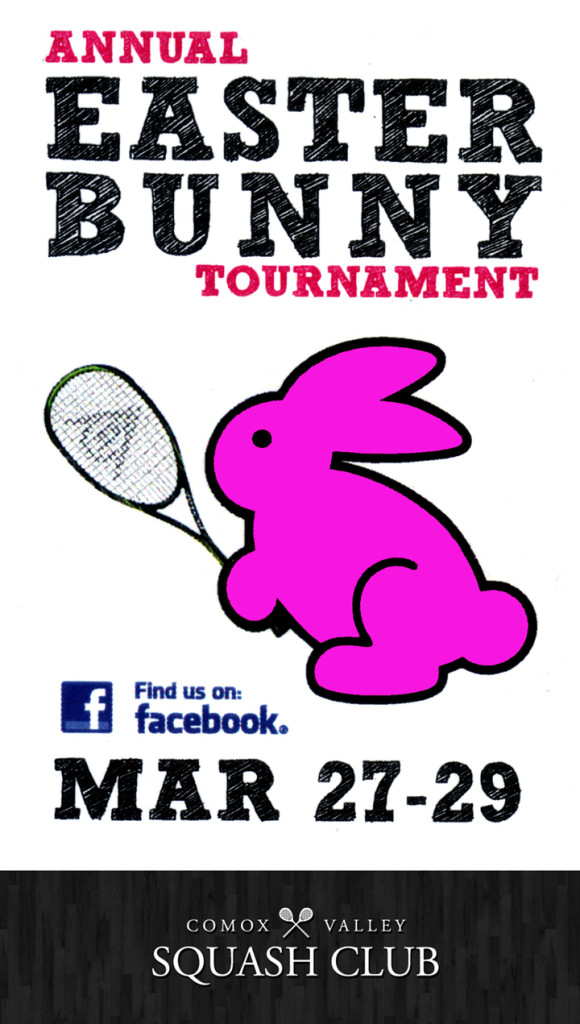 23rd annual King of the Courts Squash Tournament
Dates : March 3-7 2015
Cost of event: $45 early bird price (ends February 10th) $60 on or after February 11th
What does entry include? Tournament T-shirt, draw prizes, placement prizes, end of tournament banquet dinner
Deadline to register: Thursday, February 26th
Where do they register? www.sportyhq.com or by calling 604-297-4576
River Club St. Paddy's Day Squash Tourney
Dates: Feb 25 – Mar 1, 2015.
Entry deadline: Feb. 21, 2015
Costs: $50 adults, $40 juniors
+55 category added.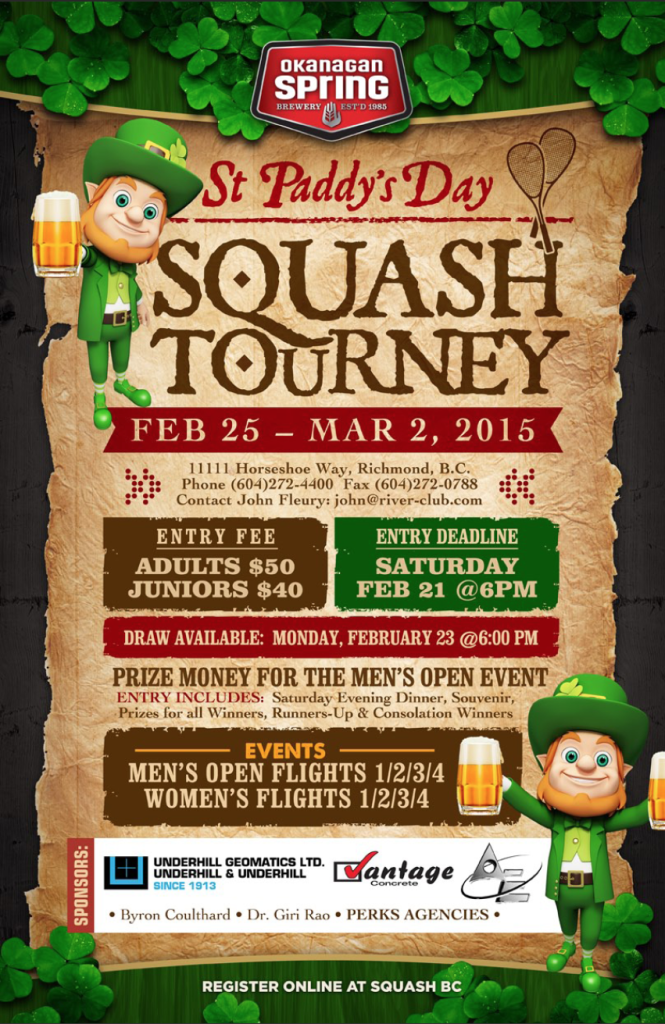 2015 BC Closed at Arbutus
Dates: FEb 18 – 22, 2015
Deadline to register: Sat Feb 14
Cost: Adults – $65 / Juinors $55
Register online at Squash BC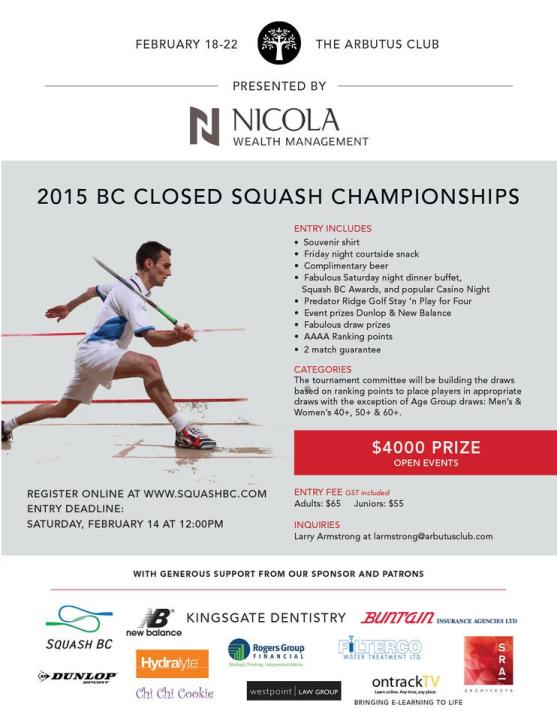 Did you know that Squash BC has an initiative to raise funding for grassroots squash? It's called the 2020 FUND.
As funding from government and other sources becomes less and less predictable, it is important that we find alternative ways to ensure a sound financial future for Squash. The intention is to use monies accumulated through the 2020 Fund to promote the growth of the game through the development of junior squash. The fund reached it's goal eight years ahead of schedule and is distributing funds to groups growing the game.

A quick update on the current status of the 2020 Fund as of December 21:
2020 Fund balance – $302,322
Donations received in 2014 – $21,079!
Grants paid in 2013 – $9289
We would like to acknowledge four significant events that support the 2020 Fund. In addition to generating significant $ for the 2020 Fund, they also do a fantastic job of keeping the Fund on everyone's radar screen.
Arbutus' High Game Tournament
BC Jesters Calcutta (held at Vancouver Lawn and Tennis Club)
Bentall Centre Athletic Club's Halloween Open Team Championships

Global Fitness and Racquet Centre's

Joe Hattori Memorial Squash Tournament
Many thanks for your continued support of the 2020 Fund.
If you have any questions or comments, please do not hesitate to contact me at Andrew.lynn@ivanhoecambridge.com or check out the 2020 Fund's website
Sincerely,
Andrew Lynn
Chairperson – 2020 Fund Board of Directors
Evergreen Squash Club is hosting its third annual fundraising event to help eradicate cancer and enhance the lives of people living with cancer. This event began in support of Evergreen's friend and colleague Paul Marley who was diagnosed with Cancer in 2011. In October 2012 the club also suffered the terrible loss of a 10 year old junior to Cancer. This event honours the brave members of our community touched by cancer who are an inspiration to us all. Evergreen Squashes Cancer helps to invest in life-saving research, compassionate support programs like the volunteer driver program that helps people get to treatment-related appointments, and innovative cancer prevention initiatives. Through this tournament, Evergreen hopes to show people touched by cancer that they are not alone.
As well as running a tournament for men, women and juniors, for the second year running Evergreen is also proud to be hosting a professional women's tournament featuring 4 of the world's top women's squash pros. This year we are looking forward to 2 returning players and 2 new faces:
Samantha Cornett #31 — Canadian #1
Rachel Grinham #13 — former world #2
Tesni Evans – WSA #27
Donna Urquhart – WSA #35
The pros will play in a round robin format. Two games will take place on Thursday, Friday night and Saturday afternoon, and the Final between the top two players will take place on Sunday afternoon.
The men's, women's and juniors tournament takes place 7th January to 11th January, 2014, and provides a great start to the new year. Entry includes 3 matches guaranteed, food and beverage tickets and entry to Saturday pub night at Capilano Rugby Club.
Donations are made through and to the Canadian Cancer Society. Direct donations can be made both on the Evergreen website and the Canadian Cancer Society page: http://convio.cancer.ca/goto/evergreen
If you can help the club in this great cause, please let Phil Arthur, Dave Fenn or Tony Hemy know as your help would be greatly appreciated.
Deadline to register:

Jan 1 2015; 6pm

Dates of event: 7th – 11th January

Cost of event: $45 before 15 Dec, $55 after

What does entry include? Food and Drink Tickets, Entry to Saturday Pub night at Capilano Rugby Club and prizes.

Where do you register? https://www.sportyhq.com/tournament/view/Third-Annual-Evergreen-Squashes-Cancer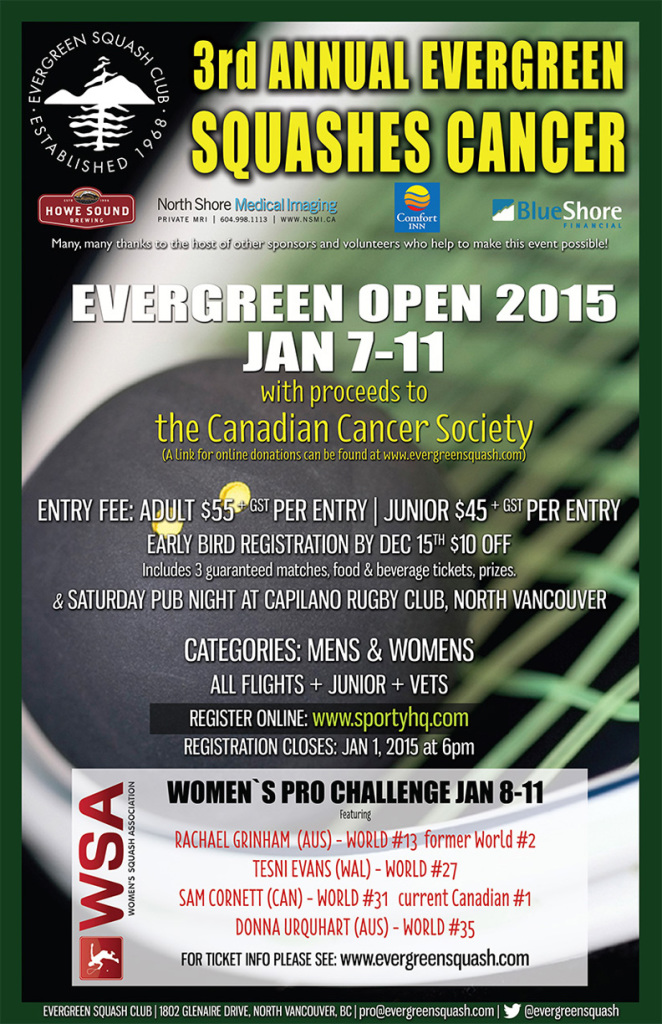 The Hollyburn Country Club will be hosting the  NKF Devencore BC Open from Nov 26-30, 2014. The cost of event is $40 ($35 juniors) and entry includes "Some frills event, 3 match guarantee, prize money, event prizes, beer."
Deadline to register: Friday Nov 21



Register online at sportyHQ.com