Aug
27
ON WEDNESDAY, SEPTEMBER 18TH, 6-8PM, AT THE JERICHO TENNIS CLUB, the BC Honda Vancouver Squash League is hosting a "Captain's Social" to thank all VSL captains.
This brief information session will include an overview of a captain's requirements, tips on socializing, rules overview and a Quick Draws demo. There will also be a question and answer period and FREE BEER AND APPETIZERS.
This is a great event for captains to get up to speed on the league before it starts and first-time captains are strongly recommended to attend and it's our way of saying "THANKS". If you are the captain and can't attend please send your co-captain.
RSVP by Monday, September 16th: info@vancouversquashleague.com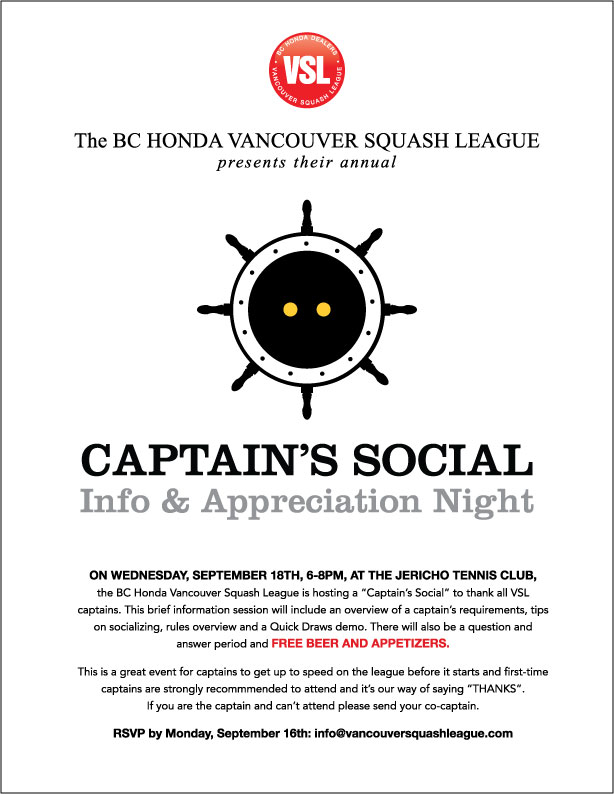 Aug
16

CALLING ALL CLUB PROS AND SQUASH ORGANIZERS!
Women's Squash Week is an initiative spearheaded by "NY: Squash" and supported by US Squash and it's goal is to increase the involvement of women in the sport of squash. This is the first year that Canadian cities and clubs are being asked to participate. In Vancouver and the Lower Mainland, The BC Honda Vancouver Squash League is pleased to present this initiative and we need your help to organize events at your clubs!
WHEN IS WOMEN'S SQUASH WEEK?
All events should be the "week" of Friday, September 20th to Sunday, September 29th. (Yes, we know a week is only seven days:)
Pick a date and time and let us know so that we can help advertise it!
WHO IS THIS FOR?
Women that are new to the game (think tennis players looking for a winter game), returning to the game or players that are involved in the game and want to teach and to mentor. Get your members involved and ask them to invite their friends!
WHAT IS IT?
A week of FREE squash events all over North America!
WHAT KIND OF EVENT CAN YOU ORGANIZE?
There are no guidelines around what you can do as long as it's FREE, fun and squash-related. In NYC for example they have one event for the whole city so that all the women can be in one place at the same time – catch up with old friends, make new and play some casual squash. Your one day event could include simple drills, round-robins, rules reviews, video presentations, feature women's matches – you name it!
Events should probably be kept to one day to keep things simple and evenings or weekends would be ideal. In Vancouver, Bonsor is running a 3 hour event on Saturday afternoon and VRC is considering a week day evening event to coincide with their Early Bird Tournament.
In the past, events have even had a number of women who stop by and don't play but at least they are included and can learn about playing opportunities at your club and your city squash league. You may also have players who attend and aren't members of your club and don't have home clubs but are looking to join.
WHERE ARE THE EVENTS?
All over Vancouver, Burnaby, North Vancouver and Richmond!
WHY ARE WE DOING IT?
We need more women playing squash in Vancouver and in North America!
The goal of Women's Squash Week is to get women on court, get them hooked on the game we love, get them informed about playing options and get them meeting each other. All event coordinators are encouraged to also focus on the social aspect of the game rather than just the competition. Women are often intimidated by formal, organized play so the best way to get them back is to make it enjoyable.
The goal of  is just to get women together, play some casual squash and get them excited to play in more formal events – league, tournaments etc. Once you have them on your radar it is easier to get them to play.
MORE INFO
We have posters designed and ready for you to post at your club. Gather interest and start getting people signed up!
If your club is interested please let us know and we will customize a Women's Squash Week poster like the one below for the Bonsor event. We will also get your event listed on the US Squash Women's Squash Week page.
See the list of North American clubs participating here.