Jun
27
On Tuesday July 22, 2014, Emma Parke, #5 in British Columbia, will be offering a fun night of squash and drinks at Richmond's Sport Central. This two hour event for beginners and intermediate players is already 50% sold out. There are only 15 spots so act fast! Cost is $20 and equipment can be provided.
Where :  Sport Central
Time : 700pm to 900pm
Date: July 22, 2014
Includes : fun, wine, cheese and giggles.
Check out Emma's website Squash Linx and email her to register: emmaparke@gmail.com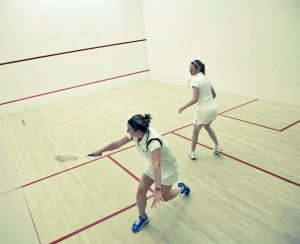 Jun
16
The Vancouver Squash League has collected select information over the last couple of years in an attempt to gauge the general state of the league and the health of the sport of squash in general. These seven slides, presented at the 2014 AGM, give an overview of our city league and those that participate in it. It is hoped that these infographics will encourage discussion on where the league is going and how best to encourage it's growth.
Let us know what you think.
Jun
13
Filed Under In the News | Comments Off on Bayside Squash Club in the news!
"Heart-pumping! Sweat-Drenching!"
Congrats to Vancouver Squash League players Kelly Latremouille and Dian Soparlo on their recent victories at the Bayside Club Champs! The Bayside Squash Club is Delta's only squash facility. Read the complete article in the Delta Optimist.