Jun
12
Filed Under Tournaments | Comments Off on Squash Republic presents SquashFEST in Summerland
Registration is now open for the fifth annual SquashFEST at the Lakeshore Racquets Club July 24-26th! Categories: Women's and Men's A – D.
Bring your kids and your dog and camp with us on the shore of Okanagan Lake! This is an amazing family event and truly the best squash tournament of the summer:)
Free pizza on Friday night and potluck BBQ on Saturday! Sponsored by Manta World Sport and Tree Brewing! See you there!
Sign up here: https://www.sportyhq.com/tournament/view/SquashFEST-2015

Jun
2
Filed Under Tournaments | Comments Off on Jericho's Sun & Surf Mad Hatter's Tea Party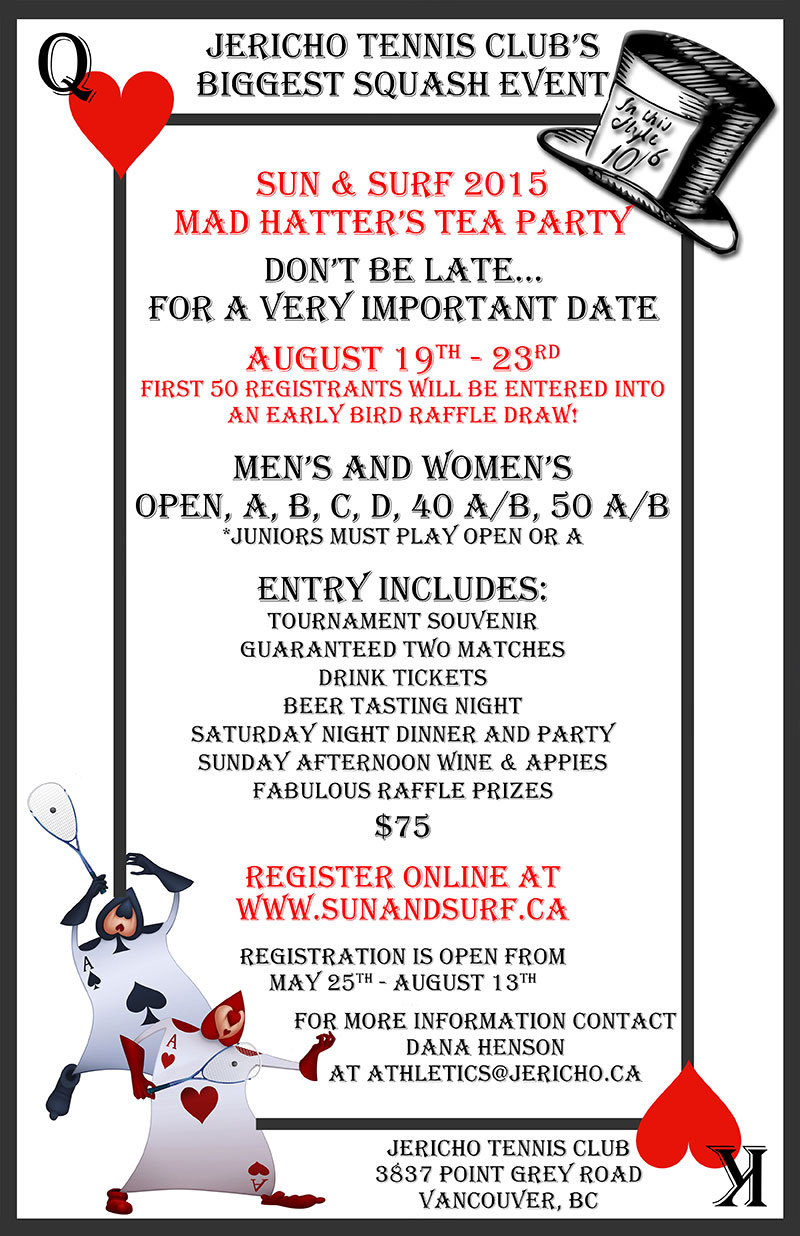 REGISTER ONLINE: Sun & Surf on SportyHQ
Jun
2
Filed Under Tournaments | Comments Off on Evergreen's Summer Doubles Tournament and Grouse Grind Challenge
The summer is full of sailing, hiking, golfing and the like. But how often do you get the chance to take in a doubles tournament at the height of the summer? Especially one coupled with the challenge of the Grouse Grind. This annual event is a mainstay of the Greater Vancouver and Pacific Coast squash doubles communities. It is an opportunity to celebrate the easy living of summer, and a chance to assess one's skills.
This year's event will be held Tuesday, July 7th to Sunday, July 12th, 2015. With a number of venues used for the matches. This year's entry fee is based on the number of events you enter: 1 event:  $45 or 2 events:  $50. Tournament chair is Mark Heaney.
Thanks to a number of volunteers, there are always enough snacks to keep the competitors and guests from starving while catching the matches. The Saturday night party, to which those attending contribute, is traditionally hosted in the home of one of our generous members.
With the summer looming large, with the generosity of the sponsors and volunteers, and with the hearty competition, it is definitely an event to add to your calendar. You don't want to miss it.
LINK: Evergreen Summer Doubles 2015