Sep
10
If you are interested in playing in Women's Div 1 for the upcoming season, lease let the VSL know by September 20th. Send an email to info@vancouversquashleague.com and include your name and club. If you are a member of a VSL club you must sign up for league through your club. If you are unaffiliated you will be asked to pay a VSL league fee prior to the start of the season.
There will be a draft just like last year and teams will be selected, and informed, prior to the first matches which are scheduled for Tuesday, September 27th.
Please note that the ranking point guidelines to play in Div 1 are between 975 – 1700.
Sep
10
ON TUESDAY, SEPTEMBER 2oth, from 6-8pm, AT THE JERICHO TENNIS CLUB, the Vancouver Squash League (VSL) is hosting a "Captain's Social" for all VSL captains and co-captains. This brief information session will include an overview of a captain's job requirements, league rules overview and a SportyHQ demo. There will also be a question and answer period and FREE BEER AND APPETIZERS.
This is a great event for captains to get up to speed on the league before it starts and it's our way of saying "THANKS". First-time captains are strongly recommended to attend If you are a league team captain and can't attend please send your co-captain.
RSVP by September 18th to be entered in a prize draw: info@vancouversquashleague.com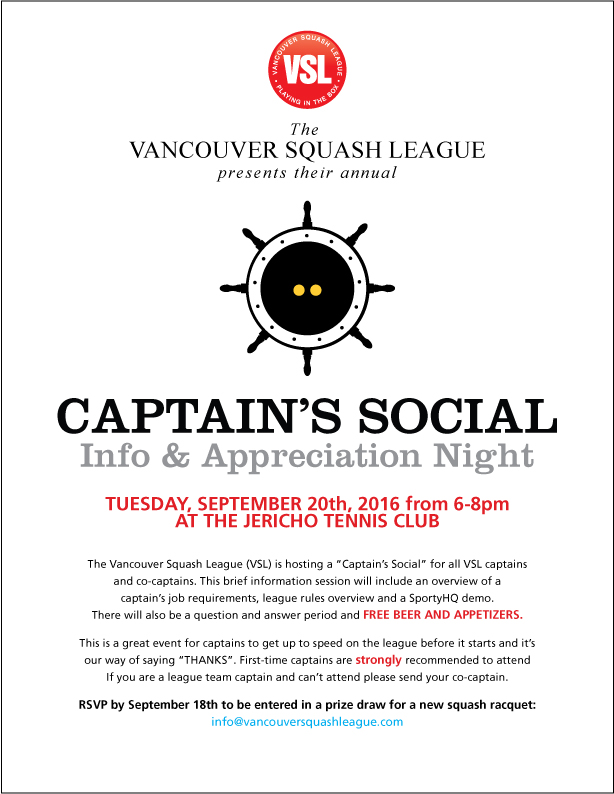 Sep
1
Not sure where you should be playing in the VSL this year?
Check out our handy guidelines that will hopefully ensure that you're playing in the right division this year and that you get as many competitive matches as you can!
WOMEN
Div 1
975 – 1700
Div 2
800 – 1000
Div 3
675 – 875
Div 4
575 – 800
Div 5
475 – 675
OPEN
Div 1
1475 – 2200
Div 2
1325 – 1525
Div 3
1225 – 1475
Div 4
1125 – 1350
Div 5
1000 – 1225
Div 6
925 – 1125
Div 7
600 – 1000
Big thanks to VSL board member Nathan Ozog for all of his efforts in putting this together.