Dec
17
The second annual Evergreen Squashes Cancer tournament will be held in conjunction with a WSA Pro Challenge including Natalie and Rachael Grinham, Kasey Brown and Donna Urquhart.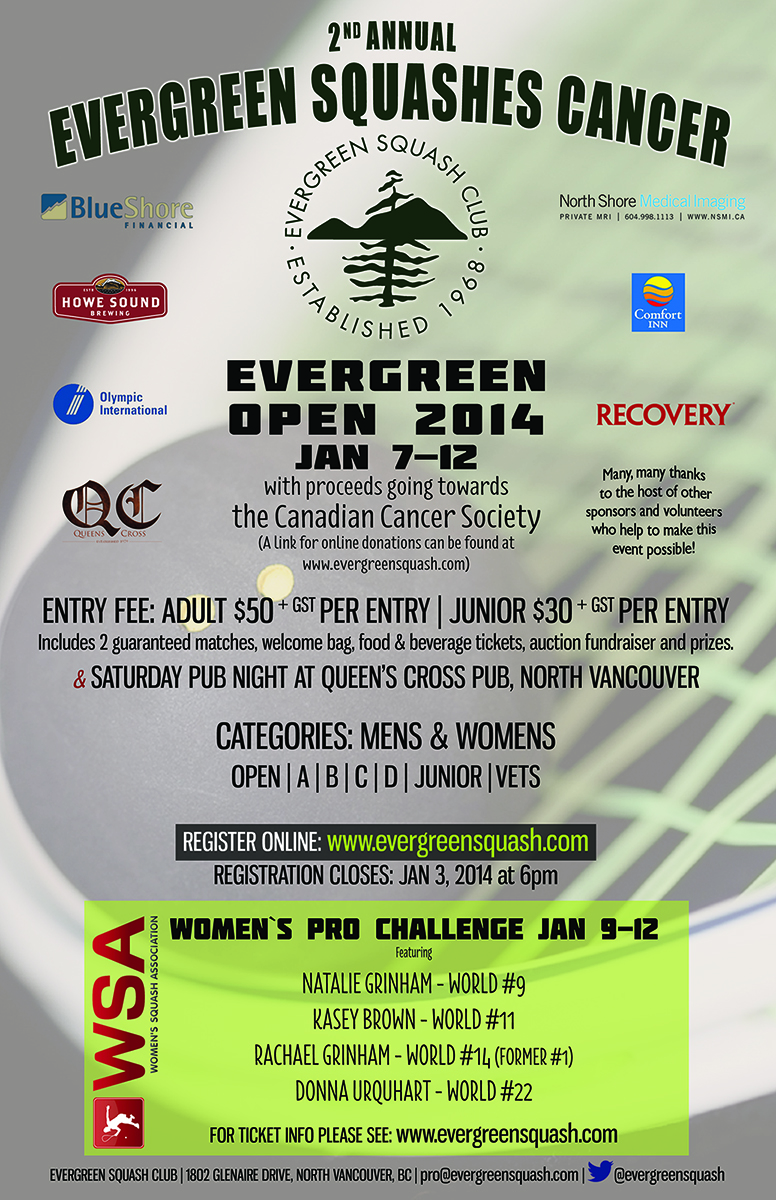 May
8
Filed Under Events | Comments Off on Summer league for VSL players
Sport Central (SPC) is in its 3rd successive year of running a Spring-Summer Squash League that is open to all VSL members.The league will consist of 3 players' per team. Co-ed teams are okay, if the players are of similar levels; and a team of players from different Clubs is okay too.
Monday Nights: Three Men's Open/A calibre players times four teams; and Three Men's B calibre players times four teams. Women of these calibres of play are welcome to form their own team, or a mixed team.

Tuesday Nights: Three Men's C/D calibre players times four teams (Women of this calibre are welcome to form their own team, or a mixed team); and Three Women's D calibre players times four teams.
• All matches to be played out of Sport Central (SPC) on Monday and Tuesday evening's beginning at 6:30pm – 8:00pm, with social to follow!
• Cost per team entry is $60.00. Funds to cover prizes and wind-up party.
• If you do not form your own full team we can help match you with another single, or paired entry.
• Matches will be posted on the Quick-Draw's website & count towards Squash BC ranking points. Matches are the best of 5 games to 11/15 using PAR scoring "Point A Rally" (note: if the score is three games to zero; players can choose to play one more game for the bevy — or not, and begin the social aspect of the evening).
• Spring-Summer League begins May 16/17 to June 27/28 (6 weeks – excludes May 23/24 – Victoria Day). There is a "Spares List" for non full-time players.
• Spring-Summer League is looking at a maximum of 4 teams in each division class, so enter early — first four teams in each category get in.
Please note date change: Matches will begin on the Monday and Tuesday following the long weekend. Deadline for registration will be Thursday May 19th at 10pm.

Register at Sport Central front service desk, 604-278-8884. (Note: only paid entries are confirmed.)
Contact Barry at: barry@sportcentral.ca if any questions.
Sep
10
Filed Under Events | Comments Off on Referee Clinic
The 2009/2010 squash season is almost upon us and it might be a good idea to get a refresher on the rules of the game that you play. The River Club is hosting a referee clinic on Thursday, September 17, @ 7pm.
$10 for Squash BC Members
$15 for non-members
RSVP to: Berny Schulz
Tel: (604) 271-9603
bernys@portal.ca
River Club Address: 11111 Horseshoe Way, Richmond
Club tel: (604) 272-4400
May
23
Filed Under Events | Comments Off on Happy World Squash Day!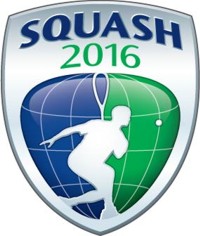 The VSL would like to wish all the squashies out there a happy World Squash Day!
Check out the official website for more info and don't forget to check out the Olympic initiative site.
May
5
UPDATE: May 11th, 9:26pm > Congratulations to the new Division 1 Playoff Champions, JER B1 "Young Guns". They won 3-2 over league Champions FIT A1.
Those of you who came to the VSL Wrap Party can join us in congratulating Van Lawn's Div 1 Women in their victory over Evergreen (3-1).
Thanks to everyone who attended. We all saw some fabulous matches including Div 1 doubles.
The Div 1 Open final wasn't played due to conflicting squash tourney schedules (Junior and Senior Nationals) but it has been rescheduled for Monday, May 11th at Van Lawn. The VSL board hopes that you can make it out to watch Fitness Unlimited battle Jericho A1. See you there!
Apr
9
The VSL is pleased to announce that this season's Wrap Party will be held at the Vancouver Lawn Tennis and Badminton Club on Saturday, April 25th. Admission is free! Come watch the finals of the Open and Women's Division One. Also on tap is a doubles exhibition and dancing in the bar. Sportsmanship winners will also be announced. See you there!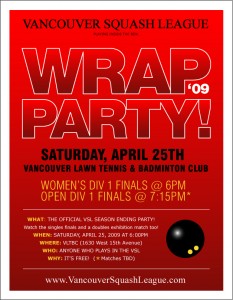 For more info click on the poster.
Feb
13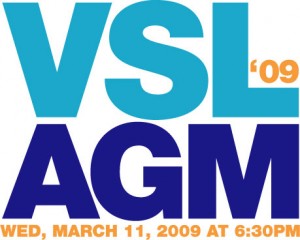 The Vancouver Squash League has announced the date for it's 2009 Annual General Meeting. This year's AGM will be held at the Vancouver Racquets Club (VRC) and will cover topics such as a potential new scoring system for the VSL (PAR or Point A Rally), QuickDraws, the VSL's new website, social responsibilities of teams playing in the VSL and league fees.
If you have a topic that you would like to see discussed at the AGM please send an email to the League Coordinator (info[at]vancouversquashleague[dot]com) before March 1st, 2009. The final agenda will be available for download by Friday, March 6th.
Please click here to download a copy of the AGM poster.