Mar
26
| | |
| --- | --- |
| WOMEN | 30 TEAMS |
| | |
| DIVISION 1 – | 4 TEAMS |
| JER A1 | 179 |
| VLT A1 | 158 |
| EVE A1 | 133 |
| VRC A1 | 89 |
| BYE | |
| BYE | |
| | |
| DIVISION 2 – | 5 TEAMS |
| BAY Sqwalkers | 248 |
| JER Racquets Up | 234 |
| VRC B2 | 215 |
| RIV BS Boasters | 186 |
| VRC Starz | 111 |
| BYE | |
| | |
| DIVISION 3 – | 6 TEAMS |
| ARB A3 | 353 |
| RIV C3 | 298 |
| EVE E3 | 262 |
| JER B3 | 224 |
| VRC D3 | 190 |
| ARB B3 | 92 |
| | |
| DIVISION 4 – | 6 TEAMS |
| SPC 4 Tin Liz | 353 |
| BON B4 | 252 |
| VRC E4 | 242 |
| VLT B4 | 198 |
| JER Divas | 194 |
| BEN A4 | 144 |
| | |
| DIVISION 5 – | 4 TEAMS |
| RIV DHW5 | 192 |
| JER J5 | 160 |
| VRC F5 | 154 |
| BON B5 | 139 |
| BYE | |
| BYE | |
| | |
| DIVISION 6 – | 5 TEAMS |
| JER Squash Junkie | 243 |
| VRC G6 Strokes | 22 |
| BAY Squashettes | 200 |
| BON Unsquashables | 141 |
| SPC Squash This | 97 |
| BYE | |
| | |
| OPEN | 65 TEAMS |
| | |
| DIVISION 1 | 8 TEAMS |
| EVE A1 | 337 |
| SPC A1 | 297 |
| VRC A1 | 282 |
| BEN A1 | 244 |
| EVE B1 | 209 |
| BEN TBD | 208 |
| VRC Basement | 200 |
| SPC A1 | 199 |
| BYE | |
| BYE | |
| | |
| DIVISION 2 | 9 TEAMS |
| VLT B2 | 235 |
| SCF B2 | 233 |
| ARB A2 | 210 |
| RIV 2 | 196 |
| JER D2 | 194 |
| VRC C2 | 186 |
| BEN C2 | 182 |
| HOL A2 | 175 |
| SPC B2 | 102 |
| BYE | |
| | |
| DIVISION 3 | 10 TEAMS |
| BON We're Back | 293 |
| SPC C3 | 270 |
| VRC D3 Beatnicks | 256 |
| EVE B3 Over 50 | 256 |
| VRC Slum Dogs | 219 |
| JER Balls o Destiny | 218 |
| ARB B3 | 205 |
| VRC E3 | 193 |
| BEN E3 | 188 |
| BEN D3 | 117 |
| | |
| DIVISION 4 | 9 TEAMS |
| HOL Smittys Crew | 264 |
| BON B4 | 218 |
| EVE D4 | 207 |
| BAY B4 | 203 |
| TCC A4 | 191 |
| SCF A4 | 180 |
| RIV D4 | 176 |
| VRC Hackers | 172 |
| ARB A4 | 153 |
| | |
| | |
| DIVISION 5 | 10 TEAMS |
| EVE G5 | 285 |
| EVE I5 Kazers | 260 |
| VRC I5 | 251 |
| BON C5 | 234 |
| EVE F5 | 220 |
| BON D5 | 210 |
| BEN G5 | 206 |
| BEN F5 | 190 |
| SPC C6 Undertakers | 182 |
| JER G5 Sq Court Knights | 175 |
| | |
| DIVISION 6 | 9 TEAMS |
| BEN H6 | 245 |
| RIV F6 | 241 |
| VLT E6 | 230 |
| VRC H6 | 225 |
| JER H6 | 194 |
| TCC Lions | 182 |
| HOL C6 | 181 |
| BON N6 | 180 |
| BON E6 | 60 |
| BYE | |
| | |
| DIVISION 7 | 10 TEAMS |
| RIV D7 | 298 |
| BEN I7 | 275 |
| BEN J7 | 272 |
| VRC Kings | 256 |
| EVE N7 Wolfpack | 214 |
| SPC 7 | 210 |
| VRC J7 | 198 |
| TCC H7 | 146 |
| BAY E7 Beach Bums | 137 |
| VLT D7 | 69 |
Mar
26
Filed Under Sportsmanship | Comments Off on Most Sporting Teams – 2012/2013
Congratulations to all the teams that were recognized by their peers as the "Most Sporting Team" in their division. These teams represent what is best about our league and they deserve your applause!
Winners plaques will be delivered to your club.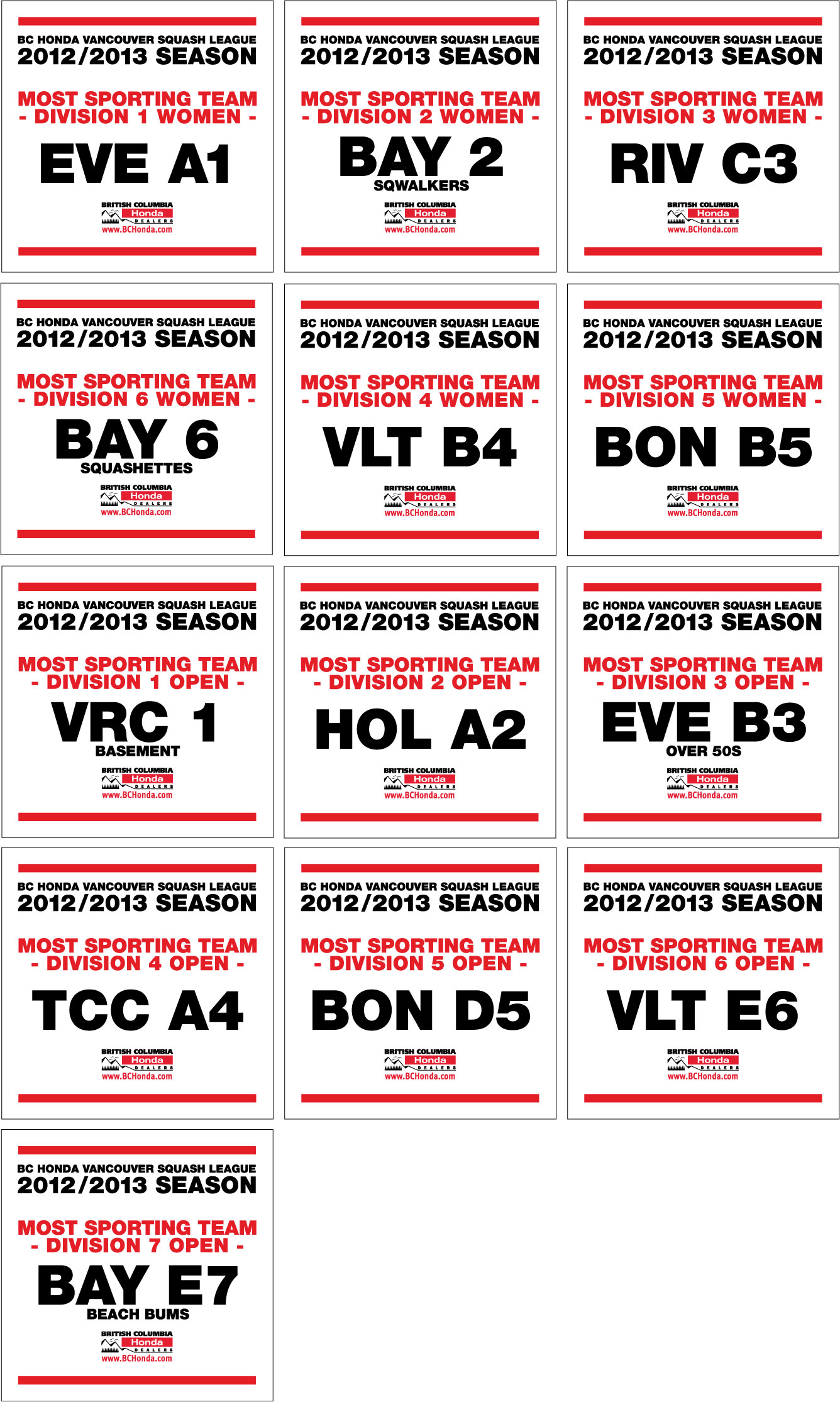 Mar
14
Filed Under AGM | Comments Off on 2013 AGM > 3pm, Saturday March 23 @ The River Club
Attn: ALL VSL PLAYERS
The purpose of an Annual General Meeting (AGM) is to hear from the membership, to hear the Chairperson's and League Coordinator's reports, to review the league's financial report, to review and recommend rule changes and to elect or nominate board members. It is your opportunity as a player in the league to voice your opinions and concerns to the VSL Board about any issues that arise during the league season.
While the AGM is not the place to complain about a particular incident that may have happened during the season, it is a time to consider  objectives and have a discussion. This is your squash league and we appreciate and encourage your involvement. So come on out!
This year's AGM will be held at the River Club – 11111 Horseshoe Way, Richmond on Saturday March 23 at 3pm.
The 2013 AGM agenda was emailed to all captains and club reps on Thursday, March 14:
1. Introductions
2. Adoption of Agenda
3. Adoption of minutes of 2012 AGM – March 10, 2012 – LINK
4. Voting procedure and quorum
5. Chairperson's Report
6. League Coordinator's Report
7. Financial Report & Budget
8. Review of the VSL survey – LINK
9. Items for Discussion
A) Should the league equalize the numbers of teams playing on Monday and Tuesday by moving a second Open division to Tuesday night?
B) Should the number of players on women's teams be reduced from 5 to 4?
C) Should there be a rankings guide, or rule, to delineate which division players should play in?
10. 2013/14 Board of Directors Nominations and Elections
11. New Business
12. Adjournment
+
Minutes from the 2012 AGM are available for download here.
Download your proxy here.
10.1.2 A proxy may be used at the AGM. A proxy form must be signed only by the captain of a team and may be given to anyone of his/her choosing who is attending in person at the AGM. The proxy form will be used for voting on matters that are listed on the AGM agenda only, where the captain has given his/her vote(s) to their proxy on those matters, and not on matters raised for the first time and voted on at the AGM.
Mar
8
Filed Under AGM | Comments Off on 2013 AGM will be held at The River Club
The VSL Board is very pleased to announce that this year's AGM, Div 1 Finals and Wrap Party will be held at The River Club in Richmond.
The River Club describes itself as a place where "sports meets community" which makes it a very appropriate venue for this full day of squash fun!
Schedule of events:
The AGM will begin at 3pm.
The DIV 1 Finals are scheduled to begin at 5pm.
The Wrap Party will follow the completion of the finals.
Last year's AGM at Sport Central set a new bench mark for attendance and we hope to surpass that this year!
The agenda will be posted here early next week.
Please note that the deadline for agenda item suggestions is March 9th.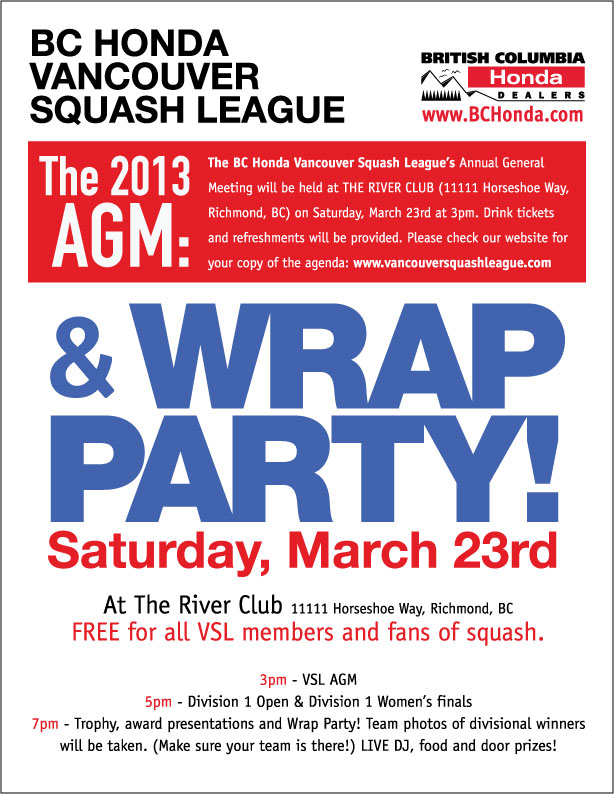 Mar
5
Filed Under Playoffs | Comments Off on 2012 / 2013 Playoff Finals Match-ups
These are the finals match-ups for the 2012/2013 season. Good luck to all the teams!
Remember that both teams split the hosting tab in the playoffs:)
Don't forget to post photos of your winning teams on our Facebook page!

Women's DIV 1
JER A1 vs VLT A1 @ Jericho
Finals on March 23, 2013 @ 5pm @ The River Club (11111 Horseshoe Way, Richmond)

Women's DIV 2
BAY 2 "Sqwalkers" vs JER A2 "Racquets Up" @ Bayside
Women's DIV 3
ARB A3 vs RIV C3 @ Arbutus
Women's DIV 4
SPC 4 "Tin Lizzies" vs BON B4 @ Sport Central
Women's DIV 5
RIV DHW 5 vs VRC F5 @ The River Club
Women's DIV 6
JER 6 "Squash Junkies" vs VRC G6 "Lets Strokes" @ Jericho
+
Open DIV 1
Semifinals on March 18, 2013
Finals on March 23, 2013 @ 6pm @ The River Club (11111 Horseshoe Way, Richmond)

Open DIV 2
VLT B2 vs SCF B2 @ Van Lawn
Open DIV 3
BON 3 "We're Back" vs SPC C3 @ Bonsor
Open DIV 4
HOL 4 "Smitty's Crew" vs EVE D4 @ Hollyburn
Open DIV 5
EVE G5 vs EVE I5 "Kazers" @ Evergreen
Open DIV 6
BEN H6 vs RIV F6 @ Bentall
Open DIV 7
BEN I7 vs VRC K7 "Kings" @ Bentall