Jan
30
Filed Under Tournaments | Comments Off on 45th BC Jesters Junior Squash Open
Sign up link >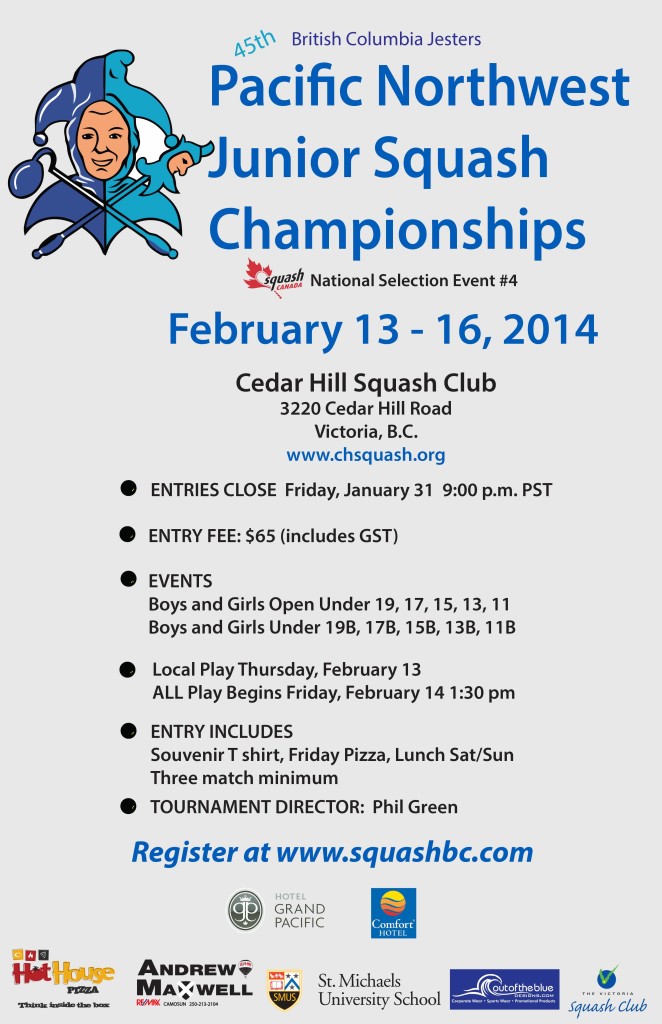 Jan
28
Filed Under Tournaments | Comments Off on 2014 PRFC Open
47 players signed up for the 5th annual PRFC tournament. With a max of 48, the event was once again virtually sold out. This year the tournament was lucky to have BC #4 Saf Ahmed, BC #19 Adam Terhegge & Kelowna's #50 Andrew Braff playing in a very strong A draw.
We were lucky to have 12 entrants from the Vancouver area which gave diversification to the draw as players were able to play against new opponents. Credit must go to Thomas Monteith and Steve Hood on bringing down such a large number of players from the Abbotsford area.
Men's A
Saf Ahmed won the Men's A final 3-0 vs Adam Terhegge. Saf's all round speed was too much for Terhegge, though he did show the crowd some fantastic racquet skills and all around knicks. Saf stayed calm and composed throughout the match and thoroughly deserved to win the A draw.
Men's B
Club owner Jordan Iannone used his home courts to great advantage by winning the Men's B final vs Mark Taylor 3-0. Jordan did not drop a game in the B draw and his fast paced shots proved too much for both Mark and the rest of the draw.
Men's C and Ladies
Danny Gordon (former PRFC employee) from Vancouver deservedly beat Adam Benn 3-1 in the final. Danny's speed and shot selection were too much for Adam who chased well but came up short.
Lightning strike one point tournament
Saf completed the double by winning the one point tournament and was involved in the rally of the tournament when he dived full stretch vs Ian Williamson in round 1 to keep himself in the hunt. The final point saw Ron Fretwell put his squash clothes back on to try and beat Saf to no avail.
This was a great tournament once again and the support continues to grow each year. Thank you to everyone for playing and see you all next year.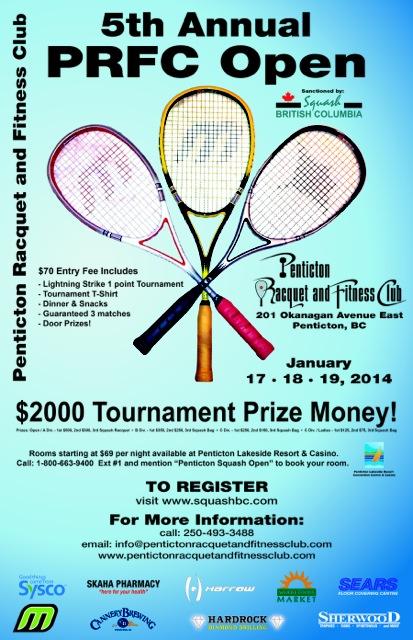 Jan
12
Filed Under In the News | Comments Off on Evergreen #SquashesCancer in the News
Phil Arthur, the club professional at the Evergreen Squash Club in North Vancouver, is interviewed about the recent amateur squash tournament and WSA exhibition match in the North Shore News. Read the article here.