Jan
9
The playoff dates have been added to SportyHQ's online schedule. Previously we had posted them on the SCHEDULE page on our website.
Venues and teams participating in the semifinals and the finals have not been determined yet but some divisions will notice that they have a gap between their last league match and the semifinals. Teams are welcome to reschedule if both captains agree and the host club is able to accommodate them. Always check with your club pro first and don't forget to let the league coordinator know about the date change. Please enter the results!
Div 1 Open and Div 1 Women will play their finals on March 19th at the AGM & Wrap Party event (location TBD).
We have also added the "missing" third cycle for Open Divisions 1 & 7. Club pros or reps with teams in those divisions (ARB, BEN, BON, EVE, JER, RIV, SPC, TCC & VRC) will have to enter the start times for these matches. Players should note that hosting is shared during third cycles. Thanks for your patience while we figured out how to get this online!
If you have any questions please check our FAQ page or email the league coordinator if you don't find your answer there – info@vancouversquashleague.com
Nov
7
Vancouver Squash League players should note that SportyHQ is no longer collecting or gathering data from QuickDraws. This means that any club-level challenge matches that are ONLY entered into QuickDraws will not appear in the player's Squash BC match history and will not affect their official rankings.
If your club is running something other than SportyHQ (Game Time or QuickDraws) for court bookings, or for club ladders, please ensure that you enter your challenge matches in SportyHQ AS WELL AS your local club-based software program
Sep
17
As you may have heard, Squash BC has signed a five year contract with SportyHQ and the VSL, which is a sanctioned event of Squash BC, is following suit and switching to SportyHQ.
The VSL league schedule is already online: Check it out here. At that link you'll be able to see the schedule, results and team lists.
NOTE: All players in the VSL will need to set up an account in order to access their rankings and team info. Here's a quick guide to help you get up and running.
DO I ALREADY HAVE AN ACCOUNT?
If you've played in a recent tournament there's a good chance you do. If you're not sure, go to this page and follow the simple steps: https://www.sportyhq.com/help/im-not-sure-if-i-have-an-account/
HOW DO I LOGIN?
If you have an active account, you can login by going to https://www.sportyhq.com and clicking on login in the top right hand corner. The direct link to the login page is https://www.sportyhq.com/authentication/login.
I'M A CAPTAIN. HOW DO I ADD PLAYERS?
Please note: You'll need to be the captain of your team in order to add players to it. If you are the captain, but you can't access the page referenced in this article, then please contact the league administrator.
Bring up your TEAM's page by going to the league's main page and clicking on your team's name in the summary box (you may have to select your division first). In this example Women's Div 1 is selected and we're clicking on VRC A1 to bring up the team menu.

This will be the page that pops up after clicking on your team name: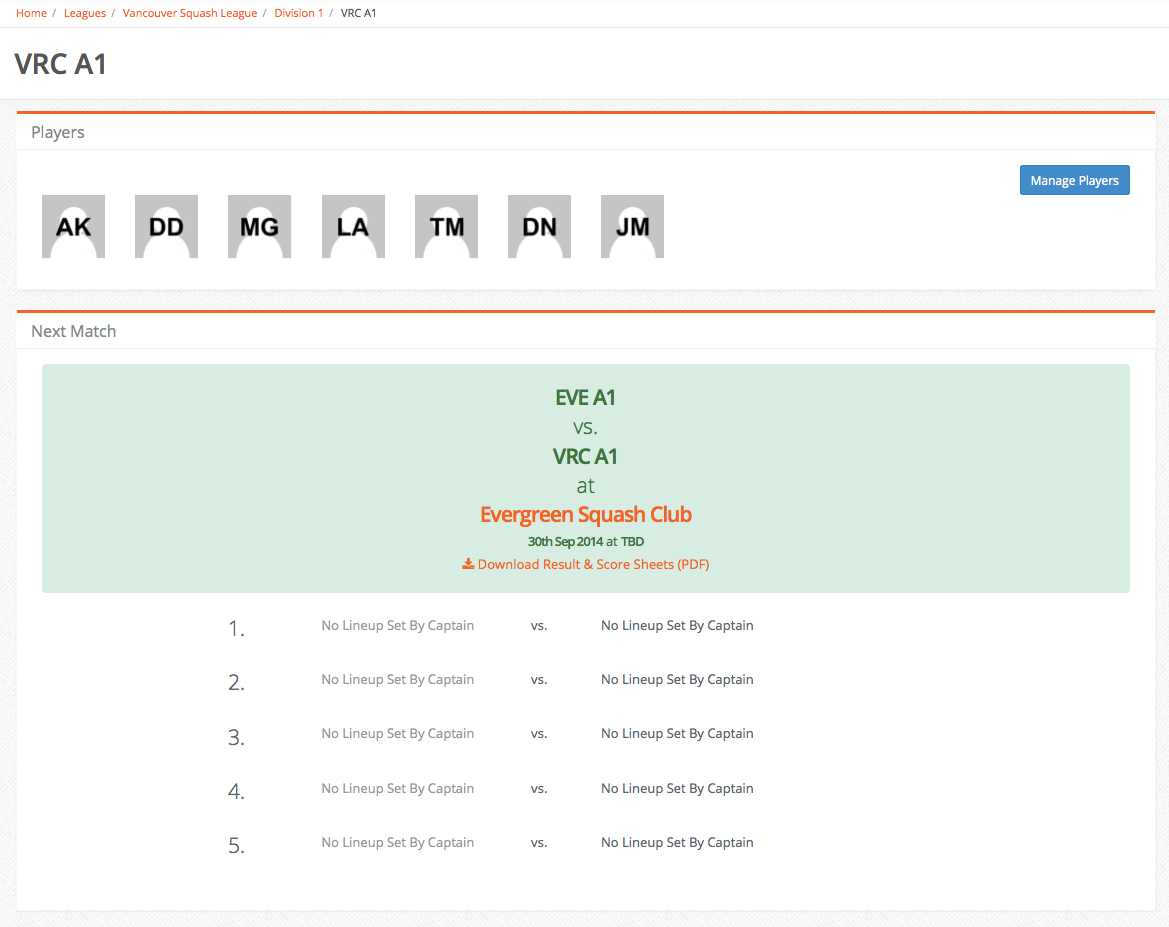 In this example seven players have already been added by clicking the blue "Manage Players" button on the far right. In this example none of the players have updated their accounts to include a photo of themselves. They can do that at any time.
After clicking on the blue "Manage Players" button a new screen will appear and you'll see a bar that says "Add a New Team Player". Click it and simple type in the players name. The system will search for them and you can add them. You can also designate whether they are a spare or not. You can also order your players from 1-5 but remember RANKINGS will decide the correct order of play on match day.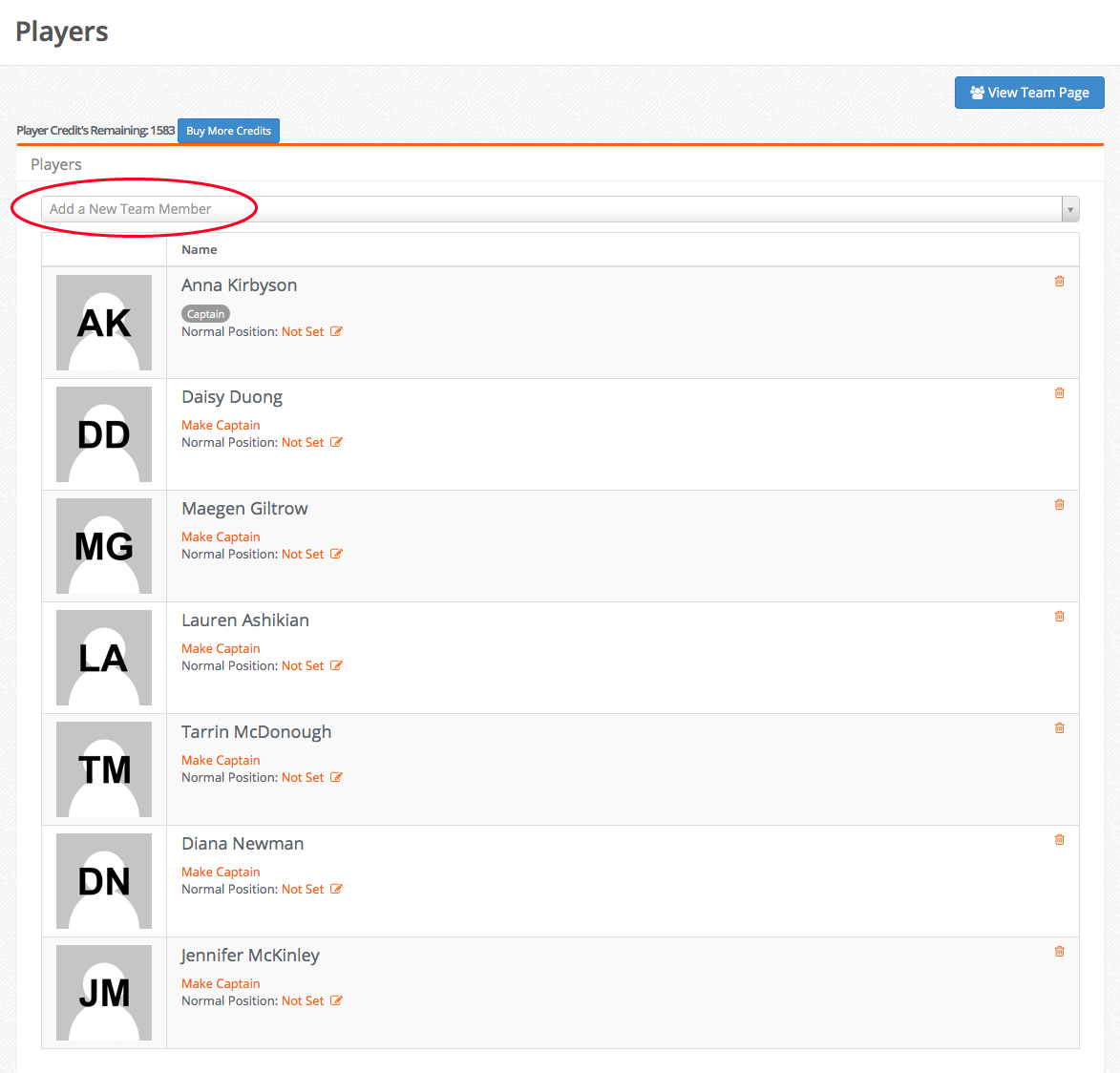 Close up view:

Ok, so now you have all your players signed. Make sure they activate their accounts and add their photos!
HOW DO I RENAME MY TEAM?

If you'd like to rename your team in your league, please send an email at support@sportyhq.com. Be sure to include:
Your name (you should be the captain of your team!)
The league your team is in
The DIVISION you play in
The CLUB you play for
Your existing team name
Your new team name
HOW DO I VIEW THE SCHEDULE?
Go to the league page and select your division from the summary box on the main page. Then, click the green Schedule button.

If you want to view only your team's schedule, then you can visit your team's page. To do that, go back to the main league page and click on your division, followed by your team's name.
You can alternatively use the search box in the navigation bar (click on the magnifying glass icon and type in your team's name). Both of these methods will take you to page where you can see the full schedule.
SETTING UP YOUR TEAM LINEUP FOR MATCHES
Setting your team's lineup is a really useful feature in SportyHQ. It takes the headache out of having to email and coordinate your team's availability each round.
In SportyHQ, you can ask your team at the beginning of the season (and throughout) to update their availability for each round. Team members can indicate if they're available, unavailable, or only available if absolutely necessary. That availability then shows up on your team's page, where you can then set the line up for the coming round.
As soon as you set your line up, your entire team (including those who aren't playing) are notified via email. You can also include useful instructions (such as carpooling information) in a free form comments field.
HOW DOES A TEAM MEMBER INDICATE THEIR AVAILABILITY?
It's very easy. All they have to do is visit the league's main page. Because SportyHQ knows that they're a member of your team, they'll see a box on that page with upcoming rounds where they can indicate their availability. It looks like this:

SET AVAILABILITY
Clicking the thumbs up means Available! The yellow "minus" sign means that you might be available if you're absolutely needed, while the thumbs down indicates that you're Unavailable. As soon as you click one of these, the availability immediately updates.


Go back to to your team page, then scroll down to the schedule. Next to an upcoming round, you'll see a button titled "Choose Lineup". Click it.
SCHEDULE AND CHOOSE YOUR LINEUP
On the next page, you'll see a list of your team members, along with with their availability and plenty of statistics about them that might help you set your lineup. All you have to do is pick your positions for each player (please make sure your reference any league rules that may apply to rankings and positions!), like this:

Then, enter a custom message if you would like to and then press "Save Lineup!".

Your team's lineup is emailed out to your entire team, and is then also available for your opposition to view, which will hopefully encourage them to set their line up, if they haven't done so already.
STILL HAVE QUESTIONS?
CLICK ON THESE HANDY LINKS:
Save
Sep
17
The schedule for the upcoming 2014/2015 season is now online at SportyHQ.com

Club reps will be entering start times this week so check back or check with your pro. Captains who couldn't make it to the Captain's Social will be emailed a guide to working with SportyHQ this week.