Aug
26
Filed Under Tournaments | Comments Off on 2014 Kelowna Open
Are you ready for the 4th annual Tree Brewing Kelowna Open hosted at Global Fitness? We are, and we want you to come join us in beautiful Kelowna, BC between September 26-28.
REGISTER online at SportyHQ
We are offering Open, A, B, C, D and 50+ draws with 3 matches guaranteed in this AAA sanctioned event. The Open draw has a total of $3000 in prize money. Each of the other draws has racquets, bags and beer for prizes.
Entry fees are $75 for adults and $55 for students. This gets you a premium quality Oliver Polo shirt, chili dinner on Friday evening and an on-site pig roast on Saturday evening! We will also throw in two complimentary drink tickets. Refreshments from Mt. Boucherie Family Estate Winery and Tree Brewing will be on offer. Additional guests of the Saturday evening dinner are welcome to attend for an extra $25 each (this must be booked as part of your sign-up).
Your entry fee also puts you in the draw for door prizes which include racquets, bags, T-shirts and accessories. Be an early bird and sign-up on or before September 15 and have your name put in the draw for the chance at winning 1 of 2 additional racquets.
The $5 entry, winner take all, lightning round will be returning. It will be played Saturday evening after dinner. Can you beat last years' champ? He does not think so. After the lightning round, perhaps the beer pong tables will make an appearance.
Be sure to follow us on our Facebook page to keep up to date and also to let others know that you will be attending.
A special thank you to our title, signature and equipment sponsors: Tree Brewing, Associated Property Management, Mt. Boucherie Family Estate Winery, The Falcon Group of Companies and Oliver Sport.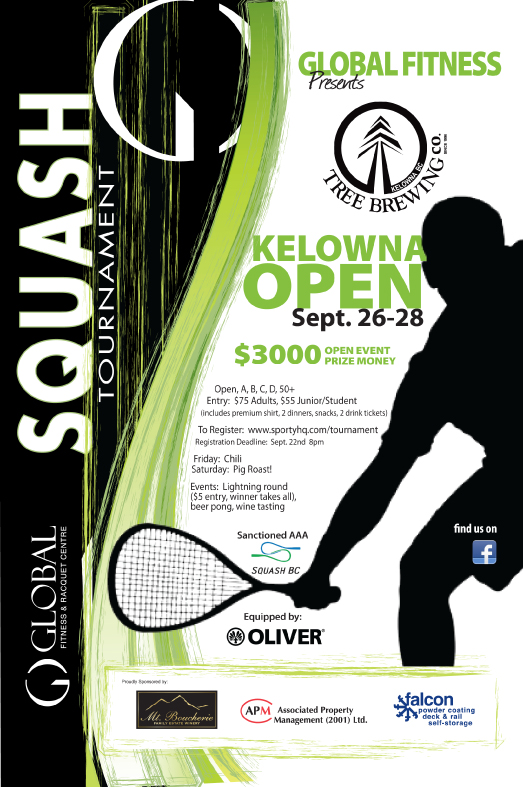 Aug
18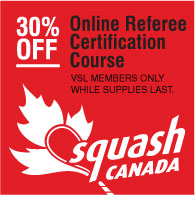 The VSL is offering Squash Canada's Club Referee Certification Course to it's members for only $20. This course normally retails for $29.99.
This online course is an interactive learning resource to improve your understanding of the Rules of Squash. Includes numerous video examples of key interference calls.  Successful completion of this course will certify you as a Squash Canada "Club" Referee. This course is current with the latest edition of The Rules of Singles Squash 2014, as published by the World Squash Federation.
Email the league coordinator to purchase.
Aug
12
The dates for this year's Women's Squash Week are September 22 through the 28th. More information, including participating clubs and venues, to follow. If you are a NEW player and want to learn about the game and try it out email us: info@vancouversquashleague.com