Feb
26
Filed Under Uncategorized | Comments Off on Wrap Party (to follow AGM) on Saturday March 10th!
Feb
15
Filed Under AGM | Comments Off on 2012 AGM > 4pm March 10 @ Sport Central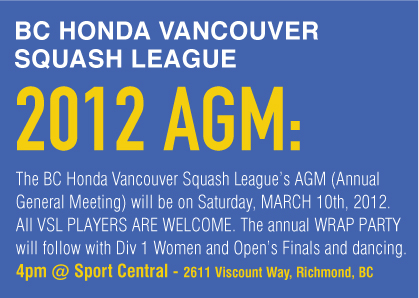 UPDATED
The purpose of an Annual General Meeting (AGM) is to hear from the membership, to hear the Chairperson's and League Coordinator's reports, to review the league's financial report, to review and recommend rule changes and to elect or nominate board members. It is your opportunity as a player in the league to voice your opinions / concerns to the VSL Board about any issues that arise during the league season.
While the AGM is not the place to complain about a particular incident that may have happened during the season, it is a time to review rules and objectives and have a discussion. This is your squash league and we appreciate and encourage your involvement in the league. So come on out!
The AGM agenda was emailed to all captains and club reps on Friday, February 17th:

UPDATED

1 . Introductions
2. Adoption of Agenda
3. Adoption of minutes of 2011 AGM – April 30, 2011
4. Voting procedure and quorum
5. Chairperson's Report
6. League Coordinator's Report
7. Financial Report
8. Rules to be discussed
Rule 5.2.3 – Rescheduling of matches
Rule 8.1.3 – Ranking systems and roster positions
Rule 8.3 – Streamlining the protest process
Rule 9 – Promotion/Relegation and the playoffs
Rule 10 – Guideline for the use proxies
9. Premiere Squash League (PSL)
10. 2012/2013 Schedule Options
11. 2010/2011 Board of Directors Elections
12. New business
13. Adjournment
The 2012 AGM will be held at Sport Central (2611 Viscount Way, Richmond, BC). Refreshments will be served and there will be door prizes!
Minutes from the 2011 AGM are available for download here.
The VSL's 2011 Financial Statement is also available here as a PDF.
Feb
14
Filed Under Sportsmanship | Comments Off on Most Sporting Team 2011/2012 – Vote Now!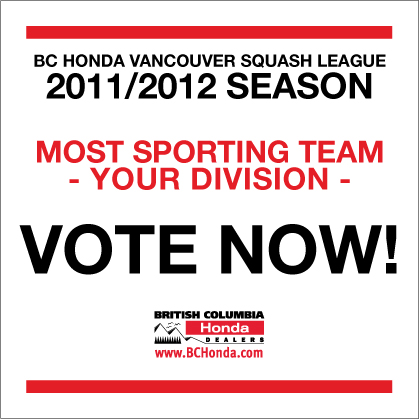 Each year the VSL asks the captains of every team in every division to send us their choice for the most sporting team in their division. This is the team that may have the best referees, the best dinners, the endless full pints, the most honest players or something that sets them apart from all the other teams.
Captains can send their vote to info[at]vancouversquashleague[dot]com
Votes will be accepted until Sunday, March 4th at 9pm: Be sure to include your team name and division. Winning teams will be presented their plaques at the Wrap Party on March 10th.