Dec
21
Filed Under In the News | Comments Off on 24 hour Squash Marathon at Newlands
The squashies at Newlands Golf and Country Club recently hosted a 24 squash marathon to raise money for local squashie Jacques Du Toit and his wife who has recently been diagnosed with a rare form of cancer. The event and the associated GoFundMe page have raised over $9,000.00 toward her care.
Click to view the video and read the article from the Langley Times.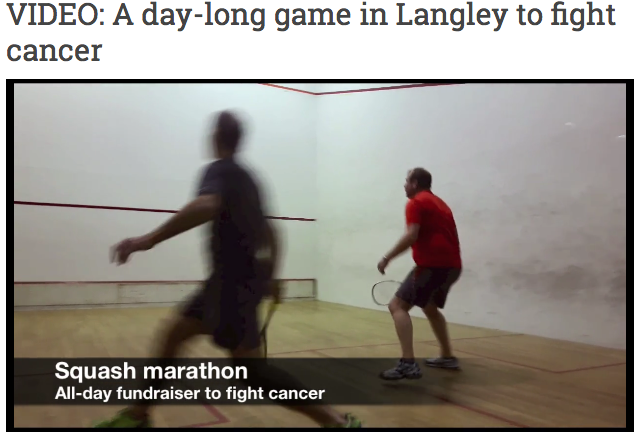 Save
Feb
7
UPDATE – Feb 8, 2015
Dear Squash Community,
Please come, we need your help.  Bayside Squash Club's fate will be sealed on Tuesday evening, Feb 24, at Delta City Hall – 4500 Clarence Taylor Crescent, Ladner, BC V4K 3E2.
The Public Hearing to rezone the land that Bayside sits on, in order to tear it down and build homes there instead, starts at 7pm on Tuesday Feb 24th and continues until everyone has been heard. 
So, if you can't get there at 7, please come at 8 – or 9 or if we're lucky 10.  If Bayside is to continue as a Squash Club and not get replaced by private homes, we need people there.  We need the squash community there to tell City Council that Squash in Delta @ Bayside is important to keep.  Please come and speak up for Bayside.
If you can't come, please write a letter or email to mayor-council@delta.ca .  If you wrote in before, please write in again – your letter will be considered new evidence.  You can mail a letter in, email it or fax it to 604-946-3390. In order to be considered, correspondence must be received by 4:00 pm on Tuesday, February 24, but correspondence received by 1:00 pm on Friday, February 20 will be in the agenda package.
We are also working diligently on helping to find a new owner for the Club. With the recreational zoning firmed up by Council, we believe the realtor and owner will start considering offers for it as such.
Thank you so much for your help.  We truly do need you.  If you have any questions, please email us at BaysideSquashClub@Gmail.com
Sincerely,
Louise Latremouille, President, Bayside Squash Society
www.BaysideClub.ca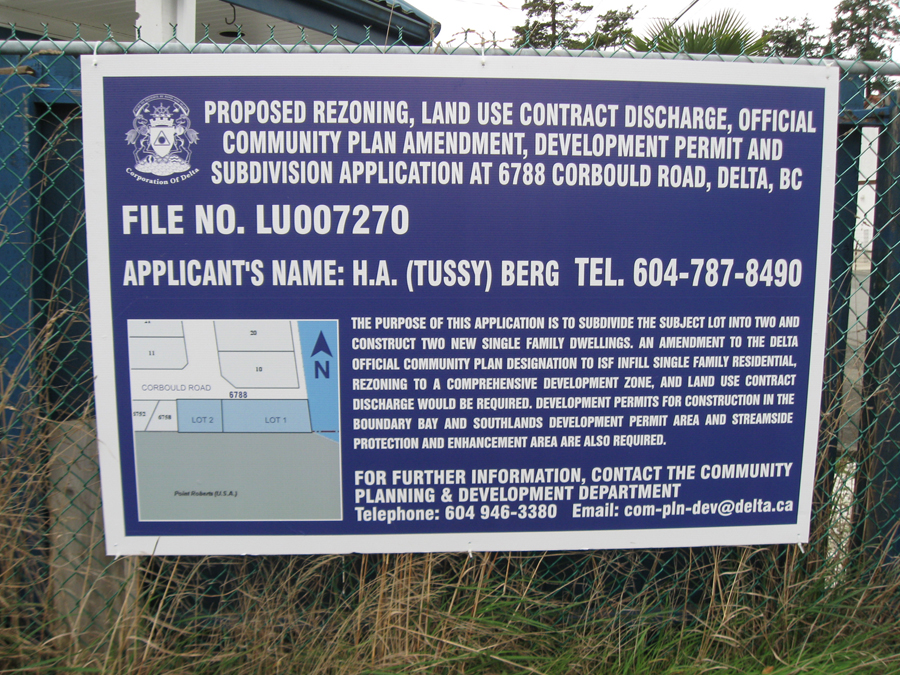 The Bayside Squash Club in Delta needs your help. Bayside has been an integral part of squash in BC for over 30 years and now our clubhouse is at risk of being rezoned and demolished. Yan Ling Wu bought the club a couple of years ago from Tim Saunders as a real estate investment. Tussy Berg is her realtor and holds the listing for the property.
We need your help in two ways: Firstly, we would like to help Tussy find a new owner for our clubhouse. An owner who can see the incredible potential the Bayside Club has and will help it grow. So if you know of anyone, or think you might be interested yourself, please contact Tussy through the listing above.
Right now though, until a new owner is found, we need your help to keep our clubhouse zoned for recreational use. Please help the Bayside Club. You can do this simply by sending an email to Delta Community Planning, Susan Elbe selbe@delta.ca to the attention of Mayor and Council. Keep your letter simple, a sentence or two will do:
Dear Mayor and Council,
Regarding the re-zoning application file No. LU007270; I am not in favour. I am writing to support that the Bayside Squash Club, located at 6788 Corbould Road, Delta, BC, continue to operate as a squash and fitness club. The Bayside Squash Club, Delta's only squash facility, has been an integral part of Squash in BC for over 30 years and I would like to see it continue as such.
Thank you for supporting the sport of squash in BC.
Sincerely,
(Your name and address)
Jun
13
Filed Under In the News | Comments Off on Bayside Squash Club in the news!
"Heart-pumping! Sweat-Drenching!"
Congrats to Vancouver Squash League players Kelly Latremouille and Dian Soparlo on their recent victories at the Bayside Club Champs! The Bayside Squash Club is Delta's only squash facility. Read the complete article in the Delta Optimist.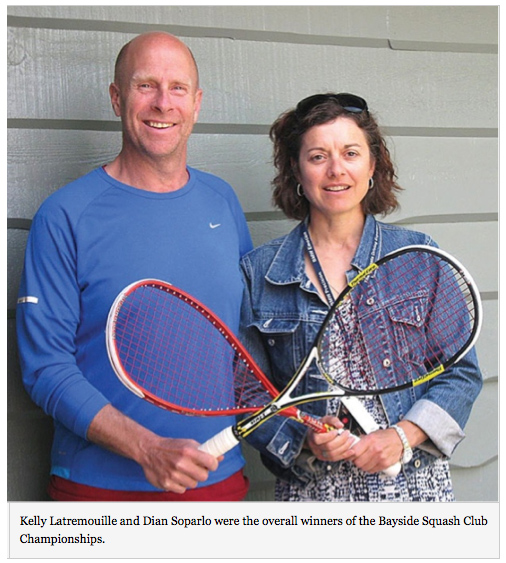 Jan
12
Filed Under In the News | Comments Off on Evergreen #SquashesCancer in the News
Phil Arthur, the club professional at the Evergreen Squash Club in North Vancouver, is interviewed about the recent amateur squash tournament and WSA exhibition match in the North Shore News. Read the article here.
Sep
12
Filed Under In the News | Comments Off on Women's Squash Week on VIA Sport
Big thanks to VIA Sport for mentioning Women's Squash Week in their e-newsletter. ViaSport British Columbia is a not-for-profit organization established in 2011, responsible for providing strategic leadership to sport in BC and increasing levels of physical activity at every stage of life, in every community. Sign up for their newsletter if you want to keep up with sporting news and events in British Columbia.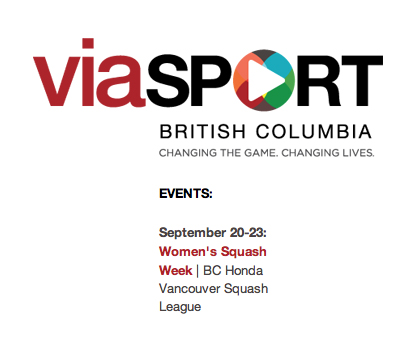 Sep
12
Filed Under In the News | Comments Off on Women's Squash Week on the Radio
BC Honda Vancouver Squash League player, and Jericho squash captain, Max Hakh was recently interviewed by Alana Higgins of BCIT's Evolution 107.9. The program is called "Beyond the Sidelines" and in this segment Alana and Max discussed Women's Squash Week and the benefits of playing squash from the comfort of new bar at the Vancouver Racquets Club.
Check out the clip.
+
Check out Evolution 107.9 by clicking on the logo below.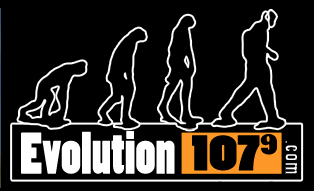 Feb
21
Filed Under In the News | Comments Off on Khosrowkiani wins S2S squash crown
North Vancouver resident takes top prize in annual tournament
Ben Lypka
blypka@squamishchief.com
A good night's sleep is often part of an athlete's recipe to success, but less-than ideal-sleeping conditions didn't seem to impact the play of Hamid Khosrowkiani.
The North Vancouver resident took home top prize in the Sea to Sky Squash tournament on the weekend after spending Friday (Feb. 15) night in a van by the river.
Khosrowkiani and his friend Farzin Habibpour made the trek from North Vancouver to Squamish and after a successful night of action on the courts on Friday, the duo decided to crash in their van in the parking lot of the Squamish Valley Golf Club (SVGC).
"We were both out so late and the hotels were a little expensive, so we just decided to sleep in the van," Khosrowkiani said, laughing. "It was a pretty good night's sleep but a little cold."
The frigid conditions in the SVGC parking lot didn't seem to matter as Khosrowkiani picked up the Men's A division championship, besting Habibpour in the finals.
"It was a great tournament," he said, noting that he heard about the event after being sent an email from a friend. "There are some very nice people here and I think we both had a lot of fun."
The natives of Iran have been playing squash for eight years and are beginning to get noticed in the Vancouver scene. Playing out of the Evergreen Squash Club in North Vancouver, Khosrowkiani is ranked 31st in the province in the Senior Men's competitive division, while Habibpour ranks 79th.
Khosrowkiani defeated Habibpour 3-1 to take the championship.
Two-time defending champion Rob Eberhard was not present to defend his title after suffering an Achilles injury. For his part, Khosrowkiani said he hopes to return next year to defend his crown.
"He was dying to play," tournament organizer Steve Jacobs said of Eberhard. "But he didn't want to aggravate his injuries."
Jacobs said it was another successful year for the tournament, with 45 entrants hitting the courts and a fun atmosphere throughout the weekend.
"It was awesome," he said. "I noticed through the whole weekend that there was lots of smiling faces and really good camaraderie. When I started today [Sunday, Feb. 17] the first guy I spoke to went to bed at 3 a.m. on Saturday night and the next one said he got to bed at 4 a.m."
He said the SVGC did a great job hosting all weekend long and also thanked Quest University for allowing the tournament's use of the school's squash courts on Friday night.
Jacobs said one of the highlights on the court was Squamish's Paul Sutton taking Habibpour to the limit in the A semifinal, losing 3-2. Doug Bowdler, another tournament organizer, agreed with Jacobs that it was a fun weekend. He noted the C division winner and Squamish resident Mark Kerschbaumer as someone who really stepped up his game.
"Mark won the C and he really came through large," he said. "He played well all weekend and I think it was a really good win for him."
Jemma Phillips from Nanaimo beat out Squamish's Lisa Parfiniuk in the Ladies A final, with Lousie Schell of Squamish beating out Vancouver's Allison Oxton in the Ladies B. Squamish's Meredith Hinchmongh defeated Christine Woolfries from Vancouver in the Ladies C.
Other men's winners included Chris Runnels of Squamish beating Squamish's Brian Pollock in the Men's B final and Sonny Mameli of Squamish winning the Men's D division.
Jacobs added that activity is still buzzing at the club, with the spring league starting this month, ladies night each and every Thursday and drop-in competition on Friday nights. For more info on the club, visit www.squamishsquash.com.
Jan
12
Filed Under In the News | Comments Off on 2013 Canadian Masters in the News
Aug
12
Filed Under In the News | Comments Off on Vancouver Squash in the news!
Check out this article about squash in Vancouver, the BC Honda Vancouver Squash League and the campaign for inclusion in the Olympics from the Vancouver Courier.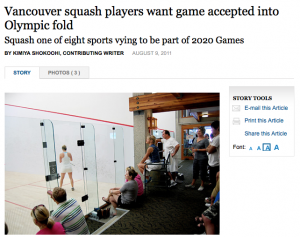 Jun
27
Filed Under In the News | Comments Off on Evergreen Women in the North Shore News
Check out this article, in the North Shore News, about the Evergreen women's teams playing in the BC Honda Vancouver Squash League.