Apr
3
The following teams all finished first in the 2015/2016 league playoffs. Congratulations!

PLAYOFFS

– WOMEN
Women's Div 1


JER A1
Heather Yong
Lauren Ashikian
Maegen Giltrow
Julienne Joe
Carol Richards
Jennifer Louie
Jamie Sonego
Valerie Johnson
Women's Div 2
VRC Big Fonts

Meg Goodine
Brenda Tansley
Judi Narduzzi
Louise Fogharty
Ming Chang
Monica Szpak
Lauren Price
Women's Div 3
VRC Squash Bettys

Abby Kidd
Marian Holoboff
Yasmine Franchi
Mary Anne Keilty
Giulia Muraca
Olivia Maxwell
Kristen Goldsmith
Larissa Beardmore
Beverly Lawton
Jane McDonald
Ashley Gallant
Women's Div 4


VRC F4
Jennifer Arntorp
Kate Keetch
Beverly Lawton
Sarah MacKinnon
Rhonda Porter
Jane McDonald
Tiffany Jung
Joanne Sawatzky
Allison Eddy
Women's Div 5
VRC G5 THS

Sylvia Males
Helen Gee
Chan Allison
Eddy Kim
Tamai Jane
Nemaia May
Chan Alison
Thorson Lady
Jessica Hartley
Quinn Fotheringham
Ria Bordian
Tina Hibbs
Women's Div 6


VRC 6 Balls Deep
Jenelle Martin
Kait Lay
Zahra Farhang
Shira Mulloy
Kinder Mottus
Katherine Johnston
Tina Hibbs
Elizabeth Macey
Rita Steeves
Jennifer Levey
PLAYOFFS

– OPEN
Open Div 1
SPC Super Hero Squad

Hamid Khosrowkiani
Jesus Camacho
Ricardo Toscano Cañete
Marco Toriz-Caddo
Archie Heuser
Ismael Matti Alvarez
Shakiru Matti
Rehman Gul
Patrick Toth
Andrea Toth
Matthew Toth
Tiago Pereira
Open Div 2
EVE I2 Kazers

James Stobie
Tim Martin
Snehal Lakhani
Riaz Mavani
Gareth Louw
Aaron Hoy
Simon Bicknell
Matt Bicknell
Sayeed Mavani
Bryan Hack
Jason Hingley
Lee Meller
Randy Johal
Andres Haneine
Open Div 3
BEN 3

Steve Boileau
Amer Khakwany
Andy Au-Yeung
Dan Karr
Robert McDonnell
Greg MacDonald
Michael Borden
Tim Wetzer
Open Div 4
BEN 4A

David Paynter
Colin Edstrom
Brian Kain
Brodie Kristensen
Bryan Kinney
Ken Yamamoto
Neil Perk
Steve Commons
David MacDonald
James Clift
Kirk Moses
Open Div 5
VRC J5

Darren McClure
Gareth Martin
Chris Stephenson
Chris Boshard
Oliver Zihlmann
Brad Ridgway
Ryan Teraverst
Pat Lynam
Curtis Ronning
Open Div 6
SPC C6 Undertakers

Cynthia Cao
Antonio Carrillo
Jim Wilson
Emilio Carrillo
Sarah Cao
Jordan King
James Toth
Meira Padda
Jose Carrillo
Joseph Toth
Open Div 7
VRC K7

Roger Chong
Tennyson Choo
Warren Longpre
Simon Cai
Tony Hui
Trevor Larocque
Ian Stewart
Michael Birch
Alex Beristain
Jan
9
The playoff dates have been added to SportyHQ's online schedule. Previously we had posted them on the SCHEDULE page on our website.
Venues and teams participating in the semifinals and the finals have not been determined yet but some divisions will notice that they have a gap between their last league match and the semifinals. Teams are welcome to reschedule if both captains agree and the host club is able to accommodate them. Always check with your club pro first and don't forget to let the league coordinator know about the date change. Please enter the results!
Div 1 Open and Div 1 Women will play their finals on March 19th at the AGM & Wrap Party event (location TBD).
We have also added the "missing" third cycle for Open Divisions 1 & 7. Club pros or reps with teams in those divisions (ARB, BEN, BON, EVE, JER, RIV, SPC, TCC & VRC) will have to enter the start times for these matches. Players should note that hosting is shared during third cycles. Thanks for your patience while we figured out how to get this online!
If you have any questions please check our FAQ page or email the league coordinator if you don't find your answer there – info@vancouversquashleague.com
Apr
6
Congratulations to the following teams for winning the playoffs!

PLAYOFFS

– WOMEN
Women's Div 1


EVE A1
Alicia Haneine
Cathy Covernton
Laura Ramsay
Lauren Ashikian
Cathy Brown
Dana Merritt
Lucia Bicknell
Lisa Chiasson
Jenna Dhanani
Bonnie Cooney
Annette Johanson
Frances Frost
Donna Pakulak
Valerie Johnson
Melissa Troll
Diane Grady

Women's Div 2/3 – Upper bracket
BON 2A

Bernadette Bradbury
Sandra White
Alisha Rahemtulla
Kim Ross
Cynthia Cao
Katherine Owen
Meira Padda
Sarah Cao
Women's Div 2/3 – Lower bracket


RIV 2A BS Boasters
Lisa Gifford
Josephine Guevara
Wendy Peare
Corina Lynn
Shelley Neil
Berny Schulz
Sarah Magnus
Women's Div 4
BON B4

Deborah Baxter
Lorraine June
Donalda Meyers
Vicki Hibbeln
Rose Pagnotta
Linda Dumont
Raylene Ferguson
Sarah Cao
Sherry Ernst
Tracey Taylor
Katherine Owen
Women's Div 5
RIV 5

Marlene Perera
Debbie Hawes
Christine Manhao
Zoe Stronge
Judy Harrison
Kathleen Fraser
Debbi Hlady
Kristin Rupert
Jennifer Yeung
Wendy Tweedy
Women's Div 6
BAY 6 Squashettes

Sandy Ouellette
Martha Leigh
Joanna Scott
Ellen Challinor
Janice St. Claire
Luce Turgeon
Monica Burnett
Louise Latremouille
Dorothy Bayley
Tina Gemeinhardt
PLAYOFFS

– OPEN
Open Div 1


JER 1



Colin Whitney
Morgan Latremouille
Carolyn Russell
Patrick Francois
Sam Scivier
Mitchell Kahnert
Ryan Picken
Liam Leidekker
David Noone
Adrian Dingle
Heather Yong
Mark Ridgeway
Rumi Tejpar
Grant Bergman
Open Div 2


HOL A2



David Bauman
Jeff Boag
Robert Ockeloen
Don Leslie
Derek Smith
Andrew Jones
Patrick Frost
Stuart Clark
Charlie Cleghorn
Ben Ferraro
Neil Johansen
Robert Johnson
Wesley Fong
Open Div 3
EVE I3 Kazers

James Stobie
Randy Johal
Jason Hingley
Brian Maclean
Lee Meller
Simon Bicknell
Karel Matzner
Snehal Lakhani
Matt Bicknell
Riaz Mavani
Sayeed Mavani
Cathy Covernton
Bryan Hack
Open Div 4
RIV D4 Chiefs

Bryan Hall
Tristan D'Cunha
Nazir Hirji
Chris Hall
Peter Lowenstein
Keith Poulin
Dan Rae
Yuliy Ilin
Jack Sandhu
Robert Rahn
Open Div 5
BEN B5

Brodie Kristensen
Bryan Kinney
Keith Bootle
Stephen Pyne
Bruce Madu
James Clift
Kiya Hushyar
Bryan Fogelman
Mario Garzona
Allan Derry
Open Div 6
EVE B6

Matt Bicknell
Bryan Askin
Tony Hemy
Matt Brikis
Andres Haneine
Matt Warner
Derek Andrew
David Fenn
Mike Zuccaro
Vincent Ramos
Ali Sadeghi
Open Div 7


BAY E7 Barracudas



Jeff von Ende
Giles Fenn
Myron Kinach
Per Hansen
Eamonn Gill
Benno Bucher
Darren Schrader
Stephen Maudee
Quinn Jordan-Knox
Godfrey Nash
Ron Soparlo
Jason Houghton
Colin Jones
Feb
25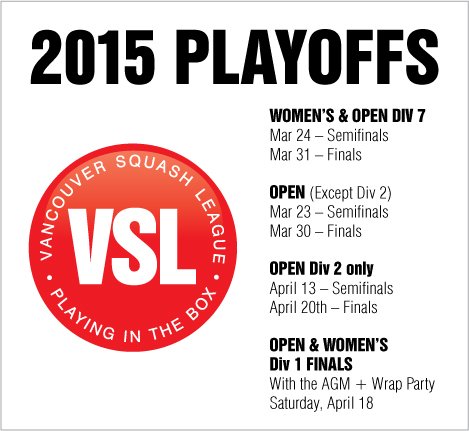 Apr
4
On Saturday, April 26th the finals of Division 1, Open and Women's, will be played at The Vancouver Racquets Club. Everyone is invited! RSVP by joining the Facebook Wrap Party Event page.
THIS YEAR'S FINALISTS:
Women's Div 1 – JER A1 vs EVE A1
Open – BEN A1 vs RIV R2
Last years finalists in the Open were Evergreen (EVE A1) and Sportcentral (SPC 1A) with Evergreen coming out on top. The Women's final had Jericho (JER A1) winning over Vancouver Racquets Club (VRC A1).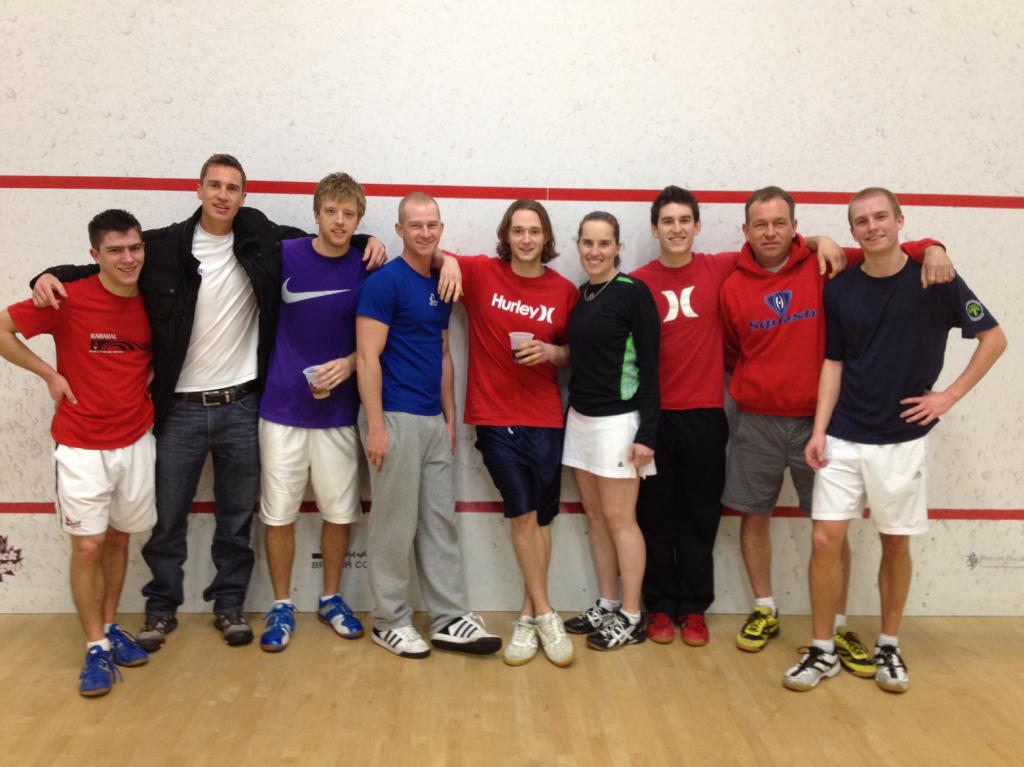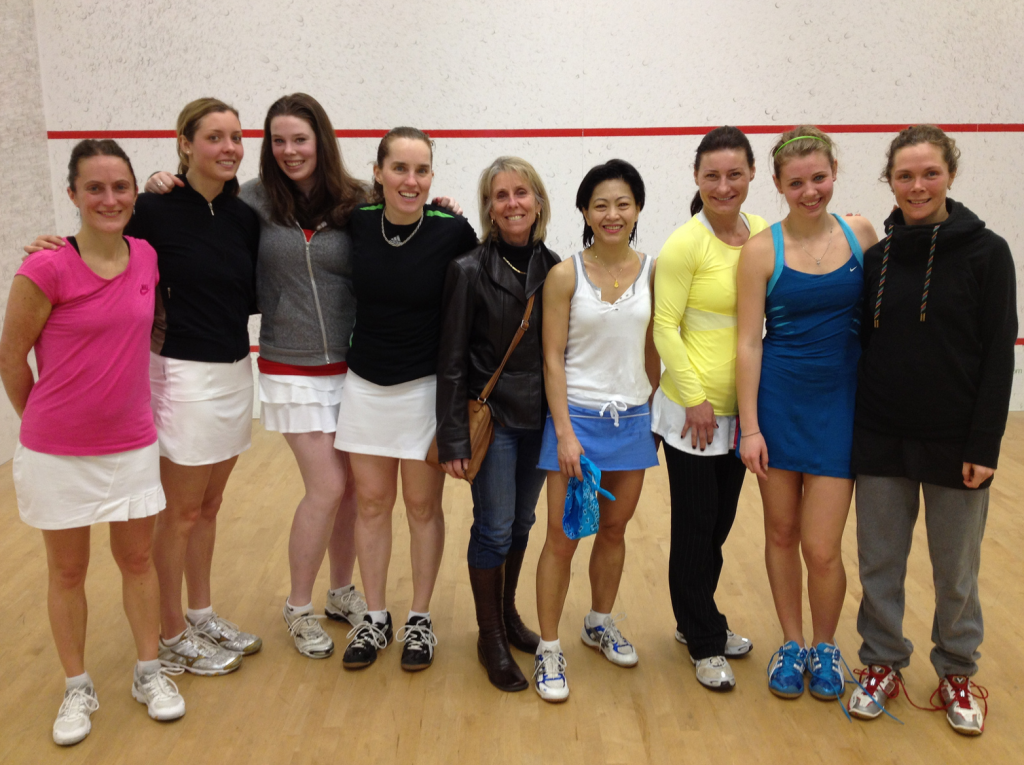 Who will sip from the trophies this year? We'll let you know who's playing this year as soon as we know! Semi finals are next week.

Apr
2
Women's DIV 1
JER A1
1. Carolyn Russell(Sp)
2. Nicola Martin
3. Chrissie Arnold
4. Imogen Thompson
5. Deidre Smith
6. Michelle R Lindsay
7. Alexandra Giuffre
8. Carol Richards
9. Dara Sklar(Sp)
Women's DIV 2
JER A2 "Racquets Up"
1. Zoe Colclough
2. Dara Sklar
3. Max Hakh
4. Sue Wastie
5. Megan Picken(Sp)
6. Tracy Barber
7. Jane Cartmel(Sp)
8. Jennifer Louie
9. Stacy Hall
10. Shahira Tejpar(Sp)
Women's DIV 3
RIV C3
1. Lesia Verones
2. Julienne Joe
3. Sylvette Rahn
4. Jill Gamblen
5. Darlene Shandola
6. Antoinette Woodman
7. Marlene Perera(Sp)
8. Beverly Lawton
Unranked
Meaghan Burton
Women's DIV 4
SPC 4 "Tin Lizzies"
1. Shelley Neil
2. Joan Hall
3. Robin Wilson(Sp)
4. Vivien Donnelly
5. Tara Loseth
6. Lorraine Akam
7. Sarah Magnus(Sp)
8. Wendy Peare
9. Debbie Hlady(Sp)
10. Rebecca Van den Brink(Sp)
11. Ciara Heuser(Sp)
Unranked
Isabelle Deguise(Sp)
Women's DIV 5
VRC F5
1. Giulia Muraca(Sp)
2. Lauren Price(Sp)
3. Helen Gee Chan
4. Rhonda Porter
5. Sarah MacKinnon
6. Alison Richter
7. Sylvia Males
8. May Chan
9. Patti Malone(Sp)

Women's DIV 6
VRC G6 "Lets Strokes"
1. Lauren Price
2. Jane Nemaia
3. Patti Malone
4. Signy Wilson
5. Caitlin Mischki
6. Jennifer Levey
7. Caroline Nitzschke
+
Open DIV 1
EVE A1
1. Grant Bergman
2. Matthew Balfour
3. Struan Kilgour
4. Grant Stockwell
5. Simon Dorey(Sp)
6. Geoff Emslie
7. Stephen Roberts
8. Alexandre Garceau(Sp)
9. Gavin Rimmer(Sp)
Open DIV 2
VLT B2
1. Justin Todd
2. Harry Freeman
3. Jason Del Vicario
4. Emma Parke
5. Curtis Dorosh(Sp)
6. Doug MacDougall
7. John Nichols
8. Matthew Taylor
9. David Goldsmith
10. Terry Sunar
11. Mike Dodds
12. Lenny Moy(Sp)
13. Roland Haebler(Sp)
14. Corry Silbernagel(Sp)
15. Chris Wallace
16. Greg Desaulniers(Sp)
Open DIV 3
SPC C3
1. Braden Douglas(Sp)
2. Kurt Woodman
3. NAZIR HIRJI(Sp)
4. Bryan Hall
5. Ken Windt
6. John Desaulniers
7. David Leman(Sp)
8. Robert Tomizza
9. Marcus Foster(Sp)
Open DIV 4
HOL 4 "Smitty's Crew"
1. Stuart Clark(Sp)
2. Rod Fong(Sp)
3. Robert Ockeloen
4. Derek Smith
5. Kevin Spooner
6. Don Leslie
7. Randy Holmes(Sp)
8. Sam Mottram
9. Richard Johansen(Sp)
10. Justin Mitchell(Sp)
11. Andrew Jones
12. Josh Bovard
13. Patrick Frost(Sp)
Open DIV 5
EVE G5
1. Simon Bicknell
2. Emilio Jr Haneine
3. Bob Hodgins
4. David Karp
5. Matt Kerr
6. Dean Kallweit
7. Kevin Richardson
8. Randy Mullock
9. Colin Brauner
10. Steve Baker
11. Sven Tapp
Open DIV 6
RIV F6
1. Thor Butler
2. Wayne Diakow
3. Barry Atkinson
4. Trevor Stickler
5. Frank Odorico
6. Peter Schulz
7. Flois Aranas
Open DIV 7
VRC K7 "Kings"
1. Chris Boshard
2. Daniel Eisenberg
3. Liam Kynaston
4. David Belisle
5. Andrew Ho
6. Randy Egan
7. Robert Kozlowski
8. Steven Meurrens
9. Ian MacKinnon
10. Mike Ford

Apr
2
Filed Under Playoffs | Comments Off on Div 1 Open Finals
The Div 1 Open finals have been scheduled for Wednesday, April 3rd at 6pm at the Evergreen Squash Club in North Vancouver.
To see photos from the Women's Div 1 finals and AGM held at the River Club on March 23, 2013 please click this link.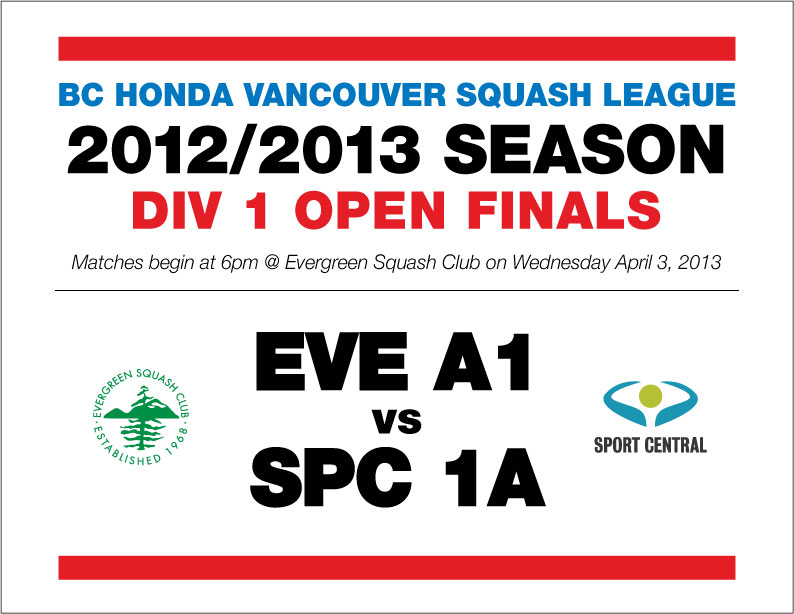 Mar
5
Filed Under Playoffs | Comments Off on 2012 / 2013 Playoff Finals Match-ups
These are the finals match-ups for the 2012/2013 season. Good luck to all the teams!
Remember that both teams split the hosting tab in the playoffs:)
Don't forget to post photos of your winning teams on our Facebook page!

Women's DIV 1
JER A1 vs VLT A1 @ Jericho
Finals on March 23, 2013 @ 5pm @ The River Club (11111 Horseshoe Way, Richmond)

Women's DIV 2
BAY 2 "Sqwalkers" vs JER A2 "Racquets Up" @ Bayside
Women's DIV 3
ARB A3 vs RIV C3 @ Arbutus
Women's DIV 4
SPC 4 "Tin Lizzies" vs BON B4 @ Sport Central
Women's DIV 5
RIV DHW 5 vs VRC F5 @ The River Club
Women's DIV 6
JER 6 "Squash Junkies" vs VRC G6 "Lets Strokes" @ Jericho
+
Open DIV 1
Semifinals on March 18, 2013
Finals on March 23, 2013 @ 6pm @ The River Club (11111 Horseshoe Way, Richmond)

Open DIV 2
VLT B2 vs SCF B2 @ Van Lawn
Open DIV 3
BON 3 "We're Back" vs SPC C3 @ Bonsor
Open DIV 4
HOL 4 "Smitty's Crew" vs EVE D4 @ Hollyburn
Open DIV 5
EVE G5 vs EVE I5 "Kazers" @ Evergreen
Open DIV 6
BEN H6 vs RIV F6 @ Bentall
Open DIV 7
BEN I7 vs VRC K7 "Kings" @ Bentall

Mar
19
Women's DIV 1
JER A1
Team members: Alexandra Guiffre, Michelle Lindsay, Nicola Martin, Carol Richards, Carolyn Russell, Liana Schou and Imogen Thompson
Most Sporting Team: VLT A1
Women's DIV 2
JER A2
Most Sporting Team: BAY A2
Women's DIV 3
VRC C3
Most Sporting Team: VRC C3
Women's DIV 4
RIV C4
Most Sporting Team: VRC E4
Women's DIV 5
JER 5D
Most Sporting Team: BAY A5
Women's DIV 6
RIV DHW6
Most Sporting Team: BAY 6 Squashettes
Women's DIV 7
JER AA7
Most Sporting Team: SPC Squash This
+
Open DIV 1
SPC A1
Most Sporting Team: VRC Team Rainbow
Open DIV 2
EVE C2
Most Sporting Team: HOL A2
Open DIV 3
ARB A3
Most Sporting Team: VRC Slumm Doggs
Open DIV 4
JER A4
Most Sporting Team: NA
Open DIV 5
RIV D5
Most Sporting Team: EVE G5
Open DIV 6
BON D6
Most Sporting Team: RIV F6
Open DIV 7
JER G7 Sq Court Knights
Most Sporting Team: VLT E7
Open DIV 8
VRC J8
Most Sporting Team: NA
Apr
25
Women's DIV 1
JER A1
Most Sporting Team: VLT A1
Women's DIV 2
EVE C2
Most Sporting Team: BAY A2
Women's DIV 3
JER A3
Most Sporting Team: RIV C3
Women's DIV 4
EVE E4
Most Sporting Team: NA
Women's DIV 5
SPC F5
Most Sporting Team: NA
Women's DIV 6
VLT C6
Most Sporting Team: VLT C6
Women's DIV 7
BAY Squashettes
Most Sporting Team: BAY Squashettes
+
Open DIV 1
JER A1
Most Sporting Team: NA
Open DIV 2
VRC Team Rainbow
Most Sporting Team: VRC B2
Open DIV 3
SCF B3
Most Sporting Team: NA
Open DIV 4
VRC F4
Most Sporting Team: BEN F4
Open DIV 5
SCF A5
Most Sporting Team: JER F5
Open DIV 6
ARB A6
Most Sporting Team: NA
Open DIV 7
EVE I7
Most Sporting Team: NA
Open DIV 8
BEN J8
Most Sporting Team: NA