Jul
24
Filed Under Tournaments | Comments Off on 2014 Sun & Surf at Jericho
It's time to register for Sun and Surf 2014, Jungle Mania, August 20-24, 2014. All levels of players from beginners to open welcome.  Join other squash party animals from England, the Yukon, SF, Seattle, and all over lower mainland, for great squash as well as  lots of fun and socializing.
Your $75 entry includes:
• Theme dinner/party on Saturday night – face painters on board to get you into party animal mode!
• Ladies Night on Thursday – promoting and supporting women in squash – more to come ….
• Tequila tasting by the Pool on Saturday afternoon… And more.
Click here to register online.
For more info contact Dana at: athletics@jericho.ca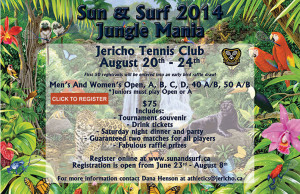 Jul
23
Filed Under AGM | Comments Off on 2014 AGM Minutes and Income Statement
The minutes from the 2014 AGM are now available for download as a Word document: VSL_2014_AGM_Minutes
The final league Income Statement is also available for download as a PDF: VSL 2014 AGM Financials
Note: This Income Statement is not the one presented at the AGM. Final totals for league prizes and the AGM and Wrap Party expenses have now been included.
Jul
16
The Vancouver Squash League is actively looking for new players who want to play in our league. Watch out for these new posters going up at all member clubs in the Lower Mainland. Tell your friends! Our next season begins the last week of September 2014. Contact the VSL League Coordinator for more info: info@vancouversquashleague.com
Jul
15
Please note that this season, due to the placement of certain holidays and Spring Break, we will be starting a little bit earlier than normal. Open play will begin on Monday, September 29 and Women's play (and Div 7 Open) on Tuesday, September 23, 2014.
OPEN Div 1-6
Monday schedule
Total matches = 18 + playoffs
PLEASE NOTE: Open Div 7 will be playing on Tuesday nights.
+

1ST CYCLE – 11 Matches
Monday, Sept 29 – Start Date
Oct 6 – 2nd week
Oct 13 – THANKSGIVING – No league play
Oct 20 – 3rd week
Oct 27 – 4th week
Nov 3– 5th week
Nov 10 – 6th week
Nov 17 – 7th week
Nov 24 – 8th week
Dec 1 – 9th week
Dec 8 – 10th week
Dec 15 – Holiday Break for all divisions
Dec 22 – Holiday Break for all divisions
Dec 29 – Holiday Break for all divisions
+
2ND CYCLE – 9 Matches
Jan 5 – 11th week
Jan 12 – 12th week
Jan 19 – 13th week
Jan 27 – 14th week
Feb 2 – 15th week
Feb 9 – FAMILY DAY (BC) – No league play
Feb 16 – 16th week
Feb 23 – 17th week
Mar 2 – 18th week
Mar 9 – SPRING BREAK – No league play
Mar 16 – SPRING BREAK – No league play
OPEN PLAYOFFS
Mar 23 – Semifinals
Mar 30 – Finals
Apr 11 – Wrap party and FINALS for DIV 1 Open and DIV 1 Women only
+
WOMEN and DIV 7 Open
Tuesday schedule
Total matches = 20 + playoffs
1ST CYCLE – 11 Matches
Tuesday, Sept 23 – Start Date
Sept 30 – 2nd week
Oct 7 – 3rd week
Oct 14 – 4th week
Oct 21 – 5th week
Oct 28 – 6th week
Nov 4 – 7th week
Nov 11 – REMEMBRANCE DAY – No league play
Nov 18 – 8th week
Nov 25 – 9th week
Dec 2 – 10th week
Dec 9 – 11th week
Dec 16 – Holiday Break for all divisions
Dec 23 – Holiday Break for all divisions
Dec 30 – Holiday Break for all divisions
+
2nd CYCLE – 9 Matches
Jan 6 – 12th week
Jan 13 – 13th week
Jan 20 – 14th week
Jan 27 – 15th week
Feb 3 – 16th week
Feb 10 – 17th week
Feb 17 – 18th week
Feb 24 – 19th week
Mar 3 – 20th week
Mar 10 – SPRING BREAK – No league play
Mar 17 – SPRING BREAK – No league play

WOMEN'S PLAYOFFS
Mar 24 – Semifinals
Mar 31 – Finals
Apr 18 – Wrap party and FINALS for DIV 1 Open and DIV 1 Women only
Jul
1
Women's League 2013/2014
Number of Divisions: 5
Number of teams per Division
| | |
| --- | --- |
| Div 1 | 3 |
| Div 2 / 3 | 10 |
| Div 3 | 5 |
| Div 4 | 5 |
| Div 5 | 4 |
---
Open League 2013/2014
Number of Divisions: 7
Number of teams per Division
| | |
| --- | --- |
| Div 1 | 8 |
| Div 2 | 9 |
| Div 3 | 9 |
| Div 4 | 10 |
| Div 5 | 10 |
| Div 6 | 10 |
| Div 7 | 9 |
---
All Events Combined
Number of Divisions – 12
Total Number of Players – 1063
Total Number of Women Players – 302
Total Number of Male Players – 761