Mar
9
The following statistics are courtesy of SportyHQ
Player numbers for the VSL for the 2014/2015 season: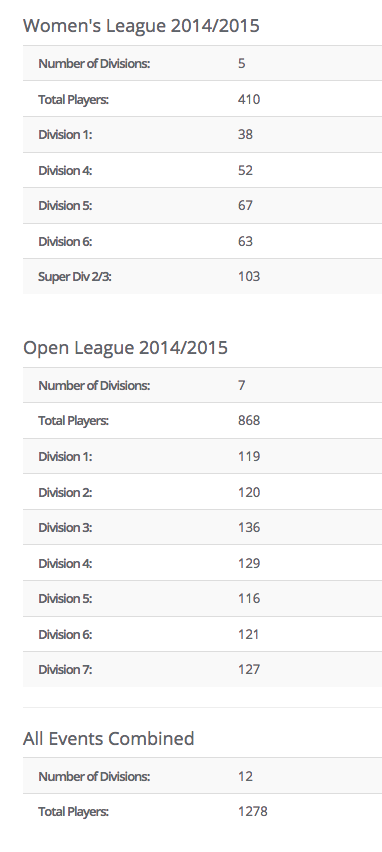 This is the gender breakdown for the VSL for the 2014/2015 season:
This is the general age ranges for ALL divisions (Open and Women's combined) for the 2014/2015 season:
Save
Jan
2
Filed Under Tournaments | Comments Off on 2017 Evergreen Squashes Cancer
It's not too late to register for this year's Evergreen Squash Club Squashes Cancer tournament!
Registration closes on Wednesday, January 4th! Hurry!
> https://www.sportyhq.com/…/v…/2017-Evergreen-Squashes-Cancer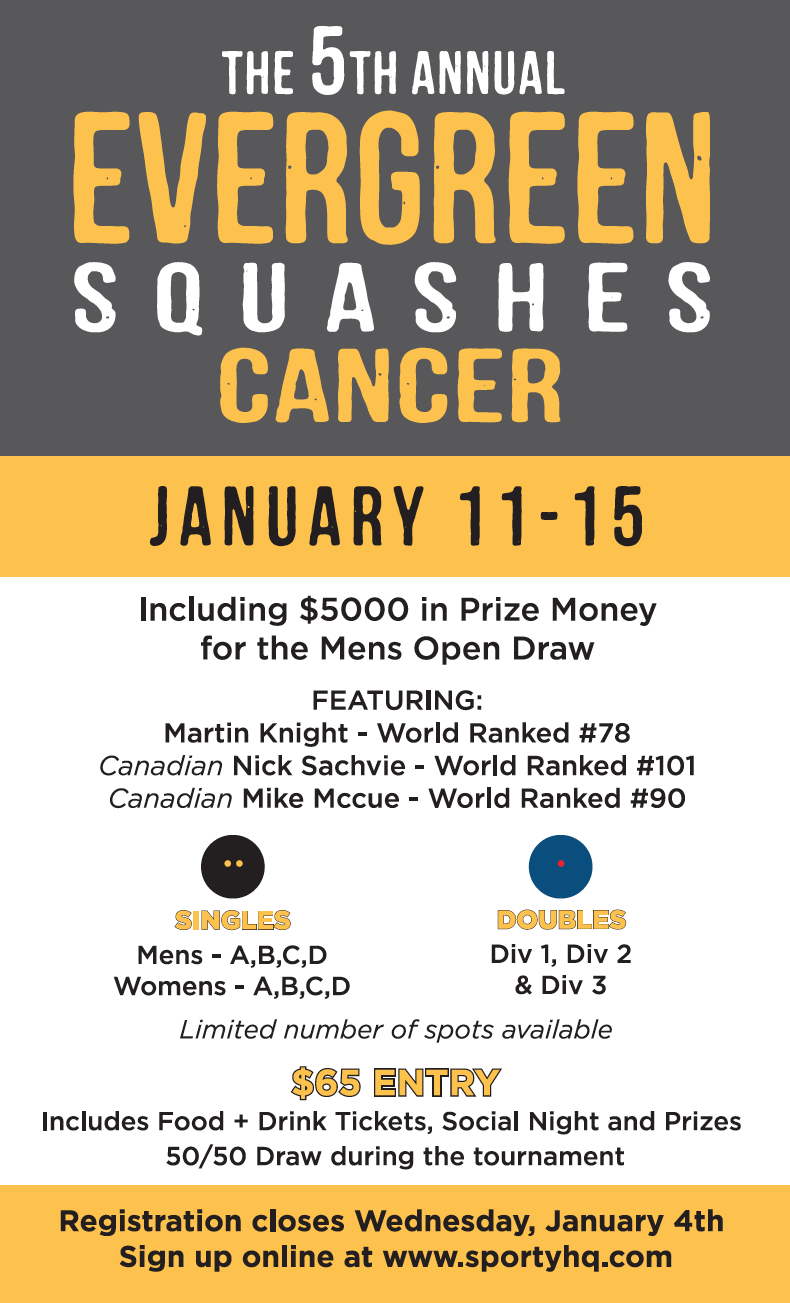 Save
Save
Jan
1
Filed Under Tournaments | Comments Off on 2017 Nanaimo Open
The Nanaimo Open is coming! Jan 27 – 29 at the Nanaimo Squash Club. See you there.
Register before Jan 6 for the early bird discount: https://www.sportyhq.com/tournament/view/2017-Nanaimo-Open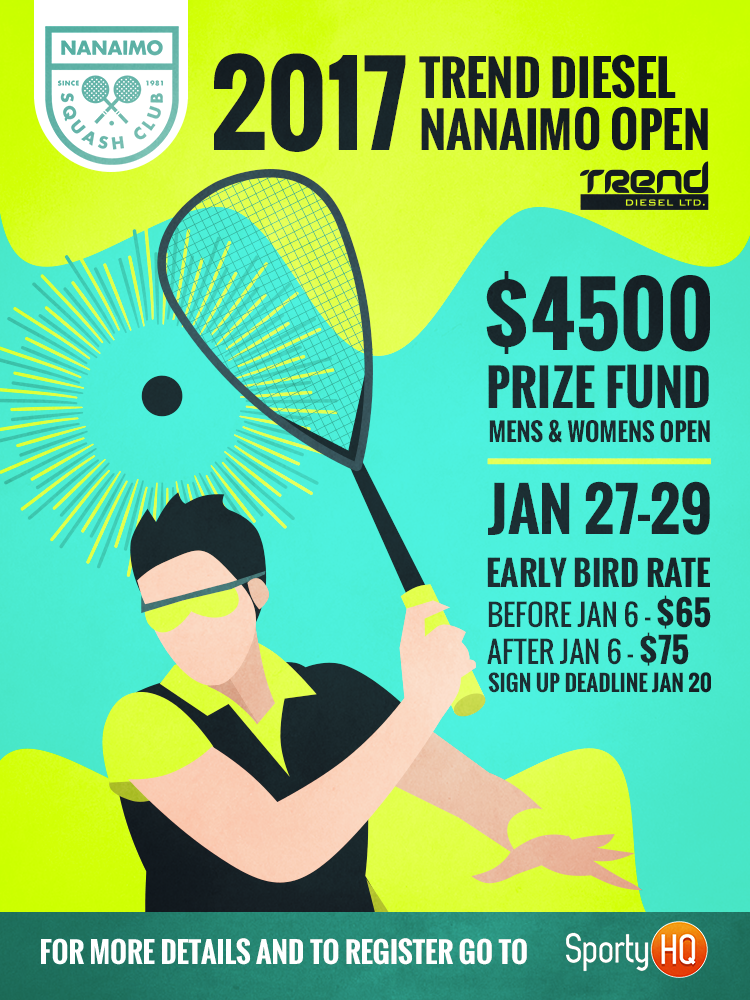 Save
Save
Dec
21
Filed Under In the News | Comments Off on 24 hour Squash Marathon at Newlands
The squashies at Newlands Golf and Country Club recently hosted a 24 squash marathon to raise money for local squashie Jacques Du Toit and his wife who has recently been diagnosed with a rare form of cancer. The event and the associated GoFundMe page have raised over $9,000.00 toward her care.
Click to view the video and read the article from the Langley Times.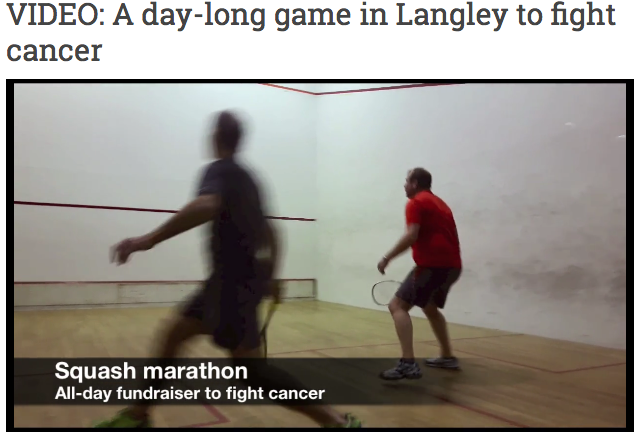 Save
Nov
22
The VSL still has plans to organize free reffing clinics before the end of the year but in the meantime check out this great series of articles by Barry Faguy in Squash Magazine.
HEY REF! I was reading the new 2014 rules and was having a tough time figuring out the difference between 'excessive' and 'exaggerated' swings. Help!?

Welcome to the club. Most rules deal with the assumption that a player's swing is reasonable—meaning that it does "not extend more than is necessary" for the intended shot. This is generally understood to mean using primarily a vertical rather than horizontal plane of travel (for both the backswing and follow-through)—and a bent elbow where possible (avoiding a straight arm). So an unreasonable swing (excessive or exaggerated) would be one that does indeed extend more than necessary. . . read more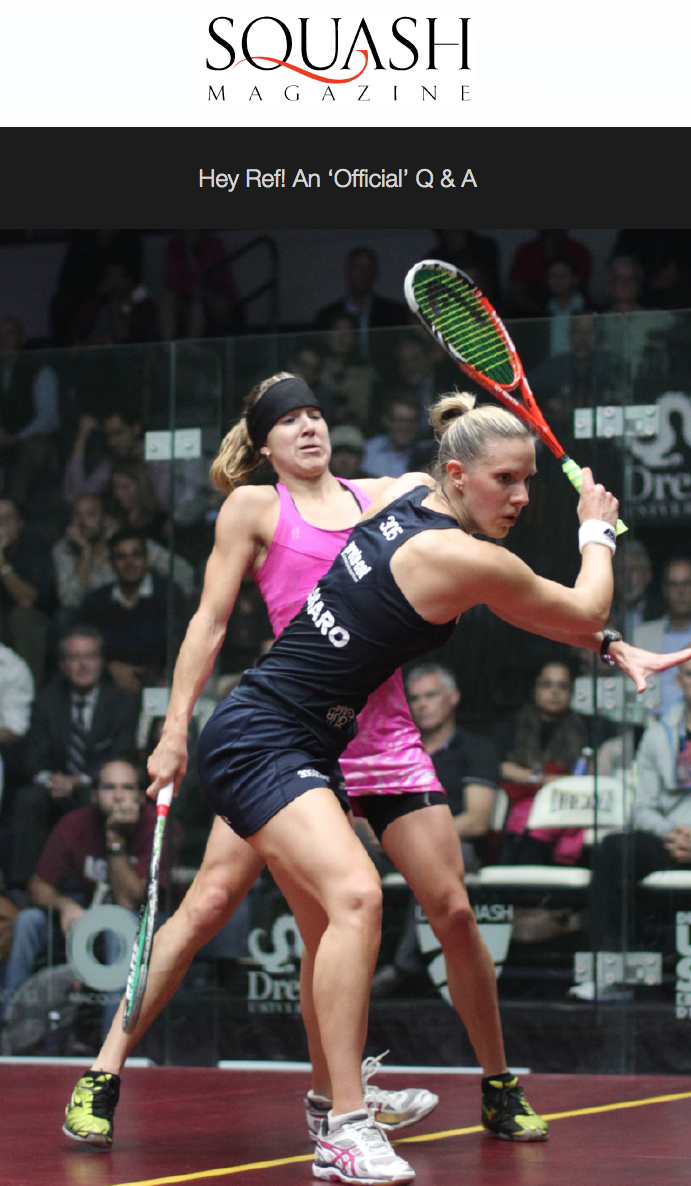 Save
Save
Save
Oct
14
#2016BCOpen
This year's edition of the BC Open will take place at the Bentall Centre Athletic Club, from November 23-27, and is presented by The Lincoln Motor Company. Entry is $65 ($60 before November 9) and the deadline to enter is Wednesday, November 16th at 6pm PST.
There is $5000 in prize money available and only 120 entries maximum. Your entry entitles you to 3 hours of validated parking, three (3) guaranteed matches and a meal coupon that you can use any time you'd like between the 23rd and 27th. World #74 Martin Knight will be playing and will host a Q & A on the Friday night.
Register now at SportyHQ
Questions? Email Andrew Lynn.
Save
Save
Save
Oct
6
Filed Under Tournaments | Comments Off on Nicola Wealth Open at the Jericho Tennis Club
The Professional Squash Association (PSA) is returning to Jericho Tennis Club!  With the support of our Title Sponsor Nicola Wealth Management, Jericho will play host the Nicola Wealth Open 2016 a 10K USD Women's PSA event featuring world class players from around the globe.
Qualifying matches for the PSA event begin on Monday Oct. 31st and include 8 local BC entries: Giselle Delgado, Carolyn Russell, Megan Picken, Andrea Toth, Lucia Bicknell, Cynthia Cao, Nour Elhendawi and Josephine Adams.  In addition, Victoria's Grace Thomas has been granted the Wild Card position directly into Wednesday's main draw.
These players are competing to earn their place in the 16 player main round beginning on Wednesday Nov. 2nd.  The main draw will feature the top four Canadian players Hollie Naughton, Danielle Latourneau, Sam Cornett and Niki Todd.
It will also include Maria Toorpakai Wazir from Pakistan who featured at the Toronto International Film Festival in a motion picture about her life growing up as a boy in an area of Pakistan controlled by the Taliban.
For complete PSA draw details click here:
https://psaworldtour.com/tournaments/view/6644?tab=womens_main
The Nicola Wealth Open 2016 amateur event will feature 10 divisions with matches starting on Wednesday Nov. 2nd for local players.  Entry for the amateur draws is limited to 125 participants.
Individuals interested in becoming a Patron, Sponsor or looking to purchase reserved seating for this great week of squash can contact Richard Yendell by email: squash@jerichotennisclub.com
We look forward to hosting you to what will surely be a fantastic week of squash here at Jericho Tennis Club.
Registration is now open online through SportyHQ:
https://www.sportyhq.com/tournament/view/Nicola-Wealth-Open-2016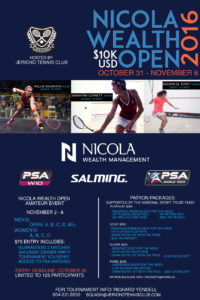 Save
Sep
10
If you are interested in playing in Women's Div 1 for the upcoming season, lease let the VSL know by September 20th. Send an email to info@vancouversquashleague.com and include your name and club. If you are a member of a VSL club you must sign up for league through your club. If you are unaffiliated you will be asked to pay a VSL league fee prior to the start of the season.
There will be a draft just like last year and teams will be selected, and informed, prior to the first matches which are scheduled for Tuesday, September 27th.
Please note that the ranking point guidelines to play in Div 1 are between 975 – 1700.
Sep
10
ON TUESDAY, SEPTEMBER 2oth, from 6-8pm, AT THE JERICHO TENNIS CLUB, the Vancouver Squash League (VSL) is hosting a "Captain's Social" for all VSL captains and co-captains. This brief information session will include an overview of a captain's job requirements, league rules overview and a SportyHQ demo. There will also be a question and answer period and FREE BEER AND APPETIZERS.
This is a great event for captains to get up to speed on the league before it starts and it's our way of saying "THANKS". First-time captains are strongly recommended to attend If you are a league team captain and can't attend please send your co-captain.
RSVP by September 18th to be entered in a prize draw: info@vancouversquashleague.com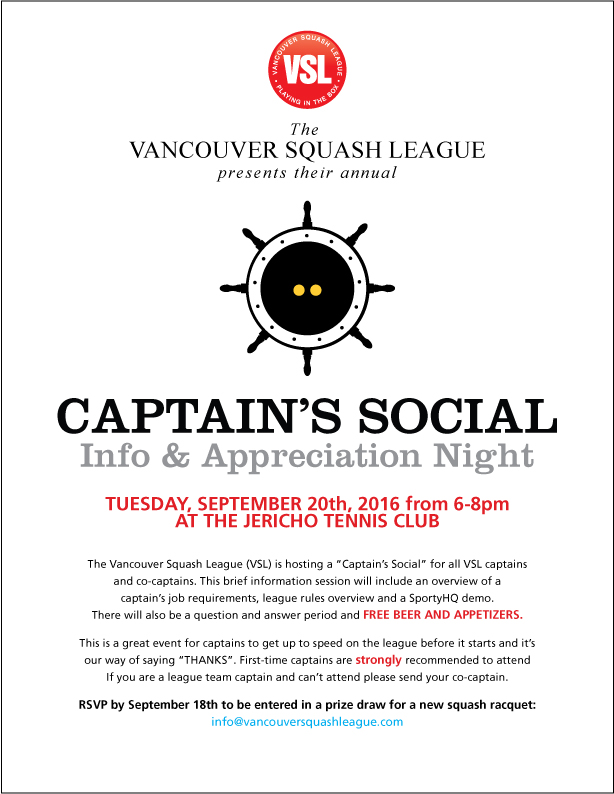 Sep
1
Filed Under Rankings | Comments Off on Divisional Ranking Guidelines for 2016/2017
Not sure where you should be playing in the VSL this year?
Check out our handy guidelines that will hopefully ensure that you're playing in the right division this year and that you get as many competitive matches as you can!
WOMEN
Div 1
975 – 1700
Div 2
800 – 1000
Div 3
675 – 875
Div 4
575 – 800
Div 5
475 – 675
OPEN
Div 1
1475 – 2200
Div 2
1325 – 1525
Div 3
1225 – 1475
Div 4
1125 – 1350
Div 5
1000 – 1225
Div 6
925 – 1125
Div 7
600 – 1000
Big thanks to VSL board member Nathan Ozog for all of his efforts in putting this together.